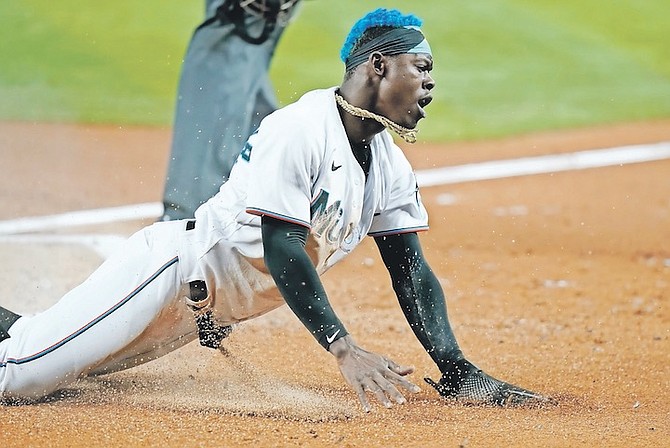 By RENALDO DORSETT
Tribune Sports Reporter
rdorsett@tribunemedia.net
JAZZ CHISHOLM JR continues his transition to breakout star for the Miami Marlins and is not only a team leader, but among the league leaders in several offensive categories.
Chisholm overcame an undisclosed illness to go 2-2 with a walk, a triple, a home run, two runs scored and two RBI in Wednesday's 5-4 extra-inning loss to the Nationals at LoanDepot Park in Miami, Florida.
Wednesday night's gutsy performance began with a leadoff triple, but also included a game tying solo home run in the fifth inning, and a sac fly that sent the game into extra innings in the ninth inning.
'I could get out there and play anytime you need me, I'll push through it,'" Chisholm told reporters, "I went out there and I did it. I just had to stay focused when it was time to get focused – turn the switch on when it was time to."
The 24-year-old infielder leads the Marlins with seven home runs, six stolen bases, 27 RBIs and a .963 OPS. He also already has seven doubles and four triples.
He currently leads the leagues in triples, ranks fifth with a .617 slugging percentage, seventh with a .964 OPS, tied for ninth in RBI with former MVPs Bryce Harper (Washington Nationals) and Shohei Ohtani (Los Angeles Angels) and is one of just 24 players in the league batting over .300.
His numbers this season are well ahead of his 2021 pace when he hit .248 with a .728 OPS, slugged .425 with 115 hits, 70 runs scored, 20 doubles, four triples, 18 home runs, 53 RBI and a team leading 23 stolen bases.
"I haven't been swinging as hard as I was last year. I'm trying to be more controlled at the plate instead of just trying to launch everything, even though that's what's still happening," he told Christina DeNicola of MLB.com "But I'm trying to be more controlled and consistent."
Chisholm was named to MLB Pipeline's All- Rookie Second team in 2021 and credited his early improvement with improved pitch selection.
"I know a lot of guys can't beat me with their fastballs.The hardest pitches to hit in baseball are sliders, curveballs, offspeed. I'd rather be on for [breaking and offspeed pitches] than a fastball because I can always react to a fastball," Chisholm said," I'm going to be prepared to hit everyone's offspeed pitches because I know I can hit their fastball."
The Marlins open a three game series at home against the Atlanta Braves tonight.