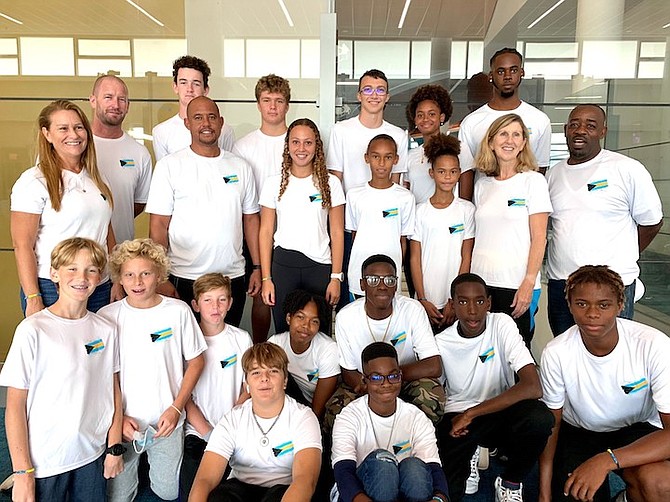 By BRENT STUBBS
Senior Sports Reporter
bstubbs@tribunemedia.net
After a two-year hiatus, the Bahamas Triathlon Association is eager to send a national team off to compete in the fourth CARIFTA Triathlon.
A 22-member team, managed by Lori Roach with head coach Cameroon Roach, assisted by Sylvia Bateman and Grant Menzies Chaperone and Barron 'Turbo' Musgrove as chaperones, left town on Thursday for Bermuda where they will compete in the triathlon on Saturday and the aquathlon, a swim/run event, as well as the team relay.
The team members are Callum Prichard, Sibby Potter, Laluchan Menzies, Mirko Gervasini, Sienna Culmer-Mackey, Tristian Johnson, Barron Jr Musgrove, Jayden Smith, Lennin Hamilton, Taylor Knowles, Anjaleah Knowles, Issa Bournas, Kami Roach, Jason Cates, Enea Gervasini and Malcolm Menzies.
"I think we will place very well. We are taking our strongest team ever," Cameron Roach said. "It's the largest number as well as the strongest as a team. So I'm hoping that we will make podium – top three. That is our goal.
"At the last competition, we placed fifth overall, so anything above fifth is our goal. I'm looking for top three."
After the event was delayed by about eight weeks, Roach said the association got a little more time to put in the extra workout sessions to get the team prepared.
"At the same time, we were race ready and taper down to compete that weekend," Roach recalled. "We had to revamp our schedule and work it up back up and taper down. But the kids are ready. Initially, it was a challenge mentally for them to refocus, but I think everybody is in good spirits and they are excited to compete this weekend.
"I think we can look forward to some good outcomes."
Originally, a total of 15 countries were expected to compete, but those numbers dropped to around 9-11.
The event returns after it was last held in Jamaica in 2019. The 2020 and 2021 editions were called off due to COVID-19.
Malcolm Menzies, competing in the boys 13-15 age group, said it's a good feeling to be representing the Bahamas at the championships.
"I am ready for the race since I have been waiting to go for so long," said Menzies, a 14-year-old student of Windsor High School at Albany. "I am positive that the team and I will do great."
And Kami Roach, a 16-year-old student also of Windsor Albany High School, who will be competing in the 16-19 age group, said she's looking forward to her return to the top regional junior competition, having competed in the previous three.
"I have competed in every CARIFTA triathlon games since it has started," she said. "I did just have foot surgery a couple months ago but I feel good and strong and I'm going to race my hardest."
Roach said the team is very strong and she's very excited to see how well everyone performs.
The team is scheduled to return home on Tuesday.