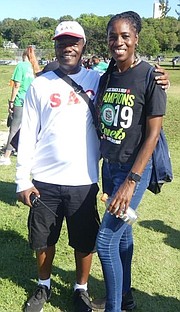 By BRENT STUBBS
Senior Sports Reporter
bstubbs@tribunemedia.net
WITH the return of the Bahamas Association of Independent Secondary Schools' cross country championships on Saturday at St Augustine's College, the Big Red Machine rode around their campus with another dominating performance.
The championships returned for the first time since 2018 because of COVID-19, but SAC's head coach Jason Edwards said it was a total team effort that made the difference in their sweep of all of the divisions.
"I was most impressed by the turnout and the commitment of the entire team," Edwards said. "Cross country is an ultimate team ultimate team sport. You have nine competitors maximum in each division and five can score. "So they know it's a team competition. The fact that they showed up, they were running for something bigger than themselves. So I was extremely impressed with that. We had our sprinters, our distance runners, our swimmers and tennis players. Everybody showed up and gave us 110 percent."
Despite the loss, Comets' head coach Everette Fraser said Queen's College gave an excellent showing in the championships.
"I'm happy and pleased with the performances," he said. "The kids came out and they ran at their best. That was what we expected."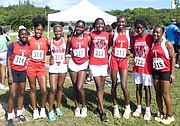 With a lot of their new kids in the spotlight, Fraser said their coaching staff wanted to see how they would perform under pressure.
"When you could find new talent from a lot of people who never ran cross country before, and although I didn't know some of their names, I was happy and pleased with their performances. My expectations wasn't as high for the kids that competed, but it showed me a lot of the kids that I can work with."
It was that combined effort, according to Edwards, that enabled SAC to prevail against the stiff competition that came from all of the schools, including their close archrivals, Queen's College Comets, who came in second place.
In the under-20 boys division, the Big Red Machine clinched the title with a sweep of the top two spots from Dentry Mortimer in 24 minutes and 07.77 seconds and Clinton Laguerre in 24:53.41. Nassau Christian Academy's Mikail Paul was third in 25:55.69. SAC's Alexis Brown (26:51.96) was fourth and Tenaj Glinton (28:08.57) got fifth.
SAC's victory in the under-20 girls division was fuelled by the winning performance from Ezthia Maycock in 12:39.22. St Andrew's Grace Farrington was second in 13:01.55 and Lilly Comarcho of Queen's College was third in 14:40.19. The Big Red Machine's Antonicia Moultrie (15:02.13) was fourth and Trinity Pennerman (15:18.18) was fifth.
While Kevannio Smith took the individual title to St Anne's in a time of 11:27.23, the Big Red Machine kept the under- 17 boys team title at SAC with Dylan Simon leading their attack for second in 11:35.58. Temple Christian Academy's Breck Kemp was third in 11:36.80. Quinton Rolle of SAC was fourth in 11:52.55 and Dayyan Major of St John's College was fifth in 12:03.31.
The under-17 girls division saw Kristr Ford of Queen's College take the individual title in 13:36.89 with Tellica Seymour of Kingsway Academy coming in second in 13:43.29. SAC, however, won the divisional title with Taylor Adderley turning in their best performance for third in 13:50.87. Azaria Marshall of SAC was fourth in 14:06.25 and Kennedi Knowles of St John's was fifth in 14:18.25.
Quincy Rolle led SAC in their win in the under- 15 boys division with his top place finish in 12:26.61. Temple Christian Academy's Daniel Dean was second in 12:27.75, Dylan Archer got third for SAC in 12:37.78. Queen's College duo of Davon Davis (12:43.84) and Andrew Seymour (12:44.45) was fourth and fifth respectively.
Lyford Cay International School's Zoe McCarroll emerged as the winner of the under-15 girls race in 9:34.79, but as SAC took the overall title, Alexis Roberts got second in 9:42.57. The Kemp sisters Breyteisha (9:51.65) and Breyneice (9:56.22) were third and fourth respectively and was joined by their Temple Christian Academy's team-mate Jasmine Thompson (9:58.55) in fifth.
SAC got a 1-2 punch on their way to winning the under-13 boys division as Arjay Roberts won in 9:30.79 and Nathon King was second in 9:47.24. Cordell Munroe of St John's College was third in 10:11.98. Anthony Saunders of St John's was fourth in 10:15.19 and Tobias Saunders of SAC was fifth in 10:20.04.
And in the under-13 girls division, Emma Johnston of Windsor School clocked 9:48.96 for the win. Cierra Delancy of Queen's College was second in 10:06.07. Angel Culmer of the Big Red Machine was third in 10:39.25, Malaya Pratt of Queen's College was fourth in 10:51.70 and Hailey Parker of SAC rounded out the top five in 11:19.70.
Edwards thanked the BAISS and their sports committee chairperson Marici Thompson, the principal at SAC, for putting on what he called a "wonderful event" that lived up to its expectations.
"This is what the children needed. I'm glad we made the decision to have the meet," said Edwards, who also thanked David Ferguson and his Chip Elite Timing staff for managing the meet, along with Williamson 'Knucklehead' Johnson and his staff as well as SAC's Athletic Department, including Clinton Smikle and Tito Moss for their assistance. "It was really needed."