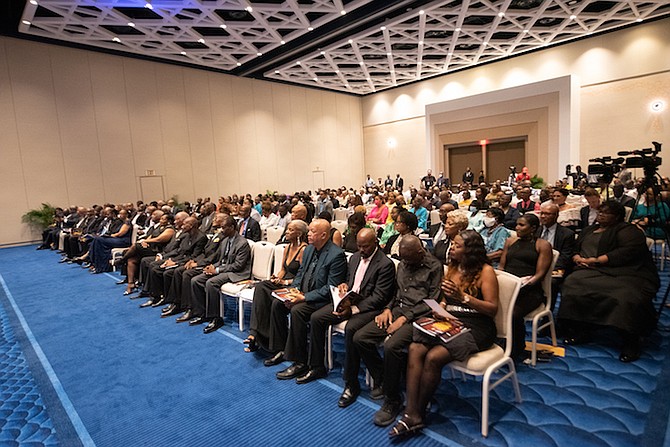 By RENALDO DORSETT
Tribune Sports Reporter
rdorsett@tribunemedia.net
A GROUP of the country's sporting icons joined a fraternity of elite company when they were inducted as new members to the National Sports Hall of Fame.
The 2022 class was honoured by the signature event of Sports Heritage Month - the Hall of Fame induction ceremony - last night at the Baha Mar Convention Centre.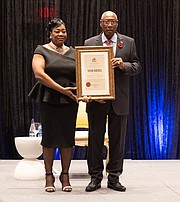 Highlighting the 2022 class is the internationally acclaimed "Golden Girls" 4x100m relay team.
The team of Savatheda Fynes-Coke, Chandra Sturrup, Pauline Davis, Debbie Ferguson-McKenzie and Eldece Clarke fittingly entered the Hall of Fame together following their 4x100m silver at the 1996 Olympics in Atlanta, gold at the Sydney Olympics in Australia and gold at the inaugural IAAF World Championships in Spain.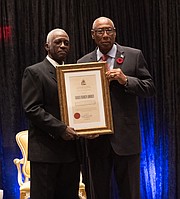 Other inductees included Lorenzo "Ray" Minus (Boxing), Stephen Larrimore (Boxing), Wellington Miller (Sports Administration), Evette B. L. Johnson (Softball), Sidney Fernander (Softball), Charles Franklyn Adderley (Martial Arts), Raymond Wilson (Volleyball), Perry Thumpam Sr (Basketball), Frederick Alonzo Laing Sr (Basketball), Maxine Darville (Bodybuilding), Dr. Patricia "Patti" Symonette, (Volleyball), Monique Leary (Bowling), and posthumous honourees Ivern Davis (Squash) and John Terry Wildgoose (Basketball).
"To be inducted into the National Sports Hall of Fame is to be honoured as one of the greatest Bahamians in sports. Not only in the arena of competition, but in the development and growth of sports for others. As a country we must continue to appreciate the work that these inductees have done to bring The Bahamas to the forefront of sporting achievement regionally and globally," said Minister of Youth, Sports and Culture Mario Bowleg.
"Their achievement acts as an inspiration for the next generation of athletes, not only to strive for greatness but to develop the characteristics necessary to achieve greatness. I commend you for your dedication put forth into your discipline and to the development of sports in the country."
Sports Heritage Week originally began in 1989 with the introduction of five of our national heroes - the late great Thomas A Robinson, Sir Durward Knowles, Cecil Cooke, Andre Rodgers and Everette "Elisha Obed" Ferguson.
The National Hall of Fame was established as a means to show the country's appreciation to those contributors to sports whose exploits may have gone unnoticed in the past and, at the same time, deliver recognition to those who continue to shine for the Bahamas.
"If you were to interview each designate, their journeys are all diverse, but you would find one singular most prolific honour, that is as an athlete adorning our national uniform, the raising of our national flag.
"Hearing our national anthem gives one a sense of pride, comparable to nothing else in this world.
"The designates would tell you they love sports, and the positive attributes they learned how to practice long hours perfecting their craft," said Romell Knowles, president of the Bahamas Olympic Committee.
"Wear it proudly, wear it responsibly for I believe it is the highest honour bestowed on any athlete or administrator."