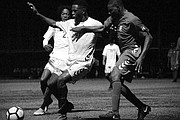 ANOTHER game and another hat trick plus one for University of Bahamas midfielder Ronaldo Green.
Green scored a hat trick plus one to lead The Mingoes to the 6-0 win over Cavalier on Wednesday night at the Roscow R.L. Davies Field.
Green took 10 minutes to find the net off a brilliant pass from Jean Tilo to put The Mingoes up 1-0 early in the match.
It took Green 18 minutes to score again to put The Mingoes up 2-0 in the 28th minute.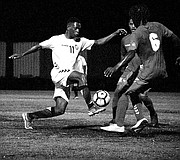 Nathan Wells was not about to be left out.
Three minutes later, Wells - on an assist from midfielder Marlon Barnes - scored on a bending strike to slip the ball in the upper left corner of the goal to give The Mingoes a 3-0 advantage.
He celebrated in front of the big UB crowd at the stadium by pretending to go to sleep on the pitch.
Green completed his hat trick with five minutes to go in the first half to give the Mingoes a strong 4-0 lead into the half. In the second half, Green took a long pass deep in the box and scored his fourth goal of the night in the 60th minute as The Mingoes extended the lead to 5-0.
Morgan Wood, who had a close opportunity on the fifth goal for the Mingoes, was going to make sure he was on the scorecard.
Another long pass and Wood connected in the 62nd minute to put The Mingoes up 6-0.
The Mingoes are now sporting a 2-0 record in the league.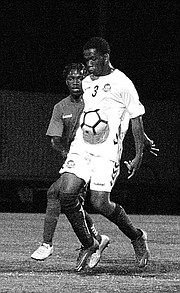 Head coach Dion Godet said the team members are proving they have the capacity to play good football. "The coaching team has been putting a lot of time in to develop a new system and the guys are buying into the system," he said. "That's the message we take from this, the new system can work and produce really good football if we stick with the system."
Green, who scored another hat trick plus one - four goals - said the win is a team effort as they watched film to make some corrections from the first match.
"We came out and executed everything the coach showed us in the video session and made corrections on our formation and it paid off here tonight," he said.
Wells, who scored an outstanding goal in the first half, said the team is coming to make some noise in the league.
"We played as a team and we have some really good players on this team," he said. "We came together to get that result and that was the win."
The Mingoes next play Baha Juniors FC 5pm Sunday at The Roscow R.L. Davies pitch.