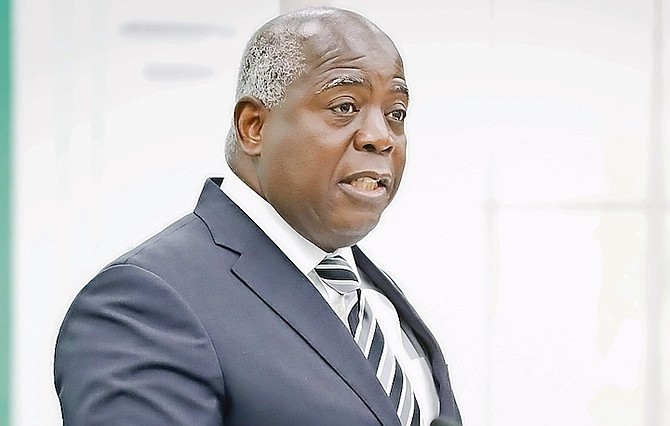 By LEANDRA ROLLE
Tribune Staff Reporter
lrolle@tribunemedia.net
PRIME Minister Phillip "Brave" Davis says he doesn't believe that his administration's decision to increase Bahamas Power and Light's monthly fuel charge will lead to job layoffs and business closures.
When asked if he agreed that the BPL increase will lead to layoffs and business closures, Mr Davis replied yesterday: "I don't, but let's wait and see."
 Mr Davis was responding to Killarney MP Dr Hubert Minnis' assertions last week that the increase would have a snowball effect on businesses and cause further financial hardship.
 "So, what has he done by increasing the fuel charge on the populace?" Dr Minnis asked reporters last week. "We are already experiencing inflation, which the prime minister had contributed to. The cost of living will go up even further.
 "Already there is a CARICOM report that states that some Bahamians go to bed with only one meal per day. Some go to be with two meals per day and some have none and the prime minister has increased this burden on the populace.
 "The businesses will also suffer. They will have an increased cost, which means they run the possibility of laying off individuals.
 "The food shops, the restaurants will increase, the mom-and-pop shops will increase, their overhead will increase," the former prime minister said.
 Last Tuesday, Prime Minister Davis announced upcoming increases in consumers' electricity bills.
 He advised that those with a current monthly bill of $182 or less would see an increase to about $20 per month or two cents per kilowatt hours of electricity used.
 Those with higher bills will pay almost double that amount at 4.3 cents per kilowatt hour.
 The rate increase is set to be reflected in consumers' electricity bills beginning next month and is expected to come down over the next 12 to 18 months.
 Plans to raise customers' fuel charges were initially announced by BPL in late February, but were stopped after the government denied the company approval for the increase.
 Mr Davis said this was because he wanted to see stronger economic growth and more Bahamians working before giving the power company the greenlight to raise electricity bills.
 However, some believe the timing of the increase couldn't have come at a worse time given inflation and the already high cost of living.
 And with minimum wage expected to increase soon, some business owners have already warned that difficult decisions may have to be made in the days ahead to sustain operations.