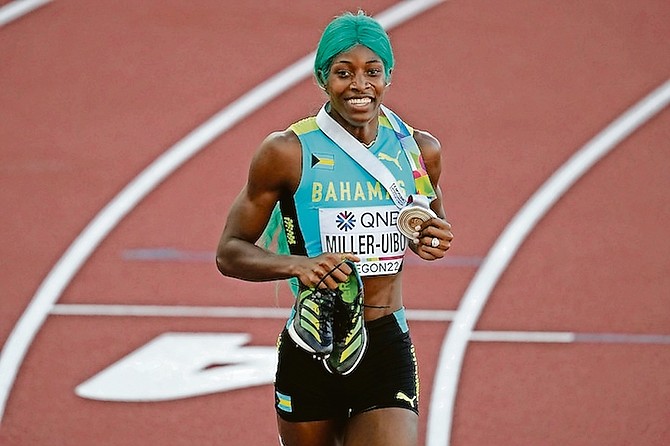 By BRENT STUBBS
Senior Sports Reporter
bstubbs@tribunemedia.net
A triple crown at the World Athletics' Indoor and Outdoor Championships and the North American, Central American and Caribbean (NACAC) Championships has landed Bahamian multiple national record holder Shaunae Miller-Uibo back in the running for the 2022 Women's World Athlete of the Year.
Miller-Uibo was confirmed as one of ten nominees announced on Tuesday by an international panel of athletics experts, comprising representatives from all six continental areas of World Athletics.
The performances by the athletes produced what World Athletics has dubbed another memorable year for the sport and the nominations reflect some of the standout performances achieved at the World Athletics Championships in Oregon, the World Athletics Indoor Championships in Belgrade, one-day meeting circuits and other events around the world.
For the 28-year-old Miller-Uibo, it was a culmination of events this season that she had either never competed in before or had previously fell short of winning that she was now able to post on her resumé.
She returned to the World Indoor Championships for some unfinished business when she claimed her first gold medal in the 400m in 50.31 seconds in Belgrade, Serbia on March 19 to improve on the bronze she achieved in her initial appearance in 2014 in Sopot, Poland.
She accomplished another first at the first World Championships to be held in the United States in Eugene, Oregon on July 22 to snatch her first gold in 49.11 – adding to a pair of silver medals and a fourth place in the 400 and a bronze and fourth in the 200 in four previous championships from 2013.
And to top off her year, Miller-Uibo came home, albeit in Grand Bahama, for her successful debut at the North American, Central American and Caribbean Championships (NACAC) with a meet record breaking performance of 49.40 on August 20.
The other nominees for 2022 Women's World Athlete of the Year are:
Tobi Amusan, Nigeria's quadruple World, Diamond League, Commonwealth Games and African 100m hurdles champion, who established a world record of 12.12 seconds in the semi-finals at the World Championships.
Chase Ealey, America's world shot put champion and world indoor shot put silver medallist and Diamond League shot put champion, who threw a world-leading 20.51m.
Shelly-Ann Fraser-Pryce, Jamaica's world 100m champion, claiming a fifth gold medal in the event as well as taking the Diamond League 100m champion and running a world-leading 10.62 among her record seven sub-10.70 100m races of the season.
Kimberly Garcia, Peru's world 20km race walk champion, winning her country's first ever World Athletics Championships medal, in addition to winning the world 35km race walk champion in a South American record to complete a race walk double and the world Athletics Race Walking Team Championships 20km bronze medallist.
Shericka Jackson, Jamaica's dual world and Diamond League 200m champion, who ran a world-leading 21.45 to move to second on the world all-time list.
Faith Kipyegon, Kenya's double world and Diamond League 1500m champion, who ran a world-leading Kenyan record of 3:50.37, just three tenths of a second off the world record.
Yaroslava Mahuchikh, Ukraine's world indoor high jump champion and world high jump silver medallist and European high jump champion, who jumped a world-leading 2.05m, equalling the outdoor national best.
Sydney McLaughlin, America's world 400m hurdles and 4x400m champion, who broke the world 400m hurdles record with 51.41 at the US Championships and further improved the world record to 50.68 to win the world title.
Yulimar Rojas, Venezuela's triple world indoor and outdoor and Diamond League triple jump champion, who improved her world record to 15.74m in Belgrade.
A three-way voting process will determine the finalists.
The World Athletics Council and the World Athletics Family will cast their votes by email, while fans can vote online via the World Athletics social media platforms. Individual graphics for each nominee will be posted on Facebook, Twitter, Instagram and YouTube this week; a 'like' on Facebook, Instagram and YouTube or a retweet on Twitter will count as one vote.
The World Athletics Council's vote will count for 50% of the result, while the World Athletics Family's votes and the public votes will each count for 25% of the final result.
Voting for the World Athletes of the Year closes at midnight on Monday 31 October. At the conclusion of the voting process, five women and five men finalists will be announced by World Athletics.
The winners will be revealed on World Athletics' social media platforms in early December.
Further information about the World Athletics Awards 2022 will be announced in the coming weeks.