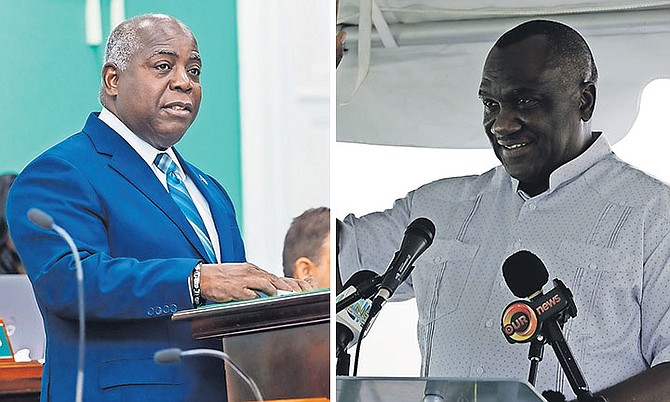 By MALCOLM STRACHAN
A BREAKTHROUGH appears to have been achieved in the debate over marital rape – and it's thanks in no small part to the University of The Bahamas.
Last week, an expert at our nation's own university was able to release some of the findings from a study into marital rape. The scale of what adjunct faculty member William Fielding had to report was remarkable, to say the least.
The study found that one in 12 married women have been raped by their husbands. One in 12.
That would work out to about 4,000 married women in the country, according to Mr Fielding's results.
An even greater number, around 6,000, claimed they were victims of sexual abuse. That would include any sexual activity without consent, including sexual violence, unwanted touching, forced oral sex and rape.
Frighteningly, the study found that married women were more likely to be sexually abused than a single woman by an intimate partner.
Mr Fielding added: "Admitting to rape requires courage, so we might validly interpret this figure as 'at least eight percent' and so estimate the figure as being in the region of 4,000 women."
Now, to be fair, some caveats should be noted with regard to this research. The findings were released to The Tribune before the study was published, so it would still need to stand up to peer review. However, it seems unlikely that a review would show wildly different findings.
Instead, what we are faced with is a glimpse of the scale of the problem of marital rape – how many people are affected, how commonplace sexual violence is within marriage in Bahamian society.
I will freely admit to being shocked by the figures. In the debate over marital rape so far, it was easy to think of it as important, to protect women who were victims of it, but think that it only came down to a small number of cases each year. One victim is too many, of course, and the law should be amended to protect even that one person – but now that we see the scale of the problem, it brings home the urgency of doing something about it.
So how have our leaders responded? I'm delighted to say they have risen to the challenge.
Rather than dismiss the study, or talk as if the problem isn't there, Prime Minister Philip "Brave" Davis was one of the first to speak up, urging victims of rape – whether married or single – to report abuse to the police.
He said: "What I say to any woman, married or not, if they are aggrieved by being assaulted violently by anyone, they should report it to the police. The law takes into account the separation of persons who would have had a marriage and any assault on a woman be it whether you call it rape, grievous harm or otherwise, the law should take its course."
That may or may not be so – it would be a challenging test case for a married woman to bring given the state of our current laws, and the trauma of going over a rape attack before a court of law is difficult enough without the uncertainty of whether the law even applies.
However, Mr Davis has done the right thing – encouraging the involvement of authorities.
Indeed, he was applauded that same day by Human Rights Bahamas, whose secretary general, Paco Nunez, in describing the news that one in 12 Bahamian wives have been raped as "unconscionable, outrageous and utterly barbaric", went on to say: "Human Rights Bahamas once again applauds the Davis administration for committing to bring an end to this nightmare once and for all."
But what about the other voice in the room in this conversation – that of the church? Credit again to Bahamas Christian Council president Bishop Delton Fernander, who called the survey outcome "horrific".
He said: "I want to have a strong conversation with pastors I regard to the data that came out."
He called such acts against married women "unacceptable", and added: "I think the data can be the catalyst of a strong conversation, as clergy, as I've spoken to the clergy – we've got work to do. We've got a lot of work to do, to reverse what's going on in our society."
Some of the discussion rejecting the idea of marital rape laws has surrounded that when a man and a woman marry, they become one, and that one part cannot reject another. There has been talk of women promising to obey their husbands.
But Bishop Fernander noted that if marriage is done right – "God's way" – then men will respect their wives and never want to harm them because they are "bone of your bone and flesh of your flesh".
He said: "Spousal abuse, that is taking place in society – that's where we started. We started talking about spousal abuse, whether male or female, it's real. And because it's real, it's our job to do something about it, but I can't convince you to live a Christian life."
The university study appears to have brought a turning point. It has shown the scale of the problem our nation faces – of the suffering being inflicted upon women in our society.
Some will say we should have known all along, but there have been voices telling us this all along that have been ignored.
They don't appear to be being ignored any longer.
Our university is our leading institution in the land, and its study shows we need to do something about this. Our Prime Minister has urged victims to call the police and marital rape legislation is finally on the government's radar. And our religious leaders are acknowledging that such abuse is wrong and that we need to do something.
That's a powerful moment – to see such unanimity across the board. This might actually be a time when change can finally happen.
And women will be safer for it.