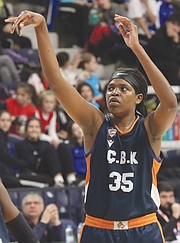 JONQUEL Jones was expected to make her FIBA Euro League debut with CBK Mersin Yanisehir Belediyesi but the club suspects foul play led to their newly signed star and several other players missing yesterday's game with an undisclosed illness.
Just hours before tipoff against Perfumerias Avenida in Euroleague Group B play, Mersin released a statement on social media disclosing what they deemed the "shady circumstances" surrounding the sudden illness of several players.
"Our players Jonquel Jones, Gamze Takmez, Özge Yavas Özısık, Temi Fagbenie, Goksen Fitik and our conditioner Hiltima Taser, developed medical complaints such as nasuea, fatigue, and vomiting, which are possibly linked to the meals served in the hotel and started to affect the entire team as the game hour approached in Spain," the team statement read.
"We arrived in Salamanca two days ago on Monday to get accustomed to the weather conditions and for mental preparation. It is a well-known fact by our supporters that our sole focus is to play the finals in Euro League Women with such an ambitious team. We strongly condemn this shady circumstance and call for our federation to take the necessary action to shed light on the matter."
Without Jones and the other players in the lineup, Mersin lost 83-66 to Perfumerias Avenida.
On October 23, Jones ended her brief offseason when she joined Mersin in Turkey's Herbalife Nutrition Women's Basketball Super League. She made her debut with 26 points and 13 rebounds in her club's 73-70 win over Emlak.
Jones highlighted a season of high-priced acquisitions that vaulted Mersin to no.3 in the FIBA Euro League power rankings. "The decision to acquire the services of Briann January looks smart as her hard-nosed veteran play was a foundation for Sopron's historic title win last season. But the big news is that they will surely be frontrunners to make it to Final Four with Jonquel Jones and Chelsea Gray both agreeing moves to the club. Those two are absolute elite at every level and immediately make Mersin serious silverware contenders if the chemistry is good and they can play together consistently at both ends of the floor."
Club president Serdar Çevirgen said the club is excited about the possibility of adding a player of Jones' calibre.
"We are proud to add a world star like 5-time WNBA 'All-Star' Jonquel Jones to our squad," he said. "We hope our transfer will be beneficial for our club and our city."
Euro League Group B play will continue for Mersin when they host Sopron Basket of Hungary on November 2.