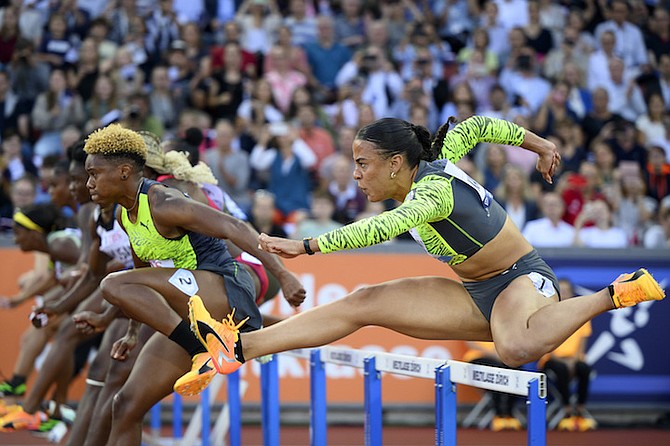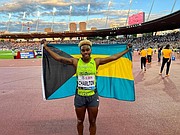 By BRENT STUBBS
Senior Sports Reporter
bstubbs@tribunemedia.net
WITH the fatigue starting to settle in, national record holder Devynne Charlton slipped from first place to fifth in the women's 100 metre hurdles at the Wanda Diamond League Final yesterday in Weltklasse, Zurich, Switzerland.
Charlton was one of two Bahamians who participated in the season-ending meet that brought a climax to the 14-race series that started on May 13 in Doha, Qatar, where athletes were awarded points to be eligible for the prestigious Diamond Trophy.
The 26-year-old Charlton completed the race out of lane two by clocking 12.66 seconds, which was off her lifetime best of 12.46 she did at the Bahamas Association of Athletic Associations' National Championships at the Thomas A Robinson National Stadium in June.
"I felt it was a decent race, well executed, better than last week, but I think I'm starting to feel the effects of a long season," Charlton said. "Execution wise, I think I was just a little fatigued and it showed."
After getting off to a fast start, leading through the first 30 metres, Charlton was caught by the rest of the field.
Nigeria's world record holder Tobi Amusan took the victory in a meet record of 12.29 to add to her triumph at the World Championships in Eugene, Oregon, in July and the Commonwealth Games in Birmingham, England, in August.
American Tia Jones got second in 12.40 and Jamaica's Britany Anderson, the World Championships' silver medallist, was third in 12.42.
Puerto Rico's Jasmine Camacho-Quinn, the Olympic champion, was fourth in 12.49.
"I think my finish was still decent. Over the last two or three hurdles, I gained some ground and picked up a few people," Charlton said.
In the process, the World Indoor Championship and Commonwealth Games' silver medallist and North American, Central American and Caribbean (NACAC) Championships bronze medallist beat out American Nia Ali, who was sixth in 12.67.
Poland's Pia Skrzszowski was seventh in 12.72. Former world record holder Kendra Harrison from the United States was eighth in 13.02 and Switzerland's Ditaji Kambundji trailed in ninth place in 13.22.
Charlton, who once again had the support of her parents, Laura and David Charlton, in the stands cheering for her, will close out her first full season as a professional on Sunday when she competes again in Croatia. But, in the meantime, she's just thrilled to have had the experience she had so far in her four years competing as a pro.
"I got a real taste of what it is to be a professional athlete," she pointed out. "Even though I'm four years into it, it was my first doing indoors and outdoors, so I was really happy, although the fatigue is starting to settle in right now."
She noted that with the World Indoors being cancelled for next year, she will have to sit down with her Bahamian coach Rolando "Lonnie" Greene when she returns to Kentucky.
They will discuss whether or not she will do the two or just concentrate on outdoors and the World Championships in Budapest, Hungary.
For her efforts yesterday, Charlton earned $2,500 in prize money.
All the winners got $30,000, $12,000 went to second place, third got $7,000, fourth $4,000, sixth 2,000, seventh $1,500 and eighth $1,000.