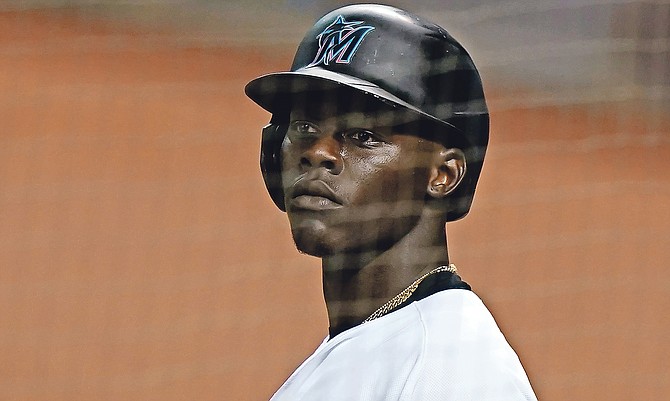 By RENALDO DORSETT
Tribune Sports Reporter
rdorsett@tribunemedia.net
JASRADO "Jazz" Chisholm Jr has been sidelined for over two months and, with the MLB regular season winding down, the Miami Marlins officially ruled out their All-Star second baseman for the remainder of the year.
MLB.com first reported that Marlins manager Don Mattingly and general manager Kim Ng announced that Chisholm Jr would not return from the injured list for the remainder of the 2022 campaign.
"We could probably push Jazz to be able to come back and DH or something. I think the risk/reward on that -- he has a stress fracture in his back. It's something you could say, 'Well, it's healed, but is it all the way?' It just doesn't seem to be worth it," Mattingly told MLB. com. "I think Jazz would like to play, he would like to have played. I think the organisation basically made that decision for him, that we were going to just let this thing go, keep strengthening all year long, so we know going into the winter that he's healthy, he's ready, he's doing everything, he feels great. So again, I think an organisational decision."
The Marlins have 24 games remaining on the schedule.
"I think [Jazz] thinks he could have played two weeks ago, probably," Mattingly said. "I think this is more about: Let's make 100 percent sure there's no reason to even be on the limits of this. I think it's more of a medical thing for Jazz, knowing that this guy's pretty natural at what he does. It's not like he had to play these games to prove to himself he was going to be OK next year. I think he already thinks he's going to be OK next year."
Due to a back strain, Chisholm has been on the injured list since June 29. According to Christina De Nicola of MLB. com, Chisholm underwent a CT scan on July 21 that revealed a stress fracture in his lower back. Chisholm's last appearance on the field in a Marlins uniform was June 28. He originally suffered the back injury early in the season on a slide and eventually re-aggravated the injury in late June, which forced him out of the lineup.
He is the first-ever Bahamian-born All-Star of the nine countrymen to ever play in the MLB.
Through 60 games he has a .254 average with 14 home runs, 54 hits, 45 RBI, 12 stolen bases and scored 39 runs.