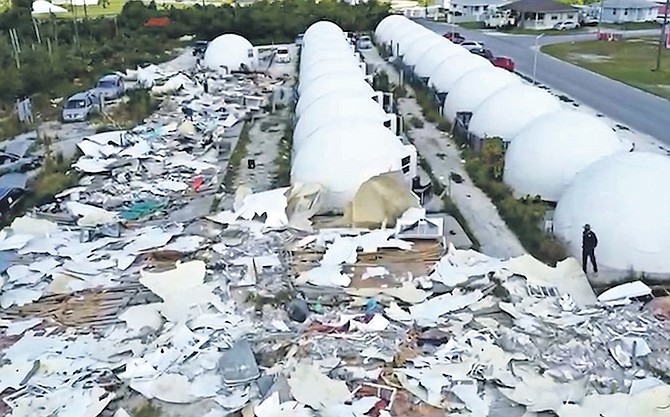 By LETRE SWEETING
ABACO residents expressed distress over the sudden and "short notice" demolition of the domes that had been home to them and their families for more than two years.
One resident — K K Marshall — who watched his belongings get bulldozed last week said being without a place to live once again reminded him of the loss he felt after Hurricane Dorian.
"I sleep in my car at the back of the domes that they already demolished," he told this newspaper yesterday.
"I don't really know what to say. I just be moving. I feel like I already lose my job and all because I couldn't find my ID. I only find my passport. My jewellery, all my shirts gone. I ain't really myself right now. I can't really even talk to say too much about it because it's so serious, it makes me feel like Dorian all over again."
"The police, he looked like he had a personal problem, because I even tried to explain to him, but he kept pushing me, telling me to get off the property before he locks me up. So, I had to leave. I stood on the side and watched them demolish my stuff," said Mr Marshall.
 Despite extensions given to him and other residents, Mr Marshall said with no real assistance and less than a month's notice of the move out deadline, he had trouble relocating.
 "They said it was a demolition. They just kept giving us extensions. The specific date they gave us (to move out) they gave it the day before they demolished," he said.
 "I haven't received anything from them yet, not even a 'How do I feel about my stuff being damaged?' Or what they could do to help me concerning my stuff being damaged. None of that. I just (yesterday) walked from the government complex because I am still trying to find out who's going to help me deal with the stuff with my jewellery and my ID and most of my stuff. That's what I'm really concerned about. But they tell me I must come back to speak to someone," Mr Marshall said.
 "Even if they did tell me, 'Well look here, try to save some money, so you could have something or be one of the ones with first preference for a house' I might have been gone from then, but they never told me anything. They never explained anything to us. They just came round and said (they were) looking to make sure the domes were ok. And then from there that was it. Now it's time to leave, you don't have any place to go, because you been settled there for years."
 Mr Marshall added that as his brother works on Green Turtle Cay, he is alone without family on the island and still has yet to receive any assistance.
 Maxine Ferguson, who now has to live separated from her children and most of her belongings, said she felt "embarrassed" when the power was cut off as she and her sons were moving out of the dome.
 "On the 8th of September when I arrived home, my sons and I were taking the stuff out of the dome and putting them on the outside because we had a trucker that was coming there. And all of a sudden the power went out. It was embarrassing for me because I'm always superwoman to my kids, because I always get things right," she said.
 "The dome is gone now. But up to the day of demolition, I had made several calls in reference to needing more time to get out of the dome and they had promised to call me back with that situation. But they didn't give us any date until three days before.
 "But that day in particular it didn't work out as planned, because I really didn't organise for anywhere to go. Once again my kids and I had to be separated, because they had to go somewhere and I had to go somewhere else. So right now, my situation today is that I am staying with an aunt of mine and my young son is staying with his dad," she said.
 "So I just put all of my belongings into the home (that was being built) and the people who have been doing some of the work for me obliged, because they were trying to work as fast as they could. But unfortunately, they too had other jobs," Ms Ferguson said.
 Despite having a fairly "comfortable" experience and assistance from the Disaster Reconstruction Authority, Ms Ferguson said the process of relocating ahead of the completion of her home has caused her some stress.
 "Living in the domes for me my situation was a whole lot different. I have children and living in the dome, it was comfortable. I made it comfortable. I had a hot water heater that was donated to me by the DRA," she said.
 "During the time when we had to vacate the dome, I had a home that was being built. And it was just the fact of not being employed for some time, funds were a factor. So, I have inquired about having some help which in the plan did not go as it would have. And right now I am still in that predicament of needing some help. I'm almost complete, but still needing just a few stuff to be done, just to make it livable for me and my kids," Ms Ferguson said.
 Shortly after Hurricane Dorian hit Abaco in September 2019 leaving thousands of homes destroyed or damaged, to assist with rebuilding efforts the Minnis administration spent more than $6m on nearly 200 domes that were supposed to be used as temporary housing for displaced residents of Abaco and Grand Bahama.
 However, only a fraction of them were erected.
 Last week, demolition of the domes in Spring City, Abaco began after the Davis administration grew concerned that the dome site was being "misused", according to the Office of the Prime Minister.
 About 30 of some 34 domes have since been demolished.
 Dome dwellers were to receive $4,000 to assist with their relocation to a permanent home.
 In July, Housing and Transport Minister Jobeth Coleby-Davis announced that the government was aiming to have the structures demolished and taken off the property by August.
 Despite some criticisms about the removal of the domes, Mrs Coleby-Davis repeatedly stressed that they were a safety hazard due to lack of proper ventilation and excess mould being found in them.
 In a statement released on Friday, the Office of the Prime Minister suggested that critics who opposed the demolition lacked full knowledge on the domes, including their initial purpose, which the office reiterated were meant for temporary use.
 According to OPM, the government had initially planned to dismantle the domes and salvage the materials but decided against this for several reasons.