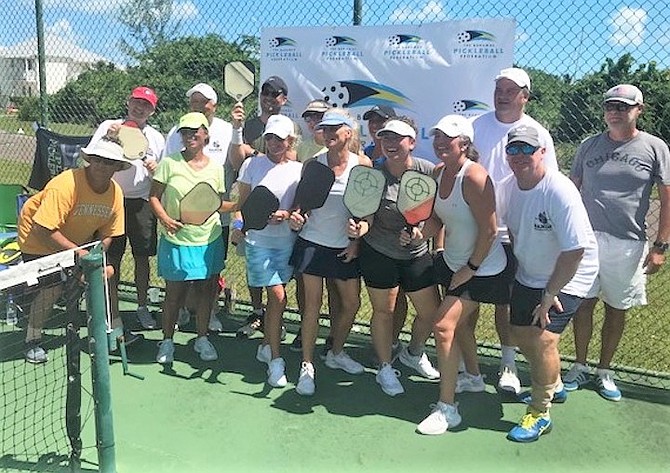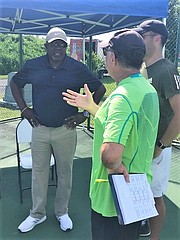 IT is a game called "Pickleball," yet it has nothing to do with pickles. The sport is a hybrid of ping pong, badminton and tennis, and very approachable for players of all kinds. On Saturday past the success of the first formal organised Pickleball tournament at Palm Cay went a long way toward making the game a household name in The Bahamas.
Played with a hard, rectangular racquet and a whiffle ball on the equivalent of a tiny tennis court, Pickleball's popularity around the world has skyrocketed recently. In the Bahamas, the game is certainly not as well-known yet as its racquet sport cousins, but it has quickly become a magnet for players of all ages and skill levels for two very good reasons: 1) It's less physically taxing than tennis or squash, and 2) It's still competitive and fun.
The round-robin tournament on Saturday featured 16 "picklers" on teams comprised of one male and one female, with rotating individual pairings throughout. Players received one point for each match they won, and the finals featured the two men and two women with the most points.
Minister of Youth, Sports and Culture Mario Bowleg joined in the fun as well, and even took to the court himself to find out what the game was all about.
"I am delighted to be a part of introducing Pickleball to a wider audience," the minister said. "With minimal start up costs, we are eager to witness its success in schools across The Bahamas. The opportunity to grow the sport and community is a benefit to everyone."
One of the tournament's organisers, Kelly Ann Meade, was pleased with the success of the inaugural event. "Everyone had a great time," she said. "It's so incredibly exciting to be part of the very first Pickleball tournament in the Bahamas, and this is just the beginning. Kim Kooskalis - my co-organiser for the tournament - and I want to send a huge thank you to all those who played, as well as to our sponsors, Jimmy's Wines and Spirits and Pink Octopus."
While still in its infancy here, Pickleball has already found a host of enthusiastic participants who gather regularly to play the game.
More tournaments are in the cards for the future and organisers have already begun the process of establishing a formal federation.
And the winners of the inaugural tournament on Saturday? Diane Chea and Peter Dupuch, along with runners-up Danielle Van Wynen and Michael Clarke.