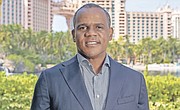 By NEIL HARTNELL
Tribune Business Editor
nhartnell@tribunemedia.net
Atlantis has decided to wait for Royal Caribbean to supply answers to its 50 questions over the latter's proposed Paradise Island project because they were not totally "buttoned up" at the two sides' most recent meeting.
Vaughn Roberts, Atlantis' senior vice-president of government affairs and special projects, yesterday confirmed that the mega resort and cruise giant had gone ahead with their planned March 24, 2023, meeting where environmental concerns over the Royal Beach Club project were due to be further discussed following the two sides' previous encounter in January.
However, while Royal Caribbean executives "seemed like they had some details they wanted to share" on their plans, the parties both agreed to defer further talks until the cruise line "shares more information publicly" about the project - as it will have to disclose a revised Environmental Impact Assessment (EIA) and Environmental Management Plan (EMP).
The March 24 meeting took place just two weeks after Audrey Oswell, Atlantis' president and managing director, publicly warned that approval of Royal Caribbean's $110m Paradise Island project is "premature" and urged Bahamians to call on the Government to "put the brakes on".
Mr Roberts said yesterday: "The circumstances have changed quite a bit in terms of what's out there in the public domain. We did have the meeting, but it was pretty much that nothing was really advanced except that Royal Caribbean seemed ready to share the details of the project with us, but we couldn't receive it because of the public discourse that has happened.
"We've got to wait until they make their submissions, and the details are shared publicly, and then we'll go back to the table with them to make sure our concerns are addressed. It seemed like they had some details they wanted to share, but they didn't have everything buttoned up in terms of addressing our questions. It really needs to wait until they share more information publicly about the project."
Mr Roberts spoke as Ms Oswell yesterday wrote a letter to Atlantis' nearly 6,00 staff to explain the resort's position on Royal Caribbean's proposed western Paradise Island destination. "Because whatever happens on Paradise Island has the potential to impact Atlantis, our guests, and all of us who work here, we have been paying close attention to this project ever since it was first proposed in 2020," she said.
"The potential impact on our beaches, marine life and water supply could be devastating if the appropriate environmental controls and practices are not carefully planned and executed. As the leader of tourism for The Bahamas and long-time stewards of the ocean and its marine life, caring for the environment has become part of our DNA. It is at the core of who we are and what we do."
Ms Oswell added that, due to the extent of its concerns, it had made an "exception" to its traditional policy of not becoming involved in such public discussions. "We sincerely hope this project's review and approval process will develop following all the necessary protocols," she added. "Unfortunately, that has yet to be our experience to-date. Hence the reason for the public alarm.
"There have been few opportunities for public review of the plans. Back in 2021, we attended a public presentation on the project, as did several local environmental groups and interested parties. After the meeting, we submitted a list of questions to Royal Caribbean and the Department of Environmental Planning & Protection (DEPP). To date, none of these questions have been answered.
"When announcements by Royal Caribbean and the Government suggested the project was close to being approved in early March we, along with others in the Nassau/Paradise Island community, voiced our surprise and worry. In response to this outpouring of caution, Prime Minister Davis issued assurances that the review process, which includes an assessment of the project's environmental impacts, was still underway and would be thorough. That's excellent news – and we intend to follow that process closely."
Ms Oswell added that besides the environmental concerns "many believe a deeper analysis of the project's economic impact is required". She continued: "The local economy is driven by tourism, and for the most part, tourism is driven by the beautiful waters and beaches of The Bahamas and its people. As part of the hospitality industry, we need to stand up and protect our livelihood."
Setting out the issues as Atlantis sees them with the Royal Caribbean project, she added: "Any expansion of beach areas, overwater cabanas, seawalls, jetties or other structures poses potentially devastating impacts on the Paradise Island coastline and our beaches."
As for the desalination and wastewater treatment plants required to service the project, Ms Oswell said: "Plans call for thousands of beachgoers each day, which could potentially threaten the water source for all of Paradise Island. The odors, noise and handling of discharge from such wastewater treatment plants are also of particular concern.
"[The] noise from large numbers of people, music, jet skis and other activities and amenities offered at the project site pose potential threats to neighbouring residential property owners and Atlantis."