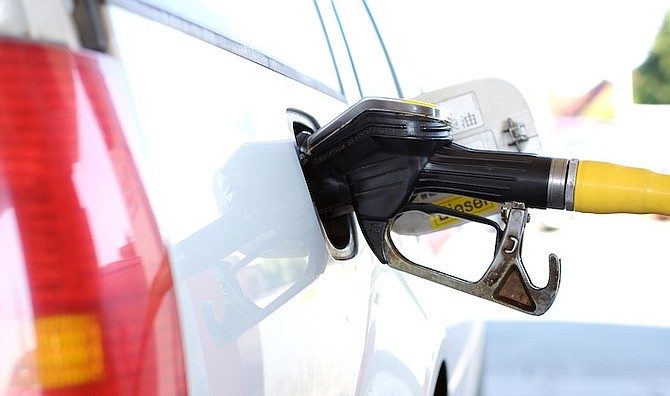 By NEIL HARTNELL
Tribune Business Editor
nhartnell@tribunemedia.net
Bahamian petroleum retailers yesterday reiterated that a margin increase is "definitely what's needed to get us over the finish line" as they voiced optimism that this week's meeting with the Government will achieve a solution all can live with.
Raymond Jones, the Bahamas Petroleum Retailers Association's (BPRA) president, told Tribune Business that while gas station operators are still waiting on a definitive time and date from the Davis administration he has "no doubt" that the two sides will meet given that they have already been contacted by the latter.
Speaking after Michael Halkitis, minister of economic affairs, last week said the Government is assessing separate proposals from the retailers and wholesalers (Esso, Rubis and Shell), he added that gas station operators were confident they have "made our case" for a margin increase equivalent to a 7 percent increase in the cost of landed fuel given that many are already "in the red".
Mr Jones told this newspaper that "2 percent would probably do" if the petroleum industry and, by extension, the wider Bahamian economy had not experienced the "very crazy" cost increases seen especially over the last three years post-COVID. He added that the "2 percent" rise would have sufficed without the recent 24 percent minimum wage increase, which has sent petroleum industry wage bills soaring, and if insurance premiums had remained at 2019 levels.
The core problem facing Bahamian petroleum retailers is that they are being asked to absorb a multitude of ever-increasing costs from price-controlled, fixed-margins that have remained at 54 cents and 34 cents per gallon of gasoline and diesel, respectively, for more than a decade since 2011. However, Mr Halkitis last week reiterated the Government's long-standing position that any solution must not involve an "immediate" increase in gas prices at the pump.
"We haven't got a definitive time as yet, but they said we should expect to hear something this week," Mr Jones said of the retailers' contact with the Government. "The fact they reached out to say means we will have a meeting. I don't have a doubt that will take place. The results are what I am more intent to focus on. Hopefully this will be the meeting we come to a final conclusion at."
He based this on the outcome, and subsequent media release, by the Government following the last meeting with the petroleum retailers on March 13, when it said the two sides' next meeting would seek to find a resolution. "They've met with the wholesalers, met with us, had a debate about what they can and cannot do," Mr Jones said. "We're waiting to hear what their proposal in comparison with what we requested so we can assess what they came up with.....
"I think we made our case in explaining to them the plight of the retailers in the industry and the need for an improvement in the margins that will allow us to achieve a reasonable profit. People are in the red. We understand the Government's position as well, but we are investors and business owners and the price-controlled margin needs to be reflective of the current cost environment.
"It doesn't solve everything all the time for everyone, but it means that businesses within the sector will have a chance to make a reasonable profit and reasonable return on investment. We've been looking at operating costs, but a margin increase is definitely what we need to get us over the finish line..... Costs have gone up in a very crazy way, especially in the last three years, and there's no sign of that stopping."
With crude oil prices having risen again after the global oil producing cartel, OPEC, announced a production cutback equal to 3.7 percent of global demand, Mr Jones said gas station operators as well as motorists/consumers will feel the increase in local pump prices that will ultimately result.
Dealers will now have to "pay more for the same gallon of fuel" on fixed, inflexible margins that do not change. As a result, they will incur higher credit card and overdraft fees to make those fuel purchases from the three oil majors. "That needs to be changed to allow us a reasonable level of profit," Mr Jones reiterated. "That's what we need to achieve."
Sir Franklyn Wilson, chairman of BISX-listed FOCOL Holdings, which operates under the Shell brand, previously told this newspaper that while the retailers had made their case for a margin increase he was not convinced it should be of a magnitude equivalent to 7 percent of the cost of landed fuel.
In response, Mr Jones said: "That's something for the Government to debate." He added that gas station operators had already shown why "asking for a 7 percent increase compared to the cost of doing business" was, in their view, reasonable - especially when set against the 24 percent minimum wage increase, 15 percent jump in insurance costs and other hikes.
"Asking for 7 percent on higher volumes that are anticipated to grow and stabilise seems to be very palatable compared to the cost impact already," the Association president argued. "We stand committed to work with the Government and listen to what their proposal is. The 7 percent we ask for we consider to be reasonable.... The reality is these costs we're encountering are significant, and we're sinking without getting something reasonable."
Mr Halkitis, though, said the Government remains against any solution that will lead to "an immediate increase in the price at the pump", while acknowledging that the petroleum industry's issues need to "be looked at in a comprehensive manner", both from the retail as well as the wholesale perspective.
He added: "We've been having discussions with the retailers and wholesalers to see how we can adjust the system that is currently in place to bring some relief, particularly to the retailers who have been clamoring. And, of course, I say, once again, our view is that any solution should not lead to the immediate impact of increasing prices at the pump or Bahamians.
"So that is something that we continue to work on. We have another meeting scheduled for this this week upcoming following the holidays, and it's a very complex issue that involves private contracts between individuals. And so we want to make sure that any solution that we propose, the foremost thing for us is that it actually brings relief and it does not lead to a direct increase at the pump immediately."
Mr Halkitis reiterated that the situation has to be assessed "in its entirety straight down from the wholesalers to consumption at the pump. Both [retailers and wholesalers] have put in a proposal, we're analysing them now, more meetings are scheduled for this week upcoming and hopefully we will be able to come up with something that is workable. It's a long-standing issue, and not an easy issue to deal with. It's like pulling a thread. Pull a thread and something else is impacted".
The minister, though, said the retailers' plight was also directly linked to the "onerous" rental and other agreements they have with their wholesaler landlords - issues that did not affect the Government or which it could influence. With gasoline prices impacting all segments of the economy, Mr Halkitis said any solution must "must not undermine the economic recovery we are experiencing or increase costs in that area".