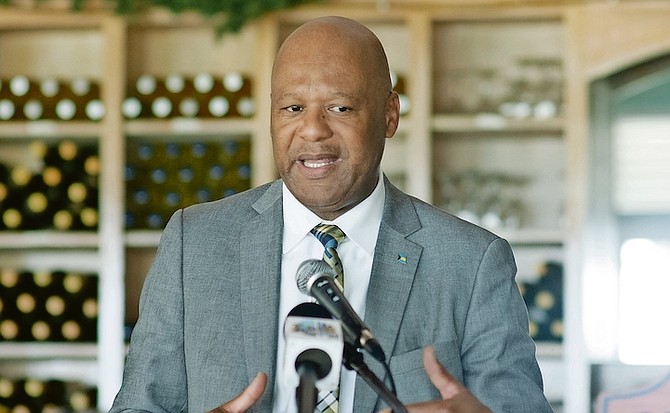 By LETRE SWEETING
Tribune Staff Reporter
lsweeting@tribunemedia.net
LABOUR Minister Keith Bell said immigration officials are reviewing Chief Justice Ian Winder's recent ruling on "fronting", adding the government would "absolutely" address the controversial, long-standing practice.
Chief Justice Winder ruled last month that "illegality was a major part" of a Bay Street retail fronting deal involving the Skandaliaris family, a prominent Greek-Bahamian family.
He ruled that a company owned and controlled by the family signed an agreement with two US investors to circumvent the National Investment Policy's stipulation that retail businesses are reserved for Bahamian ownership only.
The ruling shone a rare light on the practice of Bahamians fronting for foreign investors so the latter could secretly operate businesses in sectors reserved only for local ownership.
Critics see a double standard in the government's immigration practices — a quickness to deal with some issues involving immigrants but a slowness to address a more complex and impactful problem like fronting.
"I don't remember no other judgements, no other cases where the court actually steps out on a limb and did what (the Chief Justice) actually did," Mr Bell said yesterday. "We know it's there whether the Chief Justice says something or not. We all know that's what needs to be done. It was just a clear obvious case, I think that's why he said it."
 Mr Bell said his ministry is "aware of a few" businesses operating illegal fronting arrangements.
 "I think you're going to see more and more as we make inroads," he said. "When you go up to these companies, you have to remember these companies, these aren't just fly by night, these are companies that have money, that have deep pockets and resources.
 "There are a number of ongoing investigations. There are some matters we are looking at.
When you go up there, you have to make sure that you cross your I's and dot your T's. And those cases are not the easiest to solve and prosecute."
 When asked if the issue would finally be addressed, Mr Bell said: "Absolutely".
 He said there are several ways to deal with illegal fronting operations.
 "First of all, go to the business licence department and ask them to cancel their business licence," he said. "That's the first component. Everyone who works within that company, who are not Bahamians, not permanent residents or citizens, then we can look to cancel those permits. 
 "So, there are ways in which we could look at it, within the ambit of the law. There are also some charges which could be put before the court, if we decide to go that way."
The case involving the Skandaliaris family only came to light as a result of the two foreign investors, Tal Nemzer and Zvi Yosifon, initiating Supreme Court legal proceedings against them in 2017 for alleged breach of the two sides management agreement and purported "negligence" in living up to its terms.
 While Chief Justice Winder gave the Skandaliaris family and their ZRK vehicle some credit for bringing the parties' business relationship to an end, so as "to avoid becoming further embroiled in violations of the law", he added that their involvement in an "invalid" deal "cannot be denied or ignored".
 Mr Bell spoke to reporters after a Bahamas Contractors Association meeting.