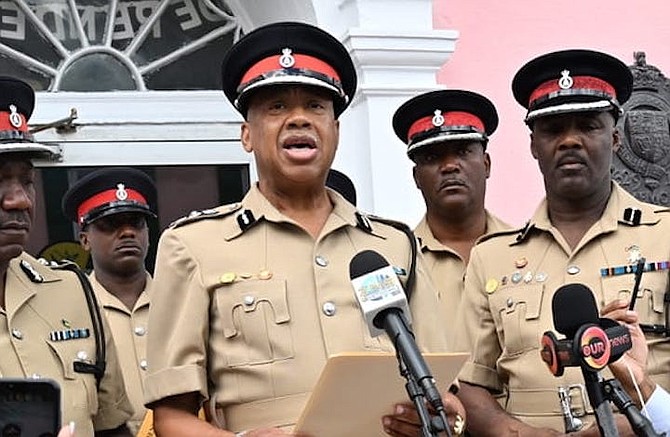 By LETRE SWEETING
Tribune Staff Reporter
lsweeting@tribunemedia.net 
A NEW Parliament session will begin on October 4 as the Davis administration refreshes its agenda.
Police Commissioner Clayton Fernander read a proclamation from Governor General CA Smith on Saturday announcing the prorogation of Parliament, ending the session that began on October 6, 2021.
All bills, committees and ministers' questions from the previous session have expired.
The next parliament session will likely coincide with Cynthia "Mother" Pratt's anticipated appointment as the next governor-general, allowing her to read the Speech from the Throne.
Davis administration officials were mum on whether the Cabinet would be shuffled as part of this move.
Attorney General Ryan Pinder said when Parliament returns, all bills not passed during the previous session will be tabled again.
 "We will bring certainly the mining (bill) back to be debated early on in the session," he told reporters on Saturday. "That provides a framework for the exploration of our natural resources, whether that be aragonite, sand, salt, whatever you mine the earth for, that will provide a proper framework for transparency and regulation.
"We have a compendium of anti-corruption legislation. You would have noted the ombudsman bill was left on the table. We look to compound that with a new Public Disclosure Act and an Anti-Whistleblower Act as well as a code of conduct for the public service and bring that all back together as an anti-corruption suite of legislation.
 "The NHI amendment is a very important part of our health care initiative that was left on the table. That will be brought back. The minister of health is in continued consultations with respect to the NHI amendment, and that is certainly something we look to pass in the new session."
 The Office of the Prime Minister said the next session of Parliament will see the government "prioritise legislation and policies which address the high cost of living, lift our people and strengthen our economic and national security".
Parliament was prorogued only to prepare for general elections during the previous two administrations.
However, under former Prime Minister Hubert Ingraham, the institution was usually prorogued every two years.
When former Prime Minister Perry Christie prorogued Parliament in 2006, he shuffled his Cabinet and appointed Arthur Dion Hanna governor-general.
Parliament is typically prorogued annually in some countries, including the United Kingdom.
 Maurice Tynes, the longtime former parliamentary clerk, criticised the surprising nature of Saturday's prorogation announcement.
 "We have to demystify this issue of prorogation," he said. "It's not supposed to be so mysterious and private. Governments are supposed to let Parliament know: in six weeks, we're going to end our legislative agenda. It isn't supposed to be a secret. In Britain, they prorogue, I think, every September. Everyone knows it's coming. People like to keep things close to their chest when it ought not to be that way."
 The Free National Movement dismissed Parliament's prorogation as the Davis administration's attempt to escape accountability.
"We believe that we witness a desperate and a feeble attempt by the Davis-Cooper administration to escape the undeniable truth that they are failing the Bahamian people despite benefiting from the rebounding world economy, pent-up demand, and business returning to the pre-pandemic levels," FNM leader Michael Pintard said at a press conference yesterday.
"We also find it astonishing for the government to embark on a two-month hiatus from parliamentary activities precisely when the nation faces dire challenges on multiple fronts. They reek of negligence and indifference."
 He said the Parliament session ended with 119 unanswered questions.