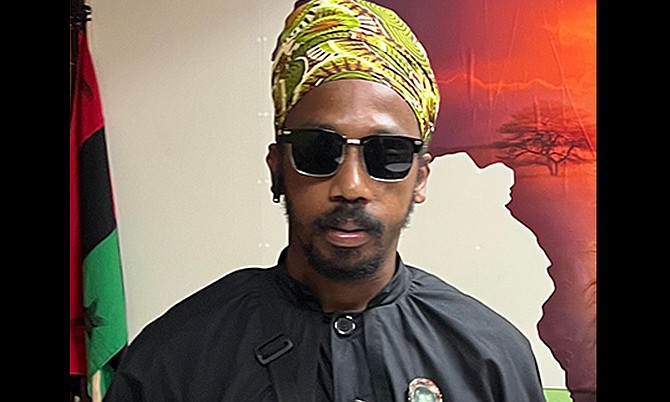 By RASHAD ROLLE
Tribune News Editor
rrolle@tribunemedia.net
THE Rastafarian community is not satisfied with the Davis administration's proposal for legalising cannabis for religious purposes, calling the draft bills inadequate.
The legislation would let Rastafarian organisations get a religious use licence to distribute cannabis to members as a sacrament. The substance could only be used on the premises for which the licence or exempt event permit is issued.
According to the regulations, people with a religious use license could permit the smoking or other use of cannabis to members of that place of worship as a sacrament within the place of worship.
But Delrado Burrows, secretary of the Ethiopia Africa Black International Congress True Divine Church of Salvation, said between 80 to 85 per cent of Rastas are part of the Bobo Ashanti, a mansion that does not use cannabis in tabernacles.
 "We don't use it in our service areas," he said yesterday. "Only about 15 to 20 per cent would benefit from that legislation."
 He said forcing Rastafarians to adjust their practices would infringe on their religious freedoms.
 "This is the Dangerous Drugs Act 2.0," he said. "There's no real change in the proposed bill. I say that because, for us as the Rastafari faith, they're saying we could only be able to use the cannabis around our tabernacles or vicinity. I don't live in the campyard. I hold reverence or service away from the tabernacle, so I would be using marijuana illegally under this.
 "In terms of communing, if I drive with marijuana in my possession, I would also be illegally possessing marijuana."
 People with a religious use license could apply for a cultivation license. They would have to outline the total surface area where the budding or flowering cannabis plants must be contained, an area not exceeding 538 square feet. They could also secure an exempt event permit to worship or fellowship at a specified public place. The permit would allow a licensee to transport no more than 14 grams of cannabis to a public place.
 Only people who have never been convicted of an offence under the Dangerous Drugs Act, the Proceeds of Crime Act, or the Criminal Justice (International Co-operation Act) would be eligible for a license.
 "Almost 80 per cent of our community is eliminated from competing in the market," Mr Burrows said, referring to the number of Rastas he believes were previously convicted for possessing the substance.
 "I don't understand why they have to reinvent the wheel. This is not a complicated situation. Antigua has the ideal model for religious exemptions. The community has the ability, bar none, to cultivate, to distribute, even to trade marijuana, whereas with us, we would have to register and have to get a license. Jamaica doesn't have that much religious exemption because they have broader decriminalisation allowances."
 Attorney General Ryan Pinder has said public feedback will be accepted through October before the bills are debated in Parliament.
 Jevon Thompson, chairman of the EABIC, said the community is open to provisions requiring that only registered members could use cannabis.
"We, as Bobo Ashanti," he said, "most of our members carry IDs, and we are in the process of revamping those IDs and bringing them more up to date and getting more of our members to get them, specifically for showing authorities that you are an official member of our congress."
 The Rastafari community's constitutional challenge of laws prohibiting their use of marijuana recently failed. However, some Rastas still point to rulings in other jurisdictions, such as the St Kitts and Nevis, to insist their local drug use could be constitutionally protected.
 "Not all Rastafari mansions or houses operate the way we do," Mr Thompson said. "Naturally, you would have ones who say they are Rastafari. They may not look like Rastas; you have some who already got their locs cut, and they choose not to re-grow their hair because of different circumstances: they might have a family, they might have a job. But that don't mean they're not a Rasta. This thing is a choice, so it would be up to the authorities to have a level of discretion also, but we willing to work with them as far as the IDs go."