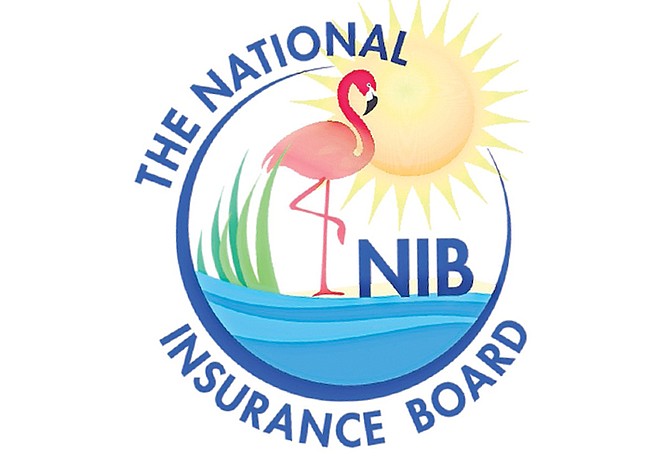 By NEIL HARTNELL
Tribune Business Editor
nhartnell@tribunemedia.net
National Insurance Board (NIB) employees enjoy an average $64,000 income that nearly matches the earnings of the Government's top financial watchdog due to a bloated cost structure, a study has revealed.
An Inter-American Development Bank (IDB) analysis of government spending in key areas such as education, health and social security noted that NIB's compensation structure "appears high" given that the average annual pay and benefits package taken home by staff was just $1,000 less than the Auditor General's salary. And their income is some $10,000 higher than that of a leading secondary school head teacher.
The report, which has been reviewed by Tribune Business, suggests that previous "generous" industrial agreements have been a key factor in inflating both NIB's wage structure and, in turn, its administrative costs. The latter, according to the study's author, Alasdair Fraser, are up to almost four times' higher in percentage terms than those for other Caribbean social security systems.
NIB has been the focus of much attention in recent months after the International Labour Organisation (ILO), in the 11th actuarial report on the scheme, called for a two percentage point increase in the current NIB contribution rate to be implemented from July last year. That was to be supplemented by a series of rolling rate increases every two years through to 2036 to help stabilise and shore up NIB and its $1.5bn reserve fund, which faces total depletion by 2028.
The IDB report, though, brings focus to oft-repeated charges over the past two decades that NIB's administrative costs (including staff compensation) have been far too high. The multilateral lender's study, dated February 2022 but only just disclosed, said the scheme's administrative costs exceeded its total investment income by $4m as far back as 2016.
Pegging NIB's administrative costs at equivalent to 19 percent of annual benefits expenditure, the IDB report said: "As a share of contributions, the administrative share of expenditure in NIB is almost two times' higher than for Barbados' NIS (national insurance scheme) and four times' higher than Trinidad and Tobago's NIS, which is around 5 percent.
"The Bahamas' NIB manages a relatively simple range of services and far smaller scale of spend than Barbados. Administrative costs have barely fallen as a share of contributions since 2001 despite new technology and a larger Bahamian economy, which could have reduced and diluted administrative costs.
"Administrative expenses absorbed $4m more than the entirety of investment income in 2016. There is one member of NIB staff for every 65 recipients and every 285 contributors, which is inefficient, and should be unnecessary with increasing digitisation," the study continued.
"A generous 2016 pay agreement pushed 2017 total NIB administrative expenses above $80,000 per employee, which includes pay and other benefits of $64,000 average per employee ($183 per contributor and recipient when combined), outstripping central government rates for similar work.
"For reference, the Auditor General's base pay was around $65,000 in 2016, and a secondary head teacher earned around $54,000 base pay in the top grade; even factoring in central government insurance and pension benefits at around 31 percent of base pay, NIB compensation appears high."
However, this was not the only social services-related area identified as having high staff costs. The IDB report found that, during the 2019-2020 fiscal year that included two-and-a-half months of COVID-19, the combined salaries and benefits earned by civil servants employed at the Ministry of Social Services and Department of Social Services was four times' higher than the benefits paid out to needy Bahamian recipients.
"Both NIB and central government administration costs are very high relative to government managed funds," the study added. "Salaries and benefits for Ministry of Social Services and Department of Social Services civil servant costs totalled $19.6m in 2019-2020 compared to $1.3m of central government grants to individuals and food assistance, plus $3.5m in social grants. The central government support to individuals prior to COVID-19 had fallen from $2.8m in 2015-2016."
The IDB report also found that there were "pervasive challenges" with efficiency and cost controls at the Public Hospitals Authority (PHA), which operates a Princess Margaret Hospital (PMH) that the Prime Minister admitted last weekend was in a "crisis" state. The state-owned authority was said to have received more than $1bn in taxpayer monies since its last set of audited financial statements was published.
"Even with recent NIB and National Health Authority expansion, current funding levels remain heavily tilted towards hospital care, where costs are poorly controlled and there is no regime in place to ensure the hospital enforces meaningful billing adherence," the study added. "PHA wrote-off half of potential revenue due to non-payment during 2015-2019, and has charges for less than half of its services.
"The Government is paying for a hospital billing mechanism that isn't being used extensively, and it is also paying those charges not collected in practice by PHA. Up to $10m of exempt payment could be claimed from the private health insurance package the Government also subscribes to for civil servants."
Pointing to a lack of fairness in Bahamian healthcare, the report found: "The system of exemptions and non-payment for hospital services is inequitable, with the richest fifth of the population having far higher footfall in hospitals (over 13 times higher in 2013 per person) than the poorest, and age-based exemptions exempt many who could pay.
"Inpatient unit costs were higher than in other high income countries in the region, and recent hospital expansion and pay deals are likely to have worsened this. Recent expansion, with a new Critical Care Unit, has not been accompanied by efficiency-seeking elsewhere in PHA."
The IDB report's author recommended that the PHA move to recover half of its uncollected fees, and also index fees to prices. with a 25 percent fee increase. It was estimated that such reforms, implemented over an 18-month period, could generate $29m in extra annual revenue for the PHA - a target that was acknowledged as "ambitious, but far less ambitious" than the recommendations from a similar study by the PricewaterhouseCoopers (PwC) accounting firm.
Other measures to plug the PHA's funding gap, and reduce the burden on Bahamian taxpayers, included "sanctioning" civil servants and the PHA if the former's insurers were not billed for the cost of treatment. This was estimated as generating another $5m-$10m in annual income, while a further $10m might be saved by slashing the PHA's workforce by 10-15 percent so that it falls into line with both Caribbean and international norms.
"PHA often receives extra settlements relative to the draft budget. The average over-execution was 6 percent. PHA has received over $1bn since the last set of financial statements was made public," the IDB report said. "Tertiary healthcare efficiency is questionable. The number of tertiary health staff across the two main sites, 3,986 in 2019, is almost double that of Barbados (2,100 at Queen Elizabeth's Hospital).
"Barbados has around one-third fewer people, but fewer private sector options and more distant international alternatives. Allowances and hours (reported in the PwC report as of 2019) seem exceedingly generous. As with NIB, PHA employees are paid in excess of government equivalents, as both allowances and salaries have risen dramatically in recent years. The share of compensation in hospital costs is higher than in other high-income-country systems.
"PHA losses to delinquency and exemption dwarf the other two major social public corporations. However, the failure to raise PHA prices nor to price most services at all, accounts for the largest share of subsidy, $113m in 2019," the IDB report added.
"Cost control and efficiency faces pervasive challenges at PHA. Costs, particularly staff costs, have risen sharply, even as the number of inpatient discharges relative to the population has decreased substantially since 2013. PHA staff compensation and conditions appear to be extremely generous relative to the rest of government, and have increased substantially in recent years. There are notable overlaps in health provision for some groups, particularly for civil servants."