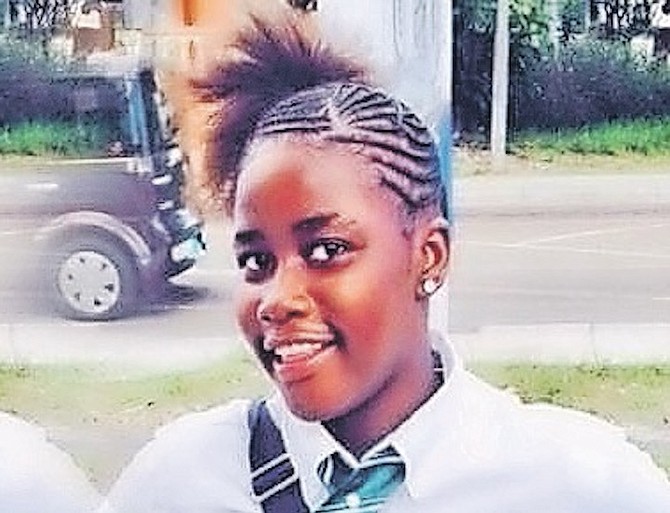 By LETRE SWEETING
lsweeting@tribunemedia.net
THE mother of a teenage girl shot dead on Saturday has said she is left heartbroken and hoping for justice for another child.
Shortly after 1am on Saturday, a 22-year old man and an 18-year-old girl were on Coleman Lane in the Kemp Road area in a Nissan March when three men approached them from nearby bushes and opened fire on the vehicle, according to police.
ShotSpotter technology alerted police to the gunshots.
Arriving on the scene, police found both victims were injured, having been shot multiple times. The 18-year-old reportedly died of her injuries in hospital and the 22-year-old man is "detained in stable condition".
Blanch McKenzie, mother of 18-year-old Harrinique McPhee, told The Tribune that after the death of a third child, she is just hoping for justice and peace.
"It's heartbreaking, very painful. The bone can't mend. It's happening too fast. I am not getting any satisfaction, there's no justice, no one is locked up. All I want is justice for my child, because I don't think she should have died that way," Ms McKenzie said.
"I lost one (child) in December 3, 2020, and then I lost a son on April 15, 2021. Now, it's Harrinique. I don't think they should kill a woman, a young woman. I think the police needs to get these persons, arrest them and stop letting them run free," Ms McKenzie said.
"It's a burden and they (Ms McKenzie's sons) left a lot of children," she said.
Ms McKenzie recalled the last time she spoke with her daughter, Harrinique, on Friday morning, before they both left for work.
"That morning, I cooked some mashed potatoes, fried chicken and corn. I took up the boys own first, so she (Harrinique) said to me, 'Mommy, you took up my brothers' food before me, you don't love me no more hey?'"
At the time, Ms McKenzie responded: "Harrinique, you can't get first all the time, they're not in the house, so I took up their food first. I am taking up your food now."
However, Ms McKenzie's two grandsons showed up for food as well.
"She (Harrinique) told me to give them the food and she'll make a sandwich until she gets to work. So I gave the grandchildren the food and me and her talked. I was going to get ready for work and she said she going to walk in the front (to a neighbour)," Ms McKenzie recalled.
"By the time I was getting ready, she was walking back, I asked her, 'Harrinique, what time you going to work?'"
After Harrinique told her mom the time that she would be heading to her job at Burger King on Village Road, Ms McKenzie responded: "Don't be late now, because you know, you have to walk."
"Harrinique said, 'Mommy, I straight, I straight' and then she turned around and said, 'Mommy I love you'."
Ms McKenzie responded: "I love you too and be a good girl today."
At the time, Ms McKenzie said Harrinique laughed it off and gave a joking remark to which Ms McKenzie said, "Everything cool."
Ms McKenzie added: "Then I walked to the bus stop and that was the last I saw my child different from seeing her in Accident and Emergency (at the hospital) lay out."
Ms McKenzie praised her daughter as being very loving, active and talented.
"Harrinique is very active, she likes sports. She's in the Urban Renewal band, she plays the drums and the trumpet. The only thing she can't do play piano, but she sings a lot and she raps, plays basketball, everything," she said.
"She's a very loving person with everyone in the community, churches, they would send her tickets and she would fly away to sing and beat drums, she's very talented," Ms McKenzie said.
This latest incident was the country's 11th murder for the year, according to The Tribune's records and is one of many recent violent killings.
On January 26, a 43-year-old man was shot on Johnson Road around noon. Police said the victim, a resident of the area, was near his home when he was approached by a man he knew.
The man shot him multiple times. The victim was taken to the hospital by EMS, however, he died a short time later.
Several days earlier on January 17, three shooting deaths occurred within 24 hours.
The first incident occurred shortly after 7am that day. Police were notified by Shot-spotter technology of gunshots being discharged," Police Chief Superintendent Skippings said at the time.
"Preliminary reports thus far suggest that the victim was travelling west along Infant View Road when he was reportedly cut off by another vehicle. It is reported that the culprits fired gunshots at the victim in his vehicle and subsequently he died as a result of the injuries," CSP Skippings said.
EMS personnel were called, but pronounced the victim dead at the scene.
The second incident occurred at 9.30pm in the Red Land Acres area.
According to reports, Shot-spotter technology alerted police to gunshots being discharged in the area of Shahs Street off Sumner Street.
Police responded and found a man with multiple gunshot injuries.
According to reports, the 32-year-old victim was sitting in front of a residence when a man got out of a black Suzuki Swift and shot at him.
The third shooting happened shortly before 2am the next morning on Armbrister Street, Fox Hill.
There are few details, but it is reported that neighbours heard gunshots before finding 30-year-old Alvarez McCoy, a Royal Bahamas Defence Force officer, with gunshot injuries in his vehicle, a Burgundy coloured Nissan Cube.
The victim was his mother's only child and a father of three.
As investigations into the latest incident continue, police said they are, "aggressively searching for (the) three males" involved.