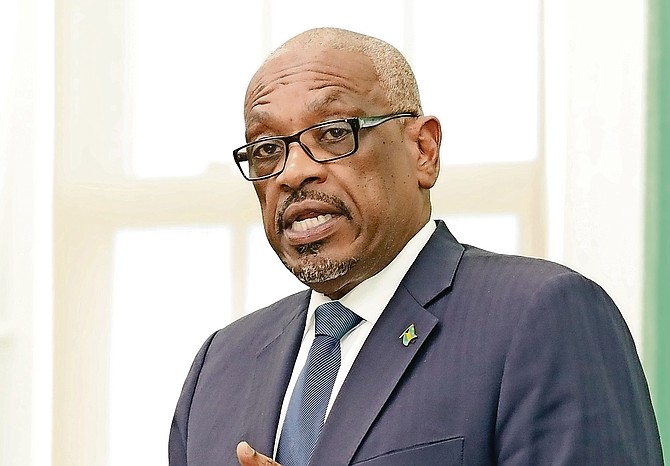 By JADE RUSSELL
Tribune Staff Reporter.
jrussell@tribunemedia.net.
FORMER Prime Minister Dr Hubert Minnis said yesterday Prime Minister Philip "Brave" Davis' reaction to recent death threats is "overkill", noting it's not uncommon for a Prime Minister to receive such threats.
Dr Minnis made these comments after he was asked about the death threats made against Mr Davis on Friday to his office, which prompted a full-blown investigation.
He told reporters when he was in office he also was threatened on multiple occasions, as he suggested Davis' response to the incident was an "overkill".
"I've always carried on with my normal life but this Prime Minister is obviously threatened by the people. He brought out the entire police force almost. I mean, what is there to fear? What is there to fear? I do not condone violence; I do not support violence. I feel that prime ministers should be protected, all right. But I thought it was an overkill," Dr Minnis said.
Dr Minnis argued that every former Prime Minister at some point has been threatened. However, he said he has never seen others take on intense security measures such as Mr Davis.
"When I was in the chair, I was threatened on multiple occasions. And, of course, I didn't report it to my aides until (the) last minute, after several expressions of wanting to kill me. And they said I needed to take it more serious. And then they subsequently reported to (the) Commissioner of Police."
He added: "But I'm sure every Prime Minister would have been threatened at some point in time. I've never seen any taken security to this extent. Certainly I have not when I've been threatened."
Dr Minnis said if a Prime Minister no longer feels safe then that means it is time to go.
"I am of the view that when a Prime Minister feels that he can no longer, he no longer feels safe among his own people. That's time to go."
Meanwhile, when contacted for comment yesterday, Bahamas Christian Council president Bishop Delton Fernander called the death threats against Mr Davis "unacceptable."
Bishop Fernander said: "We can disagree, have different opinions and beliefs and party. But we cannot get to the point that we are disagreeable or want to do harm to someone else because they don't accept our position or might not do things that we want."
Bishop Fernander stressed there's a better way of doing things rather than threatening someone, adding death threats against Mr Davis should not be tolerated.
The incident has since raised several questions as from where the threatening calls came.
Additionally, during an emergency press conference at the Office of the Prime Minister on Friday, Police Commissioner Clayton Fernander said officers could not rule out the possibility that last week's demonstration led by Coalition of Independents leader Lincoln Bain outside Parliament could be connected to Friday's incident.
A group of Bahamians, led by Mr Bain, protested outside Parliament on February 1 about the immigration "crisis" in the country.
A video of the protest circulated on social media.
In the video, a man in the crowd is heard threatening to kill Mr Davis.
However, Mr Bain told The Tribune on Sunday he finds it "ridiculous" that people would seek to blame last week's protest as the catalyst for threats being made to the nation's leader, insisting the party would never incite people to do such a thing.
"I find it ridiculous that they connect a protest to something that happened days later, and we don't understand why they would even try to connect them."
"The commissioner said that he cannot rule it out and that it could be a COI member, but he can't rule it out that it would be a PLP member or FNM member or a member of any other organisation," he said.