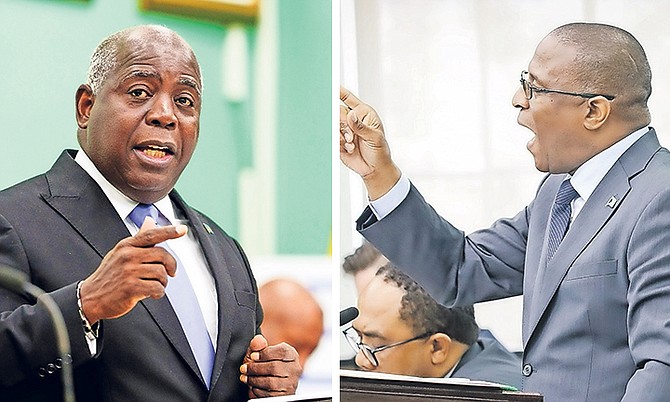 By LEANDRA ROLLE
Tribune Staff Reporter
lrolle@tribunemedia.net
PRIME Minister Philip Davis and FNM leader Michael Pintard continued their war of words in the House of Assembly yesterday over the controversial Bahamas Power & Light's (BPL) fuel charge increase, with the opposition leader once again laying the blame for burdening Bahamians with additional costs at the government's feet.
The two locked horns after Prime Minister Davis claimed that his administration had met BPL "in a mess" after assuming office in 2021.
Mr Davis was contributing to debate on the 2022 Fiscal Strategy Report when he responded to rhetoric surrounding BPL's fuel hedging initiative.
 "The BPL that we met in September 2021 was a complete mess. A $246m balloon payment was due in February of 2022 and there's no plan in place to help to pay for it. They were in significant arrears with all their vendors," the Prime Minister charged.
 "They have failed to cop up even a semblance of a plan to move BPL to sustainability. They kept talking about the rate reduction bonds but the market wasn't having it and they had no other ideas." 
 "BPL record-keeping was so poor that they could not even access reimbursement from the IDB on Dorian expenditures. Every dollar they spent, they could've been reimbursed but they didn't have the receipts to do so."
 The FNM has repeatedly accused the Davis administration with burdening Bahamians with extra bills due to their "mishandling" of BPL's fuel hedging strategy. 
 The opposition is also of the opinion that Bahamian households and businesses would not have had to bear a 163 percent increase in BPL's fuel charge if the government had not decide to scrap the fuel hedging strategy left in place by its predecessor. 
 "There's been much noise about hedging. There were multiple hedges in place but none of the hedges in place was stopped or cancelled. None, I repeat, was stopped or cancelled," Mr Davis continued. 
 "There was a request to renew one of the hedges that was expiring, and our government declined to do that. Instead of choosing new payments, we decided to focus on making progress on the very significant arrears that they left in place."
 "You know who else declined to renew the hedge - the previous government. They had the same opportunity in the June 2021 – but they declined. Listen, let's remember what a hedge is ya know. It ain't nothing but a bet. It's a gamble. You lock in a price on fuel and you gain some."
 However, during his contribution, Mr Pintard hit back and accused Mr Davis of seeking to make an excuse for what he termed to be an "egregious" act carried out by Works and Utilities Minister Alfred Sears.
 Mr Pintard has previously accused Mr Sears of "misleading Parliament" after he admitted that the Davis administration rejected proposals and recommendations "that had the potential to save the Bahamian people $100m".
 "The reality is I challenge members opposite to lay on the table any Cabinet paper which was prepared for a June presentation of a hedge programme to the Cabinet of The Bahamas," he said. 
 "It was never intended to do so. In fact, it was in September that it was expected that the hedge programme, the next round of it would be presented to cabinet for an October execution."
 "It's misleading, Madame Speaker."
 Mr Pintard then pointed to a $150m bill owed by BPL and said "this administration didn't think it important enough to come to the public and explain the $150m liability until now".
 The cost branded "a significant unbudgeted liability" for the government, was revealed in the just-released Fiscal Strategy Report, which said BPL's arrears must be paid off to prevent electricity supplies being interrupted.
 However, Mr Davis rose on a point of order and called on the FNM leader to go to the report for further understanding of the $150m liability, which he referred to as "legacy debt".
 He also said the government was paying $10m per month to settle BPL's arrears.
 "It speaks of the government undertaking the pay of legacy debt of an arrears for the fuel that is owed to the sole supplier. That's what that $150m deal with. Nothing to do with the hedge. It has to do with a debt that has been failed to be paid by the FNM," he also said.
 Mr Davis also called on Mr Pintard to be honest when making such statements.
 To which Mr Pintard responded: "You cannot lecture me on honesty. You cannot."