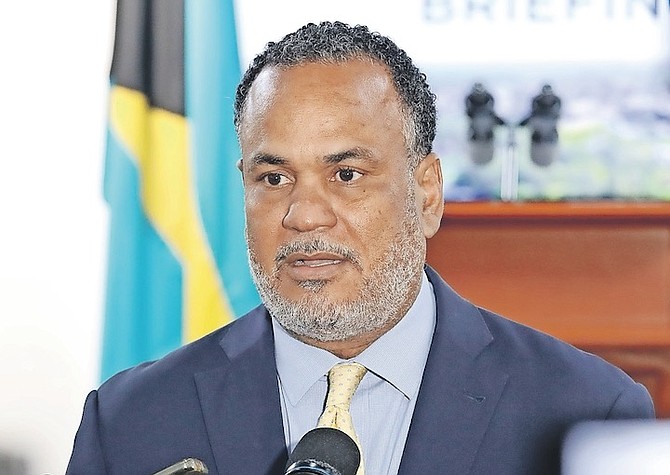 By NEIL HARTNELL
Tribune Business Editor
nhartnell@tribunemedia.net
A Cabinet minister yesterday said the tax authorities simply "cannot look the other way" when 47 percent of Business Licence applicants are submitting no turnover or "exactly the same amount for the last three years".
Michael Halkitis, minister of economic affairs, told the Prime Minister's Office's weekly media briefing that the Department of Inland Revenue must not ignore discrepancies and inconsistencies, or take turnover figure supplied by companies "at face value" if they "do not make sense", given the need to collect all monies due to the Public Treasury.
While conceding that turnover verification checks do cause delay in Business Licence renewals, he added that the revenue agencies believe they "can strike the balance" between regulation, ease of doing business and collecting the proper amount of fees.
Noting that Business Licences remain valid until March 31, 2023, which is the date when renewal fees must be paid, Mr Halkitis said the Department of Inland Revenue was not requiring small businesses with an annual turnover of less than $100,000 - and which have to pay zero such fees - to provide income statements as proof of turnover. This newspaper had been informed that the agency is asking, post-submission, for figures such as revenue and gross profit in its checking.
"I think we have had in excess of 33,000 business that gave applied, of which 3,000 so far have been successfully dealt with," Mr Halkitis said. He added that around 24 extra staff have been drafted in, or seconded, to the Department of Inland Revenue during 2023's early months to assist with Business Licence renewal processing.
"What we found, out of all the applications, just under half, 47 percent, have reported zero turnover or turnover that was exactly the same for the last three years," the minister continued. "What the Department has determined is that they will request additional information to verify" turnover is deemed necessary.
"They're being required to provide some additional information so the Department of Inland Revenue is in a position to verify turnover," Mr Halkitis said of businesses. "What we are undertaking is that all Business Licence renewals that apply will be dealt with by March 31 so that no one will be in danger of not having their application completed."
Revealing that certain applicant categories, such as taxi drivers, straw vendors, small landscapers and roadside vendors will have their Business Licence renewals "fast tracked", he added that the authorities had agreed to deal with an unnamed group of businesses that required Business Licences so they can submit bonds. "We've deployed additional employees to Inland Revenue to deal with this busy period," Mr Halkitis said.
"We agree that we should have been more consistently communicating with the public, and undertake to do that, and are looking to improve customer service. We've had some complaints recently, and are addressing that and looking to improve that. There will be some delays with the busy period."
Mr Halkitis, noting the argument that the Government should simply issue Business Licence renewals and then check the accuracy of turnover submissions later, said: "I think that method was tried a few years ago and the result was a significant reduction in Business Licence revenue. The Department owes it to the Bahamian public to ensure that the information being reported is correct because this is government revenue."
Asked later in the briefing about turnover compliance, Mr Halkitis added: "Just under half of the businesses either report zero turnover, or just put the same number that was in every year for the last three years. It is an issue.
"What Inland Revenue has to do is verify that what businesses are reporting, as best as they can, is accurate. The law empowers Inland Revenue to request additional information. So, for example, if they see a return that just does not make sense, it's too low, but you might have a business who, you know that they did not make $20,000 last year, all right, and you have ways to check this by Customs imports etc, utility bills and all sorts of things."
The minister continued: "In this particular case, that is under-reporting, and so it is incumbent upon them to do some checks because if we look at the big picture all of us are taxpayers, and all of us are required to pay our share, and so the Department of Inland Revenue cannot just look the other way when someone is providing the number and just take the number at face value.
"Unfortunately, that causes a bit of a delay. But we believe that when we balance the interest of collecting the revenue and what's due to the Government… When we balance the interest of collecting revenues due to the Government and the slight delay, we think that we will strike that balance. As I said, nobody would be put out of business we will resolve all of the issues before March 31.
"If someone reports the exact same turnover for the last three years in a row, that's unlikely, as things go up and down.... This is an effort to ensure that the information is credible information. We're not going to the exact penny, but it's our responsibility when we feel the correct information is not being given, we have to make sure we get the right information."