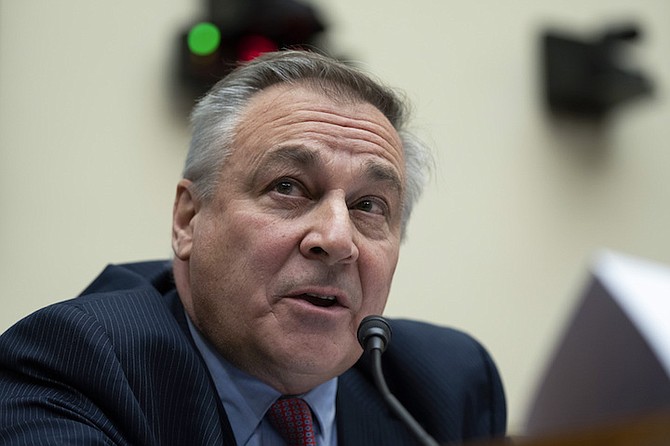 By NEIL HARTNELL
Tribune Business Editor
nhartnell@tribunemedia.net
FTX's US chief has admitted to the Delaware Bankruptcy Court that clients and creditors were "fortunate" The Bahamas acted to safeguard assets from theft by hackers in a total reversal of his previous attacks.
John Ray performed his latest u-turn during a February 6, 2023, hearing during which he recalled the "chaos" surrounding efforts by both his team, the Securities Commission of The Bahamas and Bahamian provisional liquidators to protect digital assets held by the failed crypto exchange from being stolen or lost.
Blaming the vulnerability to hackers on "a lack of integrity" in FTX's systems, he described the situation facing himself and his team in the immediate aftermath of the crypto exchange's collapse as "pure hell" and said he had never encountered this during decades spent salvaging the likes of Enron and other bankrupt companies.
Describing FTX as "a very loose environment, one that is probably a case study for how not to have a controlled environment for crypto", Mr Ray told the Delaware court: "It's very vulnerable. We had hot wallets in a system where multiple people had access to passwords.... wallets, you know, sitting in a system that is accessible virtually by anyone who could access that data system.
"So there are multiple access points into an environment that literally held billions of dollars' worth of the company's assets. And, as you can see, there are a few different, you know, words set out in red print there, you know, pre-petition. This environment allowed insiders to freely transfer assets of the company with no accountability and no tracing.
"Literally, one of the founders could come into this environment, download half a billion dollars' worth of wallets on to a thumb drive, and walk off with them and there would be no accounting for that whatsoever. Virtually unthinkable, really, in a controlled environment."
Mr Ray, who had previously accused the Bahamian government, Securities Commission and provisional liquidators of conspiring and colluding with FTX's disgraced founder, Sam Bankman-Fried, said he and his team had barely completed their Chapter 11 bankruptcy protection first day filings before being alerted to potential hacks.
"One of our team, one of our advisors, not someone inside the company, one of our advisors that we had hired, detected movement of crypto off of our wallets. So, immediately, effectively, on the filing we had, you know, an issue with the crypto being stolen from the company," Mr Ray added. 
"At the same time, you know, there were efforts. At the time we didn't fully realise what was transpiring, but there was efforts by the [Bahamas] provisional liquidators to also secure assets for the protection of customers. This was all happening simultaneously. So, your normal first day petition, as chaotic as sometimes can be, this was something that I have never experienced.
"It all stems from the failure of this system, and a lack of integrity related to this system. We were fortunate enough, because of the professionals we had, to stop the crypto being stolen. We were fortunate, of course, that the provisional liquidators were also able to capture some of this value held in custody in The Bahamas that, presumably, could have also been stolen in this time period.
"Those hacks went on virtually all night long. I think they somehow ceased around 4 to 5am the following day. We had over 100 people on the phone trying to stop these hacks because at that point you have no passwords. You don't know where the wallets are in this environment."
The Securities Commission presently has custody of $426m out of $1.612bn, or 25 percent, of total digital/crypto assets secured to-date for creditors of FTX's international arm. The sum held by the Bahamian regulator represents the assets it transferred to its control, in a secure digital wallet, in early November just days after FTX Digital Markets was placed into provisional liquidation by the Supreme Court.
The Securities Commission obtained an emergency court Order approving the transfer amid fears that the collapsed crypto exchange was being hacked, and the assets lost or stolen, but its actions initially came under fire from Mr Ray, However, after striking a co-operation deal with the Bahamian joint provisional liquidators, he was quoted in a statement confirming that the Securities Commission had acted properly in safeguarding assets for the benefit of creditors.
This has now been reinforced by Mr Ray's testimony before the Delaware Bankruptcy Court, which last week approved the co-operation agreement with the Bahamian provisional liquidation trio of Brian Simms KC, the Lennox Paton senior partner, and PricewaterhouseCoopers (PwC) accountants, Kevin Cambridge and Peter Greaves.
Tribune Business previously reported that the Bahamian provisional liquidators are to gain control of $46m in Tether stablecoins as part of the "co-operation" deal with Mr Ray, which is intended to create a "path forward" to resolve all remaining disputes. Tether is a stablecoin, with its value pegged one:one with the US dollar, thus making it a critical recovery source that can help finance the liquidation's costs.
The agreement will also see the Bahamian trio "take the lead" in selling the $256.3m worth of high-end local real estate that FTX acquired prior to its spectacular implosion in early November 2022. They will be responsible for "arm's length" marketing of these properties to potential buyers "utilising the services or one or more brokers".
The deal stipulates: "The parties agree that the value in the properties owned by FTX Property Holdings will be realised over time in one or more arm's length marketing processes utilising the services of one or more mutually acceptable brokers in a manner and on a timeframe designed to maximise the recovery."
This, the agreement said, could be effected by a Supreme Court liquidation process running concurrently with the Chapter 11 proceedings or some other "mutually acceptable arrangement". It added: "The joint provisional liquidators.... shall take the lead in managing the properties, determining the appropriate strategy for the monetisation of the properties, identifying buyers and conducting the marketing process."