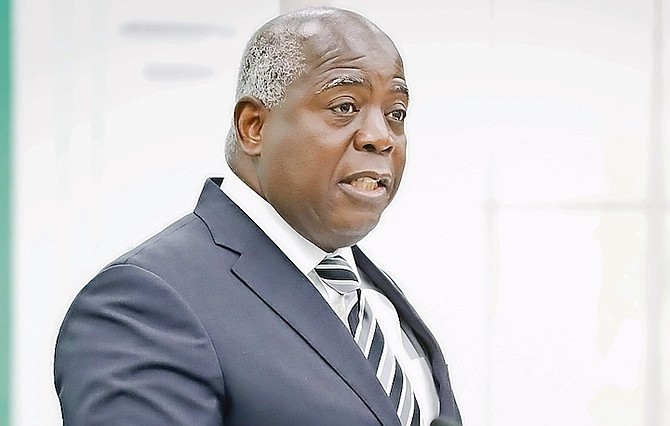 By LYNAIRE MUNNINGS
Tribune Staff Reporter
lmunnings@tribunemedia.net
PRIME Minister Philip 'Brave' Davis on Friday berated the actions of the opposition leader in the House of Assembly, calling it "despicable behaviour".
His comments follow the House of Assembly being suspended after a screaming match erupted when Opposition Leader Michael Pintard chastised the government for avoiding the question and answer period in Parliament on Wednesday.
Mr Davis blasted the Free National Movement protest, saying their behaviour failed to set an example for young people in the country.
He said the opposition must learn to appreciate the processes of parliamentary democracy.
"We continue to hear about how we behave and conduct ourselves and I mean, that sets no example for our young people as to how to behave," Mr Davis said on Friday.
"There's always a process. You want them to appreciate is that in our parliamentary democracy, the majority will always have their way and the majority will have their say.
He continued: "Have your say but you don't have to have your say by the despicable behaviour displayed last Wednesday."
Mr Davis told reporters on Friday at the commissioning ceremony of the Russell Island water supply project that the government's commitment to allow question time was removed due to other things on the agenda.
In recent times, the FNM has called the Davis administration "undemocratic", claiming the government has ignored questions.
Obie Wilchcombe, leader of government business, on Friday said the opposition will get a period to ask all of their questions once the House reconvenes on February 20.
Currently, the FNM has placed more than 30 questions on the House of Assembly's agenda for the Davis administration to answer.
Some of the questions are related to the rollout of the Freedom of Information Act, the affairs of Bahamas Power and Light, projects in the Ministry of Housing, among other things.
With the opposition leader threatening to "up the heat" on the Davis administration, Mr Davis remains unbothered.
He said: "I don't know what he means by up the heat because I'm not in his kitchen.
"If I was in his kitchen, then I could see heat meaning something to me but I'm not in this kitchen."
Mr Pintard has said as of this week, the opposition will summon senior civil servants before the Public Accounts Committee to answer questions raised by the Bahamian people.