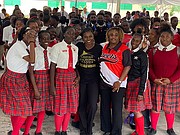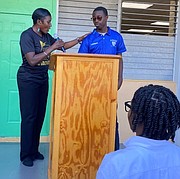 THE 50th CARIFTA Games are six weeks away and the anticipation for this 50th anniversary of the games continues to grow.
On February 16, The Dame of Carifta, Pauline Davis, commenced her roadshow to visit as many of the schools within New Providence and stir up the support and spirit of our young athletes as they prepare for the upcoming games, scheduled for April 7-10.
Ms Davis encouraged the students to pursue a career in athletics, which opened many doors for her and gave her something positive to focus her gifts and life on.
In preparation for the upcoming 50th Anniversary, the final round of qualifiers will be held March 25-27.
Ms Davis began her school visits with her alma mater, Government Senior High School, where she inspired the young students and athletes to remember their pride and legacy as a school and Bahamians.
Ms Davis shared her story about the triumphant race that propelled her to recognition. In 1984, she won both the Austin Sealy award for most outstanding athlete and also helped The Bahamas to win CARIFTA that year with her final leg in the 400m.
Ms Davis, dubbed the first "Golden Girl," encouraged the students at R.M. Bailey Senior High School to remember that this year they are chasing "Gold", for the 50th CARIFTA Games.
"Remember that our 242 pride, runs deep."
According to Ms Davis, the 50th CARIFTA LOC looks forward to each school participating in the cheer competition whose details will be released shortly and is headed by partner, DasQuay of DasQuay Entertainment. It will be an opportunity for each school to show their support for their fellow athletes and Bahamians as they carry our pride and flag upon their backs on the track.
Ms Davis' most recent school visit was to the CI Gibson Senior High School where she continued to encourage the students to remember to support their fellow students and athletes.
One athlete she highlighted and thanked for his dedication as a young man was Johathon Rodgers, bronze medallist for The Bahamas in the 2022 CARIFTA Games. "I am happy and grateful that you decided to pick up a pair of cleats instead of a knife or gun and do something positive."
The big event will be held at the Thomas A Robinson National Stadium, located in New Providence or Nassau, The Bahamas.
Ms Davis' school visits, on the road to CARIFTA, will continue with her stopping in on several schools within the capital to encourage both athletes and young persons to do their best for these 50th CARIFTA Games. "Whether you are on the track or in the stands cheering your fellow Bahamians, this CARIFTA, come gold with us."
Tickets for the event are now available for purchase online at www.carifta50. com and at the Box Office, located at the Western Grand Entrance of the Thomas. A Robinson, National Stadium.
For more information you can subscribe to the carifta50.com website or follow them on their social media pages @carifta2023 or Facebook: @50thCariftaGames2023