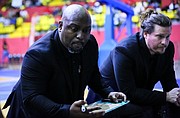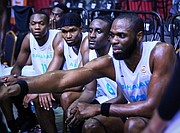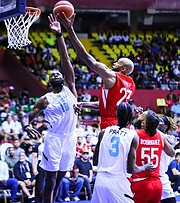 By BRENT STUBBS
Senior Sports Reporter
bstubbs@tribunemedia.net
THE Bahamas men's national basketball team wrapped up its final two games in the FIBA Americas World Cup Qualifier with another loss.
The team, coached by Moses Johnson, John Nutt and James 'Jimmy' Clarke, suffered a 88-66 decision against Panama yesterday. The loss came after the Bahamas was handed a 117- 70 rout against Venezuela on Thursday in Caracas.
Panama took a slim 21-20 lead at the end of the first quarter, but went ahead 43-24 at the half. They used another 25-15 spurt in the third to take a commanding 68-49 advantage into the final period where they out-scored the Bahamas 20-17 for the 22-point rout.
Domnick Bridgewater and Kadeem Coleby paced the Bahamas offensively. Bridgewater, in 32 minutes, was 5-for-14 from the field and was 1-for-1 from the free throw line for his 11 points with five assists and steals and three rebounds.
Coleby came through with 11 points, shooting 5-for-12 from the field and was 1-for-4 from the free throw line in 26:33 minutes and he pulled down nine rebounds. Kentwan Smith scored 10 points with nine rebounds and two block shots, both Ahmad Pratt and Roosevelt Whyllly had seven points with four and three rebounds respectively, Bradley Nairn added five points with four rebounds and two steals, Livingstone Munnings Jr had four points with two rebounds, Godfrey Rolle III three points and Robert Nortman chipped in with two points.
Panama had a well-balanced scoring attack led by Tony Bishop Jr with a game high 20 points. Carlos Rodriguez had 15, both Trevor Gaskins and Eric Romero had 13 and Josimar Ayaza and Ernesto Oglivie had 10 apiece.
Panama out-rebounded the Bahamas 43-41 and made only 11 turnovers, compared to 18 by the Bahamas.
The Bahamas dropped to the bottom of the six-team pool in Group E with a 3-9 win-loss record, identical to that of Panama that moved into fifth place.
Canada topped the list at 11-1 with the Dominican Republic in second at 9-3 and Venezuela in third at 8-4 as all three teams moved onto the next round of the World Cup.
Argentina was also 8-4, but dropped to fourth by virtue of losing to Venezuela. Panama got fifth and the Bahamas was sixth, both with the same record.