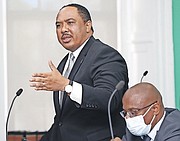 By LYNAIRE MUNNINGS
lmunnings@tribunemedia.net
FREE National Movement deputy leader Shanendon Cartwright voiced concerns that the Davis administration has neglected the Bahamian people by failing to address the "crime crisis".
The St Barnabas MP continued his criticism of government's failure to address the issue in a press statement yesterday.
Mr Cartwright noted that there was an eight percent increase in murders last year, as the 2022 murder count was 128 in comparison to 119 in 2021.
"Crime continues to shake our communities, threaten our way of life, and take Bahamian lives," Mr Cartwright said.
"Already for the year, police have recorded four homicides. Just as regrettable is the government's failure to address the issue of crime in a holistic and strategic way.
"The government seems paralysed to bring a coordinated strategy to stem it. As stated before, the Bahamian people feel no more secure, despite the promises of this administration to deal with crime."
While applauding the commissioner of police for acknowledging the need for major changes in the criminal justice system, he criticised the government for falling "woefully" short in the way of decisive action to deal with the uptick in armed robberies, assaults, and gun crimes.
Mr Cartwright has previously called on the government to address the longstanding issues that the country is facing, noting that in March of last year, the opposition made 14 anti-crime recommendations to the government.
"We remain adamant that our law enforcement professionals deserve the full support of the executive and the legislature and changing laws to better facilitate the operation of the system must be a part of the conversation," Mr Cartwright said.
"The opposition in March 2022 delivered to the government 14 anti-crime recommendations. We remain committed to assisting the government in developing solutions to the issue of crime. The government is failing at its most sacred duty of keeping the Bahamian people safe and secure," he continued.
In late December, in response to the rise in murders Commissioner of Police Clayton Fernander said in 2023, officials will take policing to "another level".
He said the police force's new strategies would be revealed later this month.