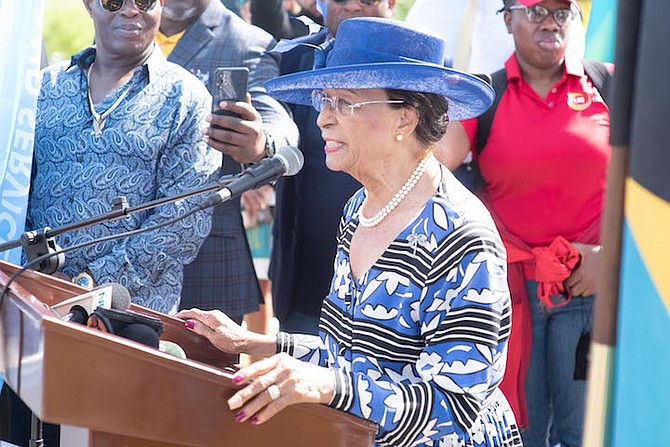 By EARYEL BOWLEG
Tribune Staff Reporter
ebowleg@tribunemedia.net
DAME Marguerite Pindling caused a stir yesterday when she demanded an apology from Progressive Liberal Party chairman Fred Mitchell as she publicly accused him and the PLP for using a Majority Rule Day event at her husband's grave as "a stepping stone".
She gave the blistering rebuke at a graveside service as part of the government's holiday celebrations, but did not go into details about what she was displeased about.
However, her remarks suggest the former Governor General was not formally invited to the event.
Mr Mitchell later told The Tribune he has no idea why she was upset, but he said she is entitled to her views.
As she stood at the podium, Dame Marguerite said before the event got underway, she wanted to "set the record straight" and reminded people about the contributions she made to the PLP and her husband's political career.
"There was a man called Lynden Pindling – who didn't know a thing about South Andros until I had to go and tell the people he was coming to run against Cyril Stevenson, because if we hadn't put Pindling there, Stevenson would have won," she said.
"Pray for me please, because I'm feeling very, very something today — I don't like what I see because nothing happened until Pindling came on the scene. I support — I thank you for coming out today but the leadership were so excited they forgot I existed, but I just wanted to let you know that I'm alive, doing well, of sound mind and in good health and waiting for all that is going to take place because I do not like it. I'm sorry, Mr Mitchell.
"I'm sorry I cannot contain it any longer because you're using this as a stepping stone and I do not appreciate it."
Her remarks stunned the audience, some of whom exclaimed as she spoke.
One person said: "We still love Pindling and he is a great man."
Dame Marguerite responded: "I should hope so because we're standing on his shoulders and the other men who fight with him in the trenches. When the House of Assembly was dissolved in 1966, Pindling was in London fighting the PLP's battle. When nomination day came, Pindling wasn't even in the country to be nominated. I had documents prepared in case the magistrate decided not to accept his name in his absence and I was ready with Cecil Wallace-Whitfield, who was the then chairman of this party, who took me down to South Andros but thanks be to God the magistrate said they would accept him in his absence.
"I come here today in respect out of the work that my husband has done along with his other fellow workers in this country and I don't want anyone to use this to play him cheap because I will not stand for it. I'm sorry, Mr Prime Minister, I promised you I was going to behave, but I think all of you should know who I am by now. And you owe me an apology and I expect Mr Chairman right now."
At that point, she walked off stage.
Mr Mitchell then returned to the podium in response to her, assuring her of their support.
 "A new generation of Bahamians are here today who were not here a year ago. Who were not here when this momentous occasion took place and if any apology is due it's due because of the goodness of our heart," Mr Mitchell said.
"It's due because we wanted to pay tribute to your husband. It's due because we wanted to move with a quick pace to ensure that that memory is etched in the minds and the collective history of our country - no disrespect to you," he said.
"We all are here to support you today. You remember when it was just you and I standing up here alone in this graveyard. It makes a difference to be in government and our Prime Minister led us to a victory. So we are here in government today one year later, much better off than we were a year ago. I thank you for allowing this ceremony to go forward and know that in our hearts we love you. We support you... So Dame Marguerite, we love you. I'll give kisses right now."
Speaking with reporters later, the chairman appeared not to be bothered by the situation.
"Well here's my general reaction to these things. When you get to a certain age and stage, you can say whatever you want. I really can't rise to that — that's as simple as that. She is who she is and she is the widow of the former Prime Minister. She was there at the start, so she's entitled to her views. I leave it at that."
Asked if he would give an apology, he added: "Well I've already said what I've had to say. As far as I'm concerned, the matter is closed - I'm sure it's going to make all the headlines tomorrow, but what you will say from me is that I have nothing to say on the matter. She has her views - that's the end of that."
Prime Minister Philip "Brave" Davis made no mention of what transpired nor did he give an apology during his remarks, but thanked Dame Marguerite.
"It could not have been done without you and I appreciate your presence," he said.
He later gave recognition to her in his speech as well.
Earlier at the event, Dame Marguerite's name had also initially not been read out in the list of those acknowledged at the beginning of proceedings, although her name was added after an intervention, along with the name of former Deputy Prime Minister Cynthia "Mother" Pratt.
Yesterday was not the first time a Pindling publicly expressed their frustrations about the PLP.
In March 2021, Monique Pindling, the daughter of former Prime Minister Sir Lynden Pindling, said the party's "leadership" told her she would not receive a nomination because the PLP does not "want a Pindling on the ticket".
She made her comment during an appearance on the 96.9FM talk show "The Revolution".
"They alluded to something about negativity of my dad and didn't want it to be the focus and things like that," she said.
Back then, she ended her bid to secure the PLP's nomination in Central and South Andros. Ms Pindling suggested the PLP only wants to use her father's name when it is convenient for party leaders.
"It's not that we have sole ownership (of his legacy), but my thought is, you can't use him when it's convenient for you, you can't use him for good and then say it's bad, you can't use him when it's good occasions or certain occasions and then drop him when you feel like it," she said.