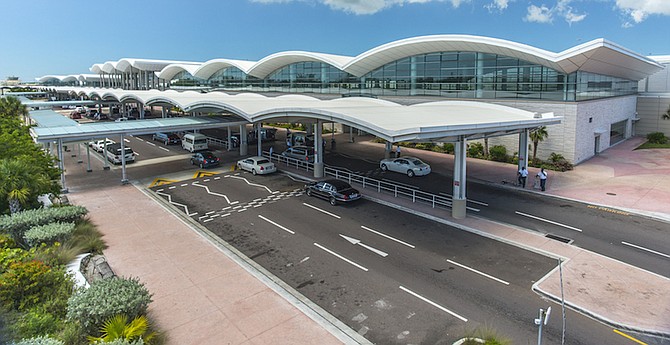 By LETRE SWEETING
lsweeting@tribunemedia.net
THE chairman of the Airport Authority yesterday allayed fears of further flight delays in New Providence following delays at the airport last week and international reports of grounded flights in the United States due to computer outages.
Paul Bevans said the issues with delays at Lynden Pindling International Airport (LPIA) last week are over, with the issues originating from America, not LPIA.
"It has been cancelled. It's back to normal now. There were concerns prior to this, but we heard right before we started that it's been cancelled. So everything's back to normal," Mr Bevans said.
"We had a situation the other day, where I think Miami had a situation with their towers or their computers, so we had some delays, so persons thought it was something going on at our airport that we were doing. But again, that was something on the US side," he said.
Peter Rutherford, the managing director of the Airport Authority, added: "We have a national response where from time to time situations like these arise, and we do have contingencies and plans in place should the FAA (the Federal Aviation Administration) interruption have been delayed, but we just got word from the FAA about a half an hour before we got in that it had been cancelled.
"So, all flights should be leaving on schedule. There may have been one or two delays coming out of LPIA, Grand Bahama and some of the other airports, but those have been resolved. We just got word that domestic flights within the US have resumed. So, all is well on that front," Mr Rutherford said.
These comments came at the signing of a three-year industrial agreement between the Airport Authority and the Bahamas Public Services Union (BPSU) yesterday at the Office of The Prime Minister.
The last industrial agreement between the two parties was signed in 2015 and after more than eight years, the agreement to impact more than 650 union members includes several financial benefits, including increases in annual increments, continued insurance coverage and more promotions.
Mr Rutherford said: "There would have been some challenges in making sure that everything was consistent with what both parties wanted. And I'll say each party did not get everything what they wanted. But I think this represents a banner day where all sides can come together and come to an agreeable position.
"We've also recently had about 80 promotions within the security department within the authority, another 73 promotions with team members throughout the Family Islands, and then another 30 plus promotions within the Family Islands," Mr Rutherford said.
While this new agreement is set to expire in June 2025, BPSU president Kimsley Ferguson added that he won't wait until that time to start negotiations on a new one.
"Instead of waiting for this to expire, we would submit a proposed agreement for discussions even at this particular juncture that we can embark upon and assure that we do things in a timely fashion," Mr Ferguson said.
"This particular industrial agreement would have spanned over two administrations. We would have actually had to resubmit it. It expired this morning. We're just elated and excited that it's being concluded, so that we can move on," he said.