By JADE RUSSELL
jrussell@tribunemedia.net
ABACO residents are outraged by the growth of unregulated shanty towns, saying the issue has been out of control for some time.
These comments came after Central and South Abaco MP John Pinder said last Wednesday the government must act now to deal with unregulated shanty towns in Abaco as the issue is about to reach a "boiling point".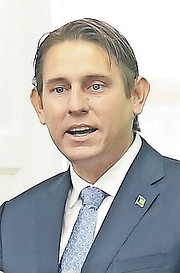 Mr Pinder said he was "optimistic" that the Davis administration will address the issue.
However, residents in Abaco said the unregulated communities have mushroomed, adding the matter has caused residents to feel threatened in their own country.
Crystal Williams told The Tribune the immigration issue has been a vexing one for many years.
"This isn't a first-time tune, I've been singing this exact same tune for the last three years after Hurricane Dorian," she said.
The monster storm wiped out shanty towns across Abaco. After the storm hit the island, the government issued an immediate ban on the construction of any new buildings in the four major shanty towns on Abaco and later began demolition exercises of newly built structures there.
However, those exercises were stopped after Supreme Court Justice Cheryl Grant-Thompson ordered the government to cease and desist further interference with those communities until the judicial review of the matter, which is still pending, was completed.
While undocumented migrants do live in these communities, officials say some Bahamian residents also reside in shanty towns.
Another resident claimed more shanty towns and illegal homes are being built every day in Abaco.
"We see extra homes just going up and nobody's doing anything about it. When I was building, I had to get a permit number before I started to build. But then you just see their homes, you'll see the footing going up first, and then there's no permit number," the resident said.
The resident said most of the homes in these unregulated communities are not up to standard and lack proper bathroom facilities.
Another resident, Cay Mills also expressed frustration over the shanty towns.
"We want them gone, we want them eradicated," Mr Mills said.
"Every one of them needs to be taken out. That's enforcement that I'm talking about, all of those structures need to be removed."
He stressed the government needs to enforce the law more aggressively to combat the unregulated structures from spreading on the island.
In November, Public Works Minister Alfred Sears warned that illegal shanty towns will not be allowed to go unchecked indefinitely, while revealing that officials are reviewing the existing injunction with a view to making appropriate applications to the Supreme Court to crack down on the unregulated communities.
Also in November, Mr Sears said the government's shanty town committee had started surveying several irregular communities in the country as it seeks to crack down on the growing problem.