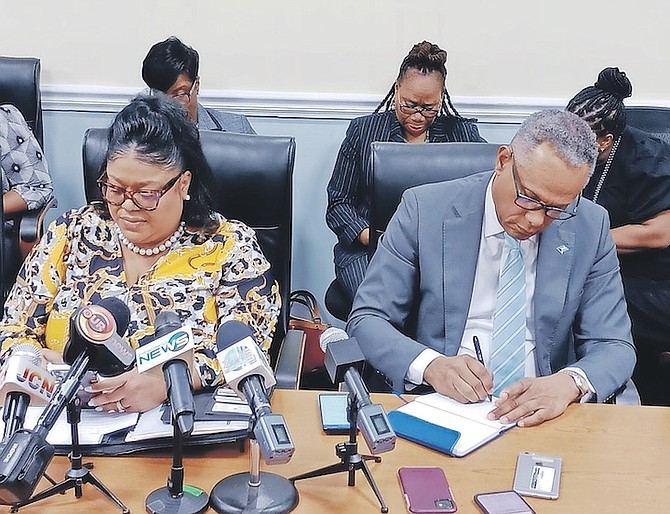 By EARYEL BOWLEG
Tribune Staff Reporter
ebowleg@tribunemedia.net
THE Public Hospitals Authority (PHA) and Bahamas Public Service Union (BPSU) signed an industrial agreement that includes a series of incremental salary increases over three years and increases in rental allowance.
Dr Aubynette Rolle, PHA's managing director, said yesterday the agreement covers the period beginning July 1, 2022 through June 30, 2025 and is valued at approximately $10m.
At the signing, she listed some of the agreement's provisions which included increases in other areas.
"Employees represented by the BPSU will be pleased to note that this agreement encompasses a series of incremental salary increases over three years – one in the first, two in the second year, and another in the final," she said.
"In addition to these increases, the agreement also makes provisions for the following benefits: increases to the project pay, which increases now to $20 an hour.
"Expansion of categories of staff eligible to receive monthly hazard allowance. So we've expanded that, but I've also based it on our risk rankings from low, medium to high. We've also increased our rental allowance by $50 per month across the commonwealth.
"We've increased the subsistence allowance, so individuals who are travelling and their stay is 28 days or longer this allowance will now move to $1,500 per month and expansion of compassionate leave is also included to in laws."
She mentioned progressive expansion of adoption leave of six weeks for new parents adopting children under the age of one and development also of mental health support programmes for all staff.
The agreement makes provisions for education and training, as well as providing new uniforms per year for employees.
BPSU president Kimsley Ferguson said there have been some minor adjustments to this particular agreement.
"We are indeed elated to sign off on this particular industrial agreement where we're satisfied and it's very unique in that we are signing off on an agreement that to some extent would have been negotiated by the prior administration," he said.
"However, there have been some minor adjustments to this particular agreement under this particular administration and so after our perusal of those particular terms and conditions, in this particular agreement, we're satisfied that this is something that we can sign off on behalf of the employees and the Public Hospitals Authority."
Health and Wellness Minister Dr Michael Darville stated the negotiations had been "long" and a "difficult task", but officials are happy the staff represented by the union will now have the opportunity to reap some of the benefits that were long outstanding.
He added: "This is all a part of an agenda from the Ministry of Health and the government of the Commonwealth of The Bahamas to address some of these long-standing issues that we need to correct going forward to improve morale at all of the public health care facilities and to ensure that workers are protected, and they get what they truly deserve."
Asked if this agreement will boost morale, Mr Ferguson replied: "We do believe that under the current circumstances where there has been a challenge with regards to inflation, cost of living and so on, that it will motivate to some extent persons who were challenged in the area of their personal emoluments.
"The view that we take at this particular time is it's not a long agreement and so we're going to be back at the table in short order, with a view to getting some additional benefits for those that we represent."
While satisfied, there was an issue concerning hazard allowance that was hoped to be discussed.
"One of the outstanding issues that we had presented was the long-standing nature of the hazard allowance, and the period which had elapsed not taking for granted the timeframe under which the individuals were working in these particular environments that there will be no compensation for. So that is something we hope that we can have a discussion on and that we can arrive at some amicable solution regarding that particular item," Mr Ferguson said.
Dr Darville said that within short order he understands that Mr Ferguson will be in negotiations with the Public Service Ministry to finalise all of the necessary outstanding conditions in their industrial agreement for the wider civil service.