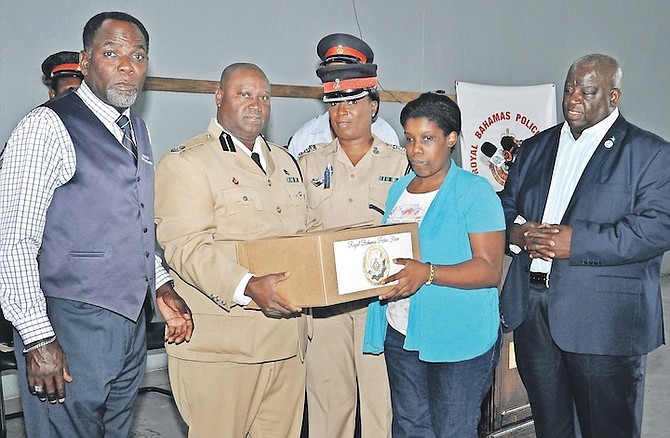 By DENISE MAYCOCK
Tribune Freeport Reporter
dmaycock@tribunemedia.net
ASSISTANT Commissioner of Police Theophilus Cunningham said it is important that disabled individuals are treated fairly in society.
ACP Cunningham, along with members of the Royal Bahamas Police Force, held a food distribution initiative for disabled residents on Friday at the Fire Station Police Complex on Settler's Way.
He said that persons living with disabilities deserve to be a part of society like everyone else.
"They have the right to equal opportunity, to live independently, and to be treated with love and respect," the senior police official said.
"It is indeed our moral obligation to ensure that our disabled brothers and sisters are treated with equality. We must stop using disability as a flaw or imperfection and see it for what it is - a human condition."
He stated that people living with disabilities experience complications daily.
"We must take on the role of being our brothers' keeper and promote disability awareness so that steps can be taken to make our society inclusive for all. It is important to stand together and spread disability awareness," ACP Cunningham said.
PLP Senator Kirk Russell commended Mr Cunningham and his officers for reaching out and assisting the most vulnerable in society.
He noted that the government has launched the Access Ability App to assist disabled persons in the Bahamas.
Mr Russell encouraged disabled persons to register for the app, which provides many benefits to them.
He explained that the app can accommodate the disabled when they travel at the airport, or just need transportation to the food store or bank, etc. It also provides them access to timely and accurate information and updates from NEMA, he added.
The app, he said, is available now on all new phones from Aliv since November.
Senator Russell stressed that The Bahamas must ensure that the law is applied, especially as it relates to persons living with disability and equal rights to work.
"The law states if you have 100 or more persons employed, for every 100 persons working at your establishment, one must be a person living with disability.
"We know in this country that is not the case, and we sign onto to these treaties and pass these laws and we don't enforce them. That is one law I believe we must enforce in this country. Persons must be given the right to work and earn a living and live with dignity," Mr Russell said.
"As we celebrate our 50th anniversary, it is not about we have arrived as a country, far from it. The celebration is simply to pause for a moment and say thank you God for where you have brought us from, and to pivot and decide where we are going to and what our future is going to be for all Bahamians, and we must take into consideration persons living with disability.
"You can't have 10 percent of your population totally excluded from normalcy and opportunities, and from being able to fulfill their dreams," he said.