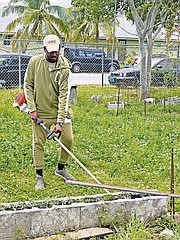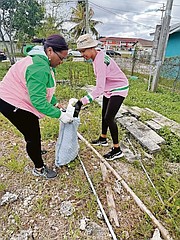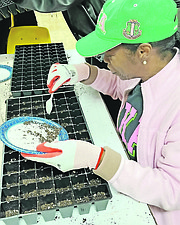 By DENISE MAYCOCK
Tribune Freeport Reporter
dmaycock@tribunemedia.net
PI Upsilon Omega Chapter of Alpha Kappa Alpha Sorority, Inc in Grand Bahama marked the sorority's Founders' Day with a week of activities celebrating 115 years of sisterhood and service.
To commemorate the special day, President Yvonne Pearson said the Chapter organised several activities, including a forum on Female Leadership; a Mix and Mingle social with the Divine Nine; and a community service day focused on "uplifting our community."
The day of service started with members potting seeds for a vegetable garden at Mary Star of the Sea Catholic Academy (MSSCA). And assisting a handicap gentleman in the community by constructing a ramp for his wheelchair as well as cleaning up the front of his property.
Ms Pearson said both will be ongoing projects for the Chapter.
"We couldn't have completed the projects without manpower from our brothers of Alpha Phi Alpha Fraternity, Inc. she said. Special thanks to Mr Devon Wilson, Senior Master, and Technical Drawing teacher of MSSCA, and Mr Dominic Bain, a maintenance worker of MSSCA for planning and constructing the ramp."
The week, she said, culminated on Sunday with members of Pi Upsilon Omega Chapter worshiping together at Mary Star of The Sea Catholic Church followed by an elegant brunch at Dolphin Cove.
Desiree Joseph and Liyah Forbes, co-chairs of the Founders' Day Committee, said the service projects fall under the sorority's international programme initiative, 'Uplifting Our Local Community.'
"We look forward to these ongoing service projects," they said.
Pineridge Urban Renewal coordinator Sophie Williams commended the Chapter for installing a concrete ramp and carrying out some landscaping work and debris removal at the home of Mr Vincent Bullard, who is disabled.
"We are grateful that the sorority, with the assistance of the fraternity, was able to assist Mr Bullard who is wheelchair bound, and a senior citizen.
"This is a critical area where persons are in need. So, we extend our thanks to them for this wonderful gesture, and look forward to working with them in the future," Ms Williams said.
According to Ms Forbes, Mr Bullard needs another ramp, with which the Chapter would gladly assist him.
Ravanno Ferguson, director of education for Alpha Phi Alpha Fraternity, Inc, said they were pleased to be of assistance to their AKA sisters.
"It is a great initiative by our sorority sisters as part of their Founders' Day activities, and so we jumped onboard when they asked for our assistance and look forward to working with them on future projects like this," he said.
Alpha Kappa Alpha Sorority, Inc., was founded on January 15, 1908, on the campus of Howard University in Washington, D.C. It is the first and oldest Greek Letter organisation established by nine African American college women. Today, the organisation is comprised of more than 325,000 members in 12 countries around the world.