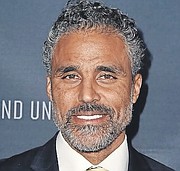 • Ex-NBA star: Bahamas can be 'leader in the field'
• Set to ramp up carbon-negative concrete supply
• Targets cut to Bahamas yearly 3,000 home deficit
By NEIL HARTNELL
Tribune Business Editor
nhartnell@tribunemedia.net
A Bahamian former professional basketball player is investing $50m in an Arawak Cay manufacturing facility he hopes will enable this nation to become "a leader in the field" of climate-resilient construction.
Rick Fox, the ex-Los Angeles Laker, told Tribune Business that Partanna Bahamas, his carbon-negative concrete innovator, has already outgrown its initial facility at the former Bacardi factory and hopes to start construction this year on a new plant that will provide the foundation for up to to 300 jobs at full operation.
Speaking as Partanna signed a Memorandum of Understanding (MoU) with the Caribbean Climate-Smart Accelerator (CCSA), which will help to promote the impact of its work to a global market, he added that the company will "move as fast as the Ministry of Housing can move" on a product he believes can have a disruptive effect on the construction industry similar to the impact that Tesla has had on the auto market.
Suggesting that The Bahamas faces a 3,000-strong annual home deficit, with the supply of quality affordable housing outstripped by demand, Mr Fox told this newspaper that his company aimed to help the Government narrow this gap with home construction and materials that are both resilient to, and help to counter, climate change's growing impact from ever more frequent and powerful storms.
"Our first laboratory, and development of our first prototype, sit out at Bacardi. We've outgrown it. We're moving to our second facility. We have equipment on the ground and are setting up to go commercial. It will be right there on the port at Arawak Cay. It will allow us to move around the islands. It's really a supporting anchor to build, not just those 30 homes, but an industry around sustainable housing in The Bahamas."
Partanna, in its Memorandum of Understanding (MoU) signed with the Davis administration at last year's COP27 climate conference, pledged to build 30 affordable homes using its carbon-negative concrete in Hurricane Dorian-ravaged Abaco this year.
"Our commitment is to move as fast as the Ministry of Housing can move," Mr Fox said. "Currently, right now we're in the starting blocks looking to have the first 30 homes done by the end of the year. Our facility at Arawak cay will be able to produce and meet the needs in our MoU with the Government. The Government has a 3,000 home deficit on a a yearly basis structured on top of a 15,000 home deficit" to start with.
Describing Partanna's tie-up with the Government as a true public-private partnership (PPP) that aimed to create a comprehensive climate smart, resilient solution while also meeting The Bahamas' growing housing needs, the ex-NBA player added that the company will ultimately have the capacity to construct "anywhere from a minimum of 100 homes a year up to 1,000 homes a year".
"We're building the facility at Arawak Cay to meet the demand," he added, confirming that Partanna was proceeding through the required environmental and town planning approval processes, as well as securing the necessary utility connections for power and water supply.
Mr Fox said he hoped to have the Arawak Cay facility "set up by September", and aiming to ramp up production through 2024 and 2025 to meet demand. "We're building a facility to meet the needs of the 1,000 in coming years," he added, estimating that Patrtanna's venture will ultimately create 300 jobs between its own factory, wider industry and home-building commitments with the Government.
"There will be tons of jobs created. Our building materials will be able to be passed on to others wanting to use them," Mr Fox told Tribune Business. "Just here in the Bahamas over the next three years, as we develop our manufacturing capacity we will put $30m in the ground at Arawak Cay and develop further beyond that.
"We're looking at making The Bahamas and region at large a carbon negative building materials industry.... We want to develop from here a hub for materials flowing through the Caribbean and into the US. We're building an industry.
"That's exciting because, as a country, the more industries you create, the more jobs you create, the more exports you create in carbon-negative materials and building, that means as a country and community you become the leaders in that field. That's what I'm most excited about. We're a country that has taken the initiative and steps to not only save ourselves but, quite frankly, save others."
Partanna's concrete employs recycled steel slag and brine. Its binding components are designed to absorb carbon dioxide as they cure in production, and continue to do so throughout their lifecycle. The company says a 1,250 square foot home constructed by itself, and employing its concrete product, removes 22.5 tons of carbon dioxide from the Earth's atmosphere while a standard home of the same size actually emits 70.2 tons.
Mr Fox formed Partanna in partnership with architect Sam Marshall. Both have witnessed the devastating impacts of climate change, the former with the aftermath of Hurricane Dorian in Abaco, and the latter via the wildfires that have frequently ravaged the US state of California. The two thus developed a shared interest in climate resilient, sustainable building materials, with Mr Marshall having worked on the concrete solution for seven years, and Mr Fox some three-and-a-half.
While acknowledging that concrete's central role in construction and development is "not leaving us any time soon", Mr Fox said the product was responsible for 8 percent of pollution, with the building industry at large generating some 38 percent. This led to their focus on creating a sustainable, climate-resilient solution to the traditional products presently employed worldwide.
"Partanna cannot build enough to be a threat to the construction industry at large," he conceded. However, his ambitions are for it to provide a growing sustainable alternative to traditional concrete and cement products for developers and contractors increasingly seeking out climate and environmentally-friendly materials.
"I believe we can incentivise choice in the way we build. I believe we can have the impact that Tesla has had for the vehicle industry. We can be that for construction," Mr Fox told Tribune Business. He added that the costs of Partanna's concrete was "on par, right in line" with rival traditional cement and concrete when it came to the finished product.
Agreeing that Partanna is "going to disrupt, and is disruptive for the construction industry" with its concept of carbon-negative building materials, the former LA Lakers player added: "It's the most impactful way to provide solution-based action. We're talking about action. It's all in the execution as we move to ramp up. We're just executing; more action, less talk."