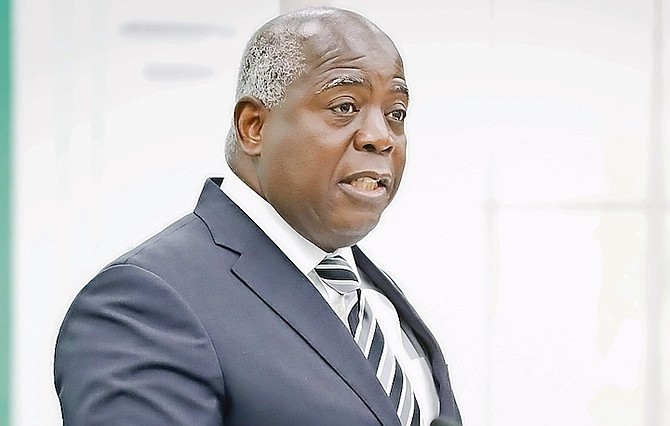 By LEANDRA ROLLE
Tribune Staff Reporter
lrolle@tribunemedia.net
PRIME Minister Phillip "Brave" Davis insisted yesterday that he has no plans to shuffle his Cabinet at this time after calls from FNM leader Michael Pintard for him to do so, saying the opposition needs "to stay out of my business".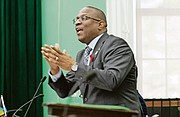 Last week, Mr Pintard told The Tribune that it was quite evident that several ministers in the Davis administration are unsuitable for their portfolios and should be reassigned or replaced entirely.
He listed Works and Utilities Minister Alfred Sears and Housing and Transport Minister Jobeth Coleby-Davis as the main ministers who need to be removed from their ministerial posts effective immediately and also called for Grand Bahama Minister Ginger Moxey to be assigned a different role.
Yesterday, Mr Davis was asked by The Tribune to respond to the FNM leader's calls.
He replied: "My response is that they should stay out of my business. Stay out of my business. It is my administration and I determine who is best fit and suited for the advancement of the vision that we have to achieve.
"We have a Blueprint for Change. We are on track to fulfilling those commitments and promises we made, and I would determine who will do that. Not them."
 When pressed by this newspaper on whether he was considering the matter, he said not at the moment.
 "Even if I am, that's not their business right, and at the moment, there is no consideration for this moment as I stand here, for the reshuffling of Cabinet," Mr Davis said.
 However, Mr Pintard does not agree.
"There are several ministers that seem to be in conflict (with) their previous occupation and how that intersects with the ministry that they now oversee," Mr Pintard told The Tribune last week.
"I believe that is a reflection on the effective management of the prime minister. He has been ineffective in managing various ministries. He has had to intervene in multiple ministries to hit the reset button for various ministers."
 With respect to Minister Sears, the opposition said he lacked "bold, honest and effective leadership".
 "He has (on) no less than eight occasions been untruthful to both the Parliament and to the general public when questioned and, therefore, he has a fundamental credibility issue, and he has only confessed when the public was presented with unreachable evidence," he claimed.
 Mr Pintard was referring to controversy surrounding Mr Sears' conflicting statements over the Bahamas Power and Light fuel hedging issue.
 Mr Pintard noted that Mrs Coleby-Davis likewise needed to be fired for several reasons.
 He claimed that in addition to her showing a "spirit" of arrogance since being elected, she has also not followed the law with regard to several processes.
 This, the FNM leader said, was evident when she issued hundreds of taxi plates without gazetting the candidates among other things.
 As for Ms Moxey, Mr Pintard said while the minister showed much promise, the party believed a more experienced person would do better in the role.
 "We believe that obviously she has some promise, but certainly Grand Bahama is a very complex island and it requires a stature of leadership that presently is not there," he added.
 "...There is tremendous outcry in Grand Bahama at that moment."
 It is not unusual for a prime minister to reassign roles to ministers in their Cabinet after assuming office.
 Back in 2018, former Prime Minister Dr Hubert Minnis reassigned four Cabinet portfolios just 14 months after being elected to government.
 He said at the time that the decision did not mean that he had lost faith in any of his ministers, but rather to give them more exposure.