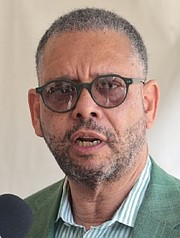 By NEIL HARTNELL
Tribune Business Editor
nhartnell@tribunemedia.net
The Bahamas Hotel and Tourism Association's (BHTA) president yesterday disclosed the industry is eyeing "unprecedented levels of forward bookings" for the 2023 first half and full year after December beat historical trends by 10 percent.
Robert Sands, speaking after the Ministry of Tourism, Investments and Aviation revealed that December 2022 set a monthly record with 900,000 visitors to The Bahamas, told Tribune Business there "is no question" that the industry will beat pre-COVID comparisons from its former best-ever year of 2019.
He added that the improvement will not be felt only in resort occupancy levels but, more importantly, higher average daily room rates (ADRs) and revenue generation which is already ahead of 2022 "for sure" and also set to beat 2019 comparisons.
"I think the reality remains that there is significant pent-up demand for travel post-COVID, and certainly The Bahamas has been the beneficiary of that," Mr Sands told this newspaper. "Pent-up demand continues to grow for The Bahamas, and it manifested itself in the level of tourism seen in 2022.
"I think we are well-poised to exceed 2019 figures in 2023, and that's a direct result if confidence in The Bahamas' brand, pent-up demand for travel and the re-emergence of the MICE (meetings, incentives, conferences and events) market and groups that booked but could not travel in the COVID time period. I think all these things together point us in a strong and positive direction for 2023.
"If January is any indication of what the rest of the year is like we will be well on our way to achieve growth in the stopover visitor category. On top of that, we are seeing an unprecedented level of forward bookings for the first half of this year, and more bookings on the books for the whole of 2023 than we've had historically," Mr Sands continued.
"We've never seen such strength, certainly in January and the end part of February, March and April, and even bookings going through to July; an unprecedented level of advanced bookings on the books at this point in time." He added that based on feedback from the BHTA's member hotels, "certainly in New Providence, December was an exceptionally strong month. I would say that may have exceeded a normal December by 10 percent".
Confirming that this increase relates to business volumes, Mr Sands said of the full-year outlook: "I think there's no question that we will exceed 2019." And, besides occupancies, he added that the Bahamian tourism and resort industry is also ahead of pre-COVID comparisons when it comes to revenues and visitor spending.
"When you're running very high occupancies, the incremental level of increase may not translate so much in terms of numbers, but the more important factor is revenue generation in terms of increased rates and spend," he explained. "The increase for The Bahamas may not be recognised by sheer numbers but revenue generation as well. We're ahead of 2022 for sure, and we will definitely exceed 2019. I'm speaking principally for stopover visitors."
The Ministry of Tourism, in its statement yesterday, said hotel occupancy and average daily room rates (ADRs) for every single month in 2022 were ahead of prior year comparisons. Chester Cooper, deputy prime minister, and minister of tourism, investments and aviation, said visitor arrivals in the 2022 second half outperformed pre-COVID comparisons to set the industry up nicely for 2023.
Total visitor arrivals, combining air and sea (cruise) tourists, were pegged at just over 7m for 2022 and only just shy of 2019's record 7.2m. "According to statistics, the second half of 2022 outperformed the second half of 2019," Mr Cooper said. In 2022, some1,470,244 visitors arrived by air, and another 5,530,462 by sea. December's total arrivals exceeded 900,000 to set a new monthly record for The Bahamas.
The fact that we have exceeded expectations, and attracted more than seven million visitors to our country in 2022, something only done once before in a single year, was no accident," Mr Cooper said. "Countless stakeholders in the Bahamian tourism industry, including our international partners, worked tirelessly to achieve this. We sought to strengthen relationships to open new air routes.
"We sought to make travel to The Bahamas easier, more accessible and affordable, and took the message that we were open for business during our missions and provided insight on our wonderful offerings to the world." Foreign air and sea arrivals for 2022 were up by 233 percent over the same period in 2021, and just 3.4 percent below 2019's pace.
Cruise arrivals in 2022 increased by nearly 400 percent over 2021, which is little surprise given that the industry was shut down until June/July 2021, and were less than 1 percent below 2019 cruise arrivals. More than 55 percent of arrivals were said to be first-timers to The Bahamas, with increases in the US, Canada, Europe, Africa, Asia and the Middle East.
"What the Ministry of Tourism, Investments and Aviation are forecasting so far, and what forward bookings indicate, is that we are on track to break records in 2023. We don't see this slowing down anytime soon," Mr Cooper added.
Latia Duncombe, the Ministry of Tourism's director-general, added: "We are all in the tourism business in The Bahamas. And it's a great business to be in. We want to keep our brand fresh and evergreen. And that's everyone's job, especially mine. I have a great, hardworking team at our ministry and we have some incredible things in store this year."
John Rolle, the Central Bank's governor, his 2022 year-end and fourth quarter economic briefing, yesterday said that while tourism's full recovery from COVID's ravages is "incomplete" it is "considerably advanced". He added that November's stopover, or air, arrivals exceeded the pre-pandemic record of the same month in 2018, which the Central Bank is using for comparative purposes because it excludes Hurricane Dorian's impact.
"In the overall trends, the gains from recovered stopover volumes were amplified by rising average nightly room rates for both resort properties and vacation rental units," Mr Rolle said. "In the stopover segment, by November, the seasonal rebound in air arrivals had broken even the pre-pandemic high for the same month, which is a comparison against November 2018 that also preceded Hurricane Dorian.
"On a monthly basis, the cruise sector's seasonal rebound had already significantly eclipsed the pre-pandemic base. However, both cruise and stopover visitors still have calendar year shortfalls to recoup. For the 11 months through November, total air arrivals had converged to just 82 percent of the pre-pandemic high, and sea arrivals were at about 95 percent of the same comparisons.
"This remaining calendar year performance gap in both markets underscores the further healthy boost in the annual visitor volumes that is expected to occur during 2023.... The Bahamas is still in recovery mode, benefiting from significant pent-up demand for travel and capacity that is still being restored in the airline and hotel sectors. This will allow the economy to experience above average growth again in 2023."
Mr Rolle said the various "headwinds", or downside risks for The Bahamas, which he identified as inflation, COVID-19, global energy (oil) costs, the war in Ukraine and rising global interest rates, were "not likely to contract the economy in the near-term".