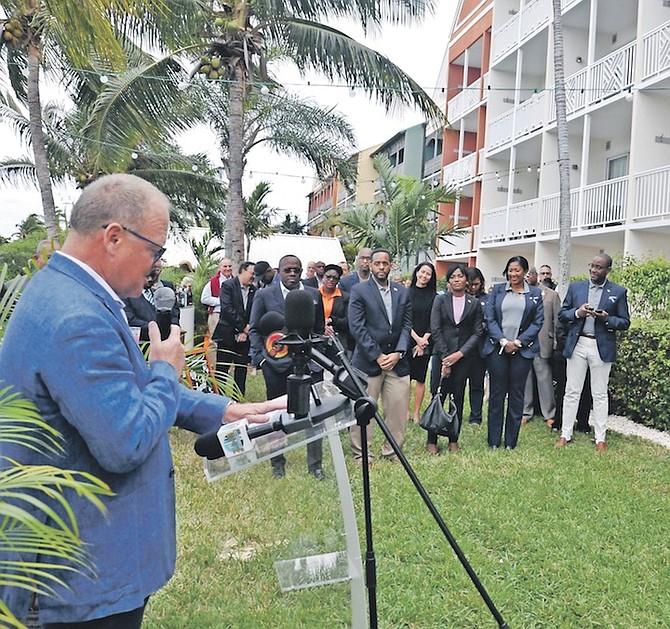 By DENISE MAYCOCK
Tribune Freeport Reporter
dmaycock@tribunemedia.net
TOURISM arrivals have reached seven million for 2022 in figures revealed so far, according to Minister of Tourism, Investment and Aviation Chester Cooper.
This figure comes close to the record setting year of 2019 when the country recorded 7.2 million visitor arrivals.
While in Grand Bahama on Friday, Mr Cooper said: "I am happy to say that yesterday we got our unofficial new numbers of tourism in The Bahamas. And even though we will be announcing on Monday (January 30), I am happy to give a sneak peek today and let you know that the year 2022 we recorded arrivals across the country of approximately 7.01m tourists."
"And to put this in perspective, in 2019 it was 7.2m and that was a record setting year."
Mr Cooper also said the tourism stats indicate that "Grand Bahama is on the move".
The minister attended the opening of $4m newly renovated suites at Pelican Bay Resort. Minister for Grand Bahama Ginger Moxey was also present.
He commended Magnus Alnebeck of Pelican Bay for his hope and confidence in Grand Bahama.
"I am delighted you have now renovated those 48 suites, and that 24 of those will be extended stays. I hope you do well with your revamped product," Mr Cooper said.
"Your investment of $4m into your property is not just an investment, but it is a signal of hope in the economy and tourism industry here in GB, and I want you to know that the executives of Ministry of Tourism share that optimism when it comes to the future of tourism in GB."
"They were around and about today, and the reports are very good. They all like what is here. There was a renewed or a new prospective of the product here on the island of GB. I think that is fair to say, and I see the deputy director general nodding and that should tell you the future really does look bright."
He thanked Mr Alnebeck and his team for their support.
"This is a proud day for GB and a proud day for Pelican. I want to thank you and we hope in the very near term the signal you have given here with your new renovations will also happen with some of your neighbours," he said, referring to the Grand Lucayan Resort, located just to the south, across the street.
Mr Cooper said they are about to relaunch the island of the GB as an innovation centre. He said they are expected to visit Canada to target technical personnel.
"I hope to be able to attract a lot of techies to GB who might decide to make GB their home for a couple months at a time to enjoy the special environment we have. We hope to be able to begin this process next week as we visit Canada to talk about what I coin today as 'Tech Tourism'."
The minister said the new renovation at Pelican Bay is good for tourism on Grand Bahama.
"Thank you for building back better, for spending the money, and demonstrating with your cheque book that you are optimistic about the future. This rebuild and refresh is going to be good for tourism for the island of GB.
"We extend gratitude for the investment, gratitude for betting on GB, and for the confidence you displayed in future of tourism and future of GB. I can only say to you as competing properties that what is good for Pelican, is good for the neighbourhood."
According to Mr Alnebeck, the 48 staterooms have been completely renovated. With this, the hotel property has now completed renovations to 75 percent of their rooms.
"We spent $4m for the 48 rooms. They are opened and most of them are occupied. We have 182 rooms in total and we have done 75 percent over the last five years."
He said Pelican Bay never closes, even during the hurricanes.
"We stayed open in Matthew and Dorian, and we stayed open during COVID - that is what we are proud of.
"Not only do we not close down, neither do we run away with the insurance money. We actually spent it. Immediately after Dorian we had people sleeping in every room, we could possibly have opened even though we had a lot of damage. We started repairing and then gradually transitioned into more serious renovations," Mr Alnebeck explained.
The hotelier said he used only Grand Bahama contractors to do the work and called on the government to consider doing the same with large projects on the island.
"Now as we all read in the papers these days there are all sorts of interest in GB, and we see the big boys from Nassau starting to be interested in construction, etc, here.
"So, since we have a lot of powerful people here, I want to remind them that we have some very good people in GB who can do this sort of work, don't leave them out when the big things are happening here because there is no other stuff, and I highly recommend them."
As for the Grand Lucayan Resort, Mr Alnebeck implored the minister to get the property sold and opened.
"Our minister of tourism is here which is fantastic, and we appreciate him being here. He is no stranger to PB and stayed here very often. When I chatted to his wife, she reminded me that they like staying at PB, but lately ended up at another hotel in the vicinity. I said yes, I understand that your husband leads by example and that you should be staying in that hotel as long as he owns it, and that there is a very easy solution to that. Tell him to sell it as soon as possible and he could be back in PB. Minister, I hope you take that message and be back."
Mr Alnebeck also noted that Pelican Bay does not receive any subsidy from the government.
"We are unable to borrow from our grandchildren and we still keep on going and going. And I don't want to sound like (President) Reagan did in Berlin when - he said, "tear down that wall," but it obviously worked. But I say the same thing, 'please open that hotel for us Minister, we need it open'."
Mr Alnebeck also called for the demolition of the old Arawak Hotel, which located on the Lucayan Waterway.
"I took some VIPs down the Lucayan Waterway and we went by the Arawak Hotel, and I got the question which hurricane closed that hotel down. I said it been closed for 30 years. And surely, we must find the owners and get them to tear down that place because it just does not look good with all the things that are going on here," he said.