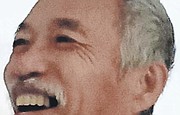 By EARYEL BOWLEG
Tribune Staff Reporter
ebowleg@tribunemedia.net
EVEN after winning significant damages in a case against the government, life for Atain Takitota, a Japanese man held unlawfully in prison for eight years, remained rough.
Although he had been awarded more than $1m for what he endured in prison, the largest sum of its kind in The Bahamas, he did not live a lavish lifestyle.
He died last month at the Princess Margaret Hospital at the age of 59.
A friend of Mr Takitota, who asked to remain anonymous to maintain his privacy, said the man's case left him bitter, not restored.
He said he was not wealthy and hated the impression people had that he was rich. He also couldn't understand English and believed he signed contracts he did not understand. His amnesia was so severe he could not always remember where he was from, sometimes claiming Japan, other times saying China, the Philippines or Venezuela.
Mr Takitota had been receiving care at Pat's Senior Citizen Nursing Home and Daycare Centre for a year before he died.
He suffered from hypertension, dementia, a heart condition, and seizures, according to Patricia Moxey, proprietor of the home.
She said he was depressed when he entered the facility.
"When he first came, he would recognize you as a person, and as he went down, he became less responsive to you as an individual," said Dr Beneby, the home's doctor.
While in prison in the 1990s, Mr Takitota attempted suicide, first by going on a hunger strike in 1997, then by slashing his wrists twice on successive days in 1998.
The medical staff at Sandilands Rehabilitation Centre concluded that he suffered from retrograde amnesia.
He arrived in the country from Japan on August 1992 with permission to remain for a week.
That month, after losing all his money and documentation, he was arrested on Paradise Island for vagrancy.
He was detained at the Fox Hill prison until October 2000 without being charged or tried.