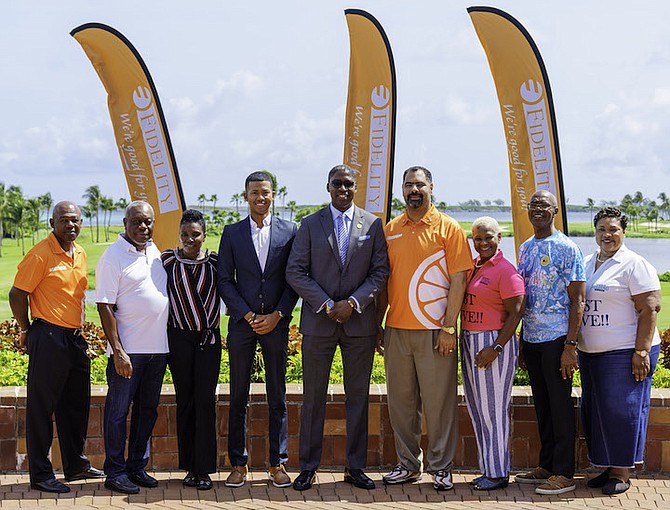 THE Bahamas Feeding Network (BFN) today unveiled plans for its 2nd Annual 'Tee-off for Hunger Golf Tournament,' aiming to raise enough money to top up its coffers and provide up to 750,000 meals in 2023.
The announcement was made during a press conference attended by Minister of Youth, Sports and Culture Mario Bowleg, government officials, sponsors, hosts and BFN officers and volunteers.
Fidelity will repeat as title sponsor and Better Homes and Gardens MCR Bahamas will continue as host for the tournament set for September 19 at Ocean Club Golf Club, Paradise Island.
"We are extremely grateful to Fidelity for committing to ongoing title sponsorship," said Felix Stubbs, BFN Chairman.
"They have been great partners in every way. We are also pleased to announce that even before today's formal announcement, there has been strong interest in every level of sponsorship.
"Nearly every corporate sponsor or donor who contributed in 2022, and who the team has reached out to informally, has committed to participating in 2023. Supporters understand the cause, the unabated need to feed that unfortunately did not end when the COVID-19 pandemic did."
BFN directors, staff and volunteers work tirelessly to keep up with the need, Stubbs said, as more seniors, displaced persons and those who cannot make ends meet depend on the churches, feeding centres and soup kitchens supported by BFN.
Last month, BFN provided more than 65,280 meals with volunteers and staff packaging cartons and parcels of food and providing grocery supply coupons.
The network currently distributes to more than three dozen churches and other centres for distribution to those in the community or congregation in need.
"Fidelity is proud to partner with the Bahamas Feeding Network and Better Homes and Gardens MCR Group as title sponsor of the 2nd Annual Tee-off for Hunger Golf Tournament," said Gowon Bowe, Fidelity Chief Executive Officer.
"Despite being a nation of much wealth and opportunity, there are thousands who go hungry daily and the Bahamas Feeding Network has been a lifeline for those persons since its founding in 2013."
According to Fidelity's vice president and donations chairman Crestwell Gardiner, Fidelity was also impressed by BFN's efficiency and the loyalty of volunteers, some of whom now receive a small stipend.
"We believe in the cause, the unquestionable need to feed, but we also appreciate how the Bahamas Feeding Network operates and the business model it follows as a non-profit with accountability, transparency and maximum efficiency," said Gardiner, whose team walked away with the top prize last year for best score.
The tournament format is a two-man scramble with a maximum of 62 teams with player handicaps set at 24 maximum per man and 28 per woman.
First hole in one on #12 wins the coveted new Mercedes Benz provided by Tyreflex in conjunction with Insurance Management, without whose coverage the car would not be part of the draw.
There are several other prizes for categories including Par 3 and longest drive.
BFN Board member businessman and real estate pioneer Mario Carey offered to host the first fund-raiser tourney and said his firm, Better Homes and Gardens MCR Bahamas, did not hesitate to commit as host this year.
"Until you are in the trenches and see the hunger as we did when we created Pasta Fridays during COVID, you do not realize how widespread the tragedy is," said Carey, whose firm partnered with Graycliff distributing thousands of hot meals at its West Hill Street location with one weekly distribution hitting 8300 meals at the peak of the pandemic.
"In the end, the answer to our national food security issue lies in increasing agriculture production and providing more of what we consume, but in the meantime, we cannot stand by and let persons in need suffer when we have the ability to do something about it as responsible citizens. Hosting a golf tournament is a natural solution we are proud to be a part of, knowing we can make a difference."
The fee per two-person team is $500. Entry forms are available at https://www.bahamasfeedingnetwork.org/golf.html