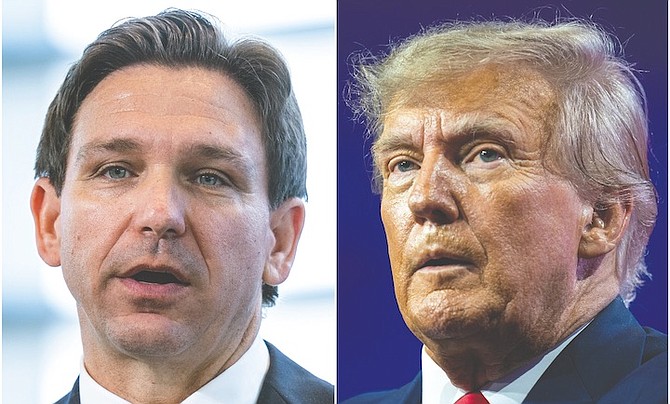 The Republican Party may be repeating a mistake from 2016 as they get set for a bruising campaign to choose their nominee for 2024. By the end of this week, the field of candidates who have formally declared their intention to seek the GOP nomination for president next year will have reached ten, and could exceed a dozen by the end of this month.
Here's the current line-up: former president Donald Trump; Florida governor Ron DeSantis; former vice-president Mike Pence; former South Carolina governor Nikki Haley; former New Jersey governor Chris Christie; South Carolina senator Tim Scott; former Arkansas governor Asa Hutchinson, and three people you may never have heard of: investor Vivek Ramaswamy, Michigan businessman Perry Johnson, and Los Angeles area talk show host Larry Elder.
White House insiders are whispering to favoured reporters that an overcrowded field like this favors Trump getting the nomination for a third straight presidential run. Most Democratic strategists seem to feel that such an outcome would best serve Joe Biden, who beat Trump last time and supposedly feels that he would do even better in a rematch.
When Trump almost casually swatted away a whole platoon of rivals in 2016 to win the GOP nomination, he was able to surprise Hillary Clinton and the Dems to secure the presidency. Four years later, Trump admitted that Biden would be hard to beat.
Senate Republican Whip John Thune of South Dakota told reporters that what happened in 2016 could recur in 2024. "That's always a possibility when you have one candidate who has a loyal following and starts with a bigger base," he said.
Thune suggested that rival candidates don't think DeSantis has emerged as the clear alternative to Trump despite all the buzz around his candidacy after he cruised to reelection last year in Florida.
"I think the fact that that many people are getting in suggests that they sense an opening," Thune said. "I think there's a sense out there that people are looking for a new direction and a lot of these candidates are responding to it."
Most polls show Trump well ahead of his pack of rivals. And he has been in full assault mode against Florida governor DeSantis. Only former Trump adviser Christie, who joined the GOP field on Tuesday, has shown a real appetite for directly attacking Trump.
A Christie staffer told reporters that "we're at a place where we live in one of two worlds. Either Trump is going to cruise to the nomination, or someone is going to step up and challenge him. You don't beat a bully by necessarily being nice to the bully. You have to stand up to them, call them out for their lies, be very direct and blunt and get voters to realize that what he's been selling isn't true".
In response, it certainly doesn't seem that Trump or his spokesmen are taking their feet off the gas. And as usual with the former president, his and his campaign's acid remarks seem uncomfortably close to the mark.
"These individuals (the rival GOP candidates) should thank President Trump for their careers and their relevance," Trump campaign spokesman Steven Cheung, said in a recent statement. "This week's additions to the presidential race are joining only because Ron DeSanctimonious has proven to be an inept campaigner and his opponents smell blood in the water."
Your age is a sign of how likely it is you will vote
Among younger American voters, it seems that when you were born plays a big role in how you are likely to vote. According to recent analysis cited in the mainstream press, in the 2018 elections turnout among younger voters surged quite dramatically. Almost twice as many people in their late 20s and early 30s voted that year as had done in Barack Obama's second midterms four years earlier. And these young people strongly backed Democratic candidates, helping the party retake control of Congress and frustrate Trump in his last two years in the White House.
Now, with further analysis of the 2022 midterms available, it's clear that the rising political engagement of younger adults has outlived Trump's presidency. And the evidence continues to suggest a big boost for the Dems.
A central theme of analysis covering the 2022 midterms is that Gen Z and millennial voters had exceptional levels of turnout. In about a dozen closely contested states last year, turnout among younger voters rose even higher than in 2018.
This pattern supports Democratic optimism. Millennials and Generation Z are growing parts of the electorate, while older, more conservative generations are gradually exiting the electorate. Thus, a Republican should have a slightly harder time winning the presidency in 2024 than even in 2020.
According to polling and surveys, many younger voters have become more politically active because of fear for the country's future. Those on the left, who are a majority of younger voters, worry about climate change, abortion access and the extremism of the Republican Party. More conservative young voters are concerned about secularization, political correctness and illegal immigration.
Younger voters who grew up during the Reagan era, many of whom are part of Generation X, lean to the right. But in recent decades, major news events such as the Iraq war, the 2008-09 financial crisis and the chaos of Trump's presidency have apparently created a progressive generation of voters.
For four straight national elections dating back to 2014, Democrats have won at least 60 percent of the vote among 18- to 29-year-olds. It's reportedly the longest such run of success in the past 50 years.
The big finish for European soccer season
European soccer will basically finish up its business for the 2022-2023 season on Saturday morning when the current world's best club team Manchester City face off with Inter Milan in the final of this year's Champions League competition. City, which won the English Premier League title for the fifth time in six years a couple of weeks ago and beat cross-town rival Manchester United in the final of the English FA Cup last weekend, will try to win the "treble" this weekend.
They are overwhelmingly favoured to do so.
Solid throughout a supremely talented squad buttressed by major Arab oil money, City may have the world's best manager in Pep Guardiola, the best striker in Erling Haaland and the best midfield playmaker in Kevin DeBruyne. There are no real weaknesses on this team.
Inter Milan, which had by far the easier path to the final this year, is one of the most successful in Italian history. They have won 19 Italian league titles and three European championships. Their most recent win was in the Champions League era 13 years ago, as Inter Milan became the first Italian club to win its own treble of domestic league, domestic cup and the Champions League trophy.
The current team is led by forward Lautaro Martinez and goalie Andre Odana, both of whom may be sold in the offseason due to lingering financial problems at the club.
The Premier League wrapped up a couple of weeks ago with Man City overtaking Arsenal to prevail again as titlists. Manchester United and newly revived Newcastle United joined those two in gaining the remaining English places in next season's extremely lucrative Champions League positions.
While Man U, Arsenal and Newcastle enjoyed renewed success after several seasons languishing off the pace, this season was profoundly disappointing for two of the league titans who were displaced. Liverpool could not overcome a poor start to finish the campaign in fifth place; Tottenham slid down to 8th position and Chelsea, under new American ownership, dropped down to 12th place for their worst league finish in nearly 30 years.
On the other hand, bright spots were Brighton (6th) and London-area Brentford (7th) and Fulham (10th), who all finished significantly higher than anticipated. Everton, with a rich history in England's top division, squeaked through again to avoid relegation, but Leicester (shocking league champion just seven seasons ago), Leeds and Southampton dropped down to the English Championship and will likely all sell many of their best players as the clubs' revenue takes a huge hit with the demotion.
Fans will now enjoy the "transfer window" season that is basically the same as American pro leagues' trading deadlines. The transfer window closes September 1, a couple of weeks after they will all suit up for another EPL campaign.