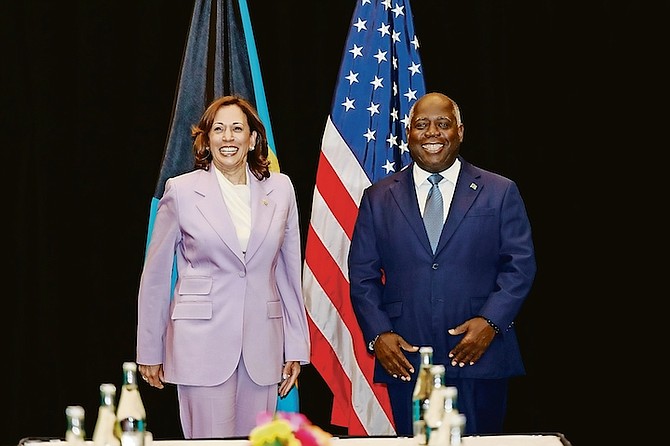 By LEANDRA ROLLE
Tribune Staff Reporter
lrrolle@tribunemedia.net
UNITED States Vice President Kamala Harris announced efforts to combat gun trafficking, provide concessionary funding and tackle climate change yesterday during the highest-profile visit an American official has made to The Bahamas in decades.
She announced the appointment of a coordinator for the Caribbean Firearms Prosecutions at the US Department of Justice to help crack down on firearm smugglers. She said the position would improve information sharing between regional countries to support the prosecution of traffickers.  
Vice President Harris co-hosted a US-Caribbean leaders meeting with Prime Minister Philip "Brave" Davis, the chair of CARICOM.
"Too many people in all of our countries are dying from gun violence," she said in her address to Caribbean leaders at Atlantis.  
"I will reiterate that our administration is committed to disrupt gun trafficking." 
"We are committed to interdict shipments of arms and ammunition and hold traffickers accountable, and today, I am pleased to announce that the United States Department of Justice will create a new position, a coordinator for Caribbean firearms prosecutions, which will help maximise information sharing between our countries to support the prosecution of traffickers. 
"This effort will be aided by the bipartisan Safer Communities Act, which President Biden signed last year and includes new federal criminal offences for firearms trafficking and straw purchases." 
Prime Minister Davis has continually urged the US to help reduce gun trafficking in the region, making this a core part of his crime reduction message and strategy.
During a CARICOM meeting in Trinidad and Tobago in April, Mr Davis cited statistics on how many recovered weapons in some Caribbean countries can be traced to the United States. 
In March, he announced that The Bahamas joined a $10bn lawsuit to hold US gun manufacturers accountable for the regional spread of firearms. 
Yesterday, Mrs Harris pledged support for Caribbean-led initiatives to counter firearms trafficking. 
She said: "Through the US law enforcement agencies, we are supporting a recently established Caribbean crime gun intelligence unit in Trinidad and Tobago to train officials in firearms investigations and help bring criminals to justice.  "And we will stand up a Haiti transnational criminal investigative unit in collaboration with the Haitian national police to facilitate investigation and prosecution of firearm and human trafficking, which affects the entire region." 
 Regarding climate change, she said the US would invest $20m in the Caribbean Climate Investment Programme to encourage partnerships between the private sector and Caribbean nations for clean energy projects.
 Mrs Harris also announced a $15m investment to support emergency response efforts and strengthen the Caribbean Disaster Emergency Management Agency.
 She noted a recent meeting with the World Bank president, saying she told him the US would lead a diplomatic campaign on multilateral development bank reform. 
 She said the US believes addressing the climate crisis should be a "critical part of the mission of the World Bank". 
 She said strengthening the US-Caribbean relationship is a priority for the Biden administration.
 The multilateral meetings are the fourth Vice President Harris has hosted with Caribbean leaders.
 Yesterday's visit follows a June 22 meeting the vice president had with leaders at the Summit of the Americas in Los Angeles. 
 Her visit led to tightened security at Atlantis, which was swarmed with US Secret Service agents. Helicopters flew above the resort as a precautionary measure and the bridge was closed for hours to accommodate her visit.  
Members of the media went through two security checkpoints. Their movement was closely monitored and restricted.