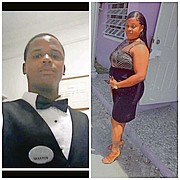 By LYNAIRE MUNNINGS
Tribune Staff Reporter
lmunnings@tribunemedia.net
THE mother of a man whose killing was determined to be homicide by manslaughter believes the ruling should have been homicide by murder.
Police killed Shanton Forbes on March 25, 2018. Last week, Coroners Court jurors returned a verdict in the case.
Forbes' mother, Shantell Forbes, said: "I really wanted them to be charged strictly with murder and jailed."
"I will be pressing charges or whatever I have to do as I speak, I will. They will not get away." 
On the day of the incident, Constable Greenslade and Constable Young went to the backyard of a home on Brahm Drive in Yellow Elder Gardens, where a party was being held. The officers shot Forbes multiple times in his chest. The 21-year-old died of his injuries at the Princess Margaret Hospital later that day.
 The officers involved claimed the deceased was armed. They allegedly recovered a black Glock .40 pistol over the wall near where Forbes was shot. The weapon was found alongside a .40 magazine with six rounds in the chamber and blood on it.
 Jurors could have returned a ruling of homicide by murder, homicide but manslaughter or justified homicide.
 "To be honest," Ms Forbes said, "they should have been charged with murder because at the end of the day one of the officers shot my son 17 times and he could not explain and he would not go up to explain and the other officer shot him as well"
 "I felt like that was intentional and I still feel like they should be charged with murder and not manslaughter, so I am still not too pleased, but, like I say, if it was murder, I would feel much better because I feel like that's an overkill. Like they said, it's unlawful, that's overkill, 17 bullets from one officer I feel like it could have been dealt with better."
 Acting Director of Public Prosecutions Cordell Frazier will determine whether to charge any of the officers with a crime.
 Ms Forbes, a mother of five, said she still struggles to accept her son's tragic fate and finds it difficult to forgive the police involved.  
 She said it was difficult sitting near the officers during the trial.
 "I gotta be honest, I had to ask God to forgive me because if I could have done something to them that day, I would have done it," she said. 
 "I gotta be honest because I don't see how people out there are going around killing people and you have a family and you have kids. 
 "What it looks like to me is like they don't get it or they are stuck on dumb because what goes around comes around, you don't go around killing people and shooting down people for no apparent reason."
 Ms Forbes wants the officers involved charged with a crime and kicked off the force. She said her son was friendly, family-orientated, and hard-working.