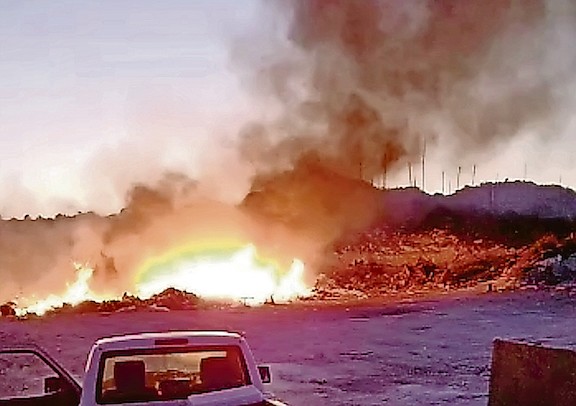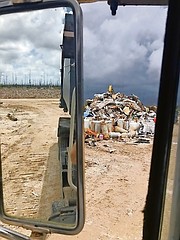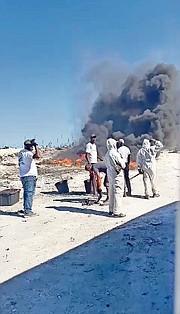 By LETRE SWEETING
Tribune Staff Reporter
lsweeting@tribunemedia.net
RECENT burning and movement of debris from the Spring City Debris Management Dump Site to the Great Abaco Sanitary Landfill has been causing environmental and health concerns for those on the island, said a local official.
Roscoe Thompson, chairman of the Marsh Harbour/Spring City Township, yesterday outlined to The Tribune several hazards that he said are continuing to befall those in the Spring City community due to the burning of debris on the nearby dump sites. He said that among the items being burned are hazardous materials. 
Throughout the years, there have been multiple complaints from residents about the smoke and pile up of debris in the landfills, with no consistent solution to the problem being put in place.
 "It's been happening since (Hurricane) Dorian, that's all we do is burn out there. But Snake Cay is the main one," Mr Thompson said.
 "I do know for a fact that garbage from the Spring City laydown site, which is the debris site, where all the debris was taken for Hurricane Dorian, that it is being moved up to the Snake Cay site and burning, which is sad. It hasn't been recycled or taken off the island. It's been taken up to Snake Cay and burnt," Mr Thompson said.
 "It's a big concern for us here, especially in Marsh Harbour, because Spring City is so close to Snake Cay, when the burning happens it affects their (Spring City residents) breathing," Mr Thompson said.
 "So there's the health risk to the people of Spring City when the Snake Cay dump site is burning. And also the toxicity going into our water table from all of this debris that is there, not just at Spring City, but in Snake Cay. What is it doing to our water table?" he asked.
 Mr Thompson, who also sits on the Central Abaco District Council, added: "We are burning everything — household garbage from plastic paper to aluminium to rubber to anything you could think of, tree debris. All of that stuff is going up in there and being burned every week or dumped and put on fire because there's no way you can get rid of that debris by just covering it up. You know, you don't have the space to do it."
 Mr Thompson continued: "You would think that material could be recycled and separated, especially plastic, paper products, the wood from metal you know, because you have the capability of mulching pressure treated wood."
 Mr Thompson added that due to the lack of security on the site, other persons have been burning trash or using the debris as well.
 "I think what ends up happening is people go out there to get copper, you know, and they burn and it ends up spreading. Also, you have people that go out there to burn the garbage, so it allows more room for garbage to be dumped," Mr Thompson said.
 "Believe it or not, if there was security up there we would not have as much building of the shanty towns, because that's where they go to get a lot of the material, the wood and debris to build. And with no security up there it allows a free-for-all, before the place is on fire," he said.
 Mr Thompson said several communications have been sent to government ministers and officials, with no response.
 "We reached out to environmental health (officials) over here in Abaco with concerns in regards to the Snake Cay dump site... I just don't understand, (why) is it so hard to send a response?" Mr Thompson asked.
 "So it really makes me question what this administration is doing, because I did garbage on Friday. So, I know for a fact our landfill was filled up to the hill that means that there was nowhere to dump the garbage. Now the contractor that has the contract for that, it is not his fault, because he only gets to push so many times a month," he said.
 When contacted for a response, Environment Minister Vaughn Miller told The Tribune yesterday that he would be reaching out to the necessary parties to get the status of the issue, as he thought the matter had been dealt with already.
 However, Mr Miller could not be reached for more details up to press time.
 In 2021, the Disaster Reconstruction Authority (DRA) advised residents of Abaco to report unauthorised dumping and foraging at the Great Abaco Sanitary Landfill, located on Snake Cay Road, in the wake of a large fire that was burning at the site at the time.
 Thomasina Wilson, senior deputy director, Department of Environmental Health Services, in collaboration with the DRA said in 2021, "The Ministry of Works created the Snake Cay site in the aftermath of Dorian. It was intended to be used as a temporary holding site for debris until the government had an opportunity to prepare a proper waste management site."
 She added: "Unfortunately, the debris was never removed. Removal is a complex undertaking as municipal waste must be sorted and taken to the open-air disposal site and hurricane debris must be taken to the debris management facility. The necessary resources have not yet been put in place to allow for an effective debris removal plan to be executed."
 As a result, it was reported in 2021 that debris continued to accumulate beyond the temporary site's intended capacity as people kept dumping their waste even after the launch of the main debris management site in Spring City.