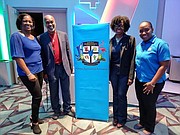 By FELICITY DARVILLE
Successful relationships between men and women lead to a myriad of positive effects on society. For married couples and those intimately involved, a healthy relationship is critical and can impact those around them as well as future generations. While addressing the psychological and social aspects of relationships are important, there are other aspects that need nurturing as well. One of them is addressing health issues - specifically sexual health issues. For this reason, the Bahamas Pharmaceutical Association (BPA) provided an opportunity for members of the public to address this sensitive topic with professionals who could provide guidance and answer questions that could ultimately improve some aspects of their intimate relationships.
This is the BPA's second public health seminar for 2023, and it was held under the theme: "Make Love. Let's Do It Right". The BPA has made a commitment to collaborate with the government to provide opportunities to educate Bahamians on diverse topics related to developing and maintaining health. The first of these public awareness seminars was held in January during Cervical Cancer Awareness Month. This second seminar was held on February 25 at Fusion Superplex. Presenters for the seminar were Dr. Robin Roberts and Dr Andrea Griffith-Bowe.
Dr Griffith Bowe spoke on female sexual disorders, going into detail about three types: sexual interest; orgasmic disorder, and disorders relating to pain. Female sexual dysfunction could be hormonal - such as in pregnancy or during menopause; illness related - such as diabetes, arthritis, endometriosis and fibroids; drug related - through the use of cancer medication, other medications or substance abuse; or psychosocial - related to personal, work or relationship stressors.
By managing one's health situation, for example, Dr Griffith-Bowe said it could positively affect sexual dysfunction issues. The same goes for work and family stressors, and the ability to limit alcohol and overcome substance abuse. Eating a healthy diet and exercising will also positively affect sexual health.
The issue is more relevant that is perceived, Dr Griffith-Bowe explained, as about 40 percent of women experience sexual concerns. She shared a questionnaire with attendees, and provided advice on medical prescriptions, therapy treatments, and general relationship advice to help improve sexual health in women.
Dr Robin Roberts took the time to address men's sexual health during his presentation. He explained the anatomy of the male reproductive system and how each attribute works in order to have a healthy system. He also spoke on erection, intromission and ejaculation. Dr Roberts, a noted urologist, spoke about society's perceptions of how males should perform, and how these perceptions affect their relationships. He admitted that most parents are ill equipped to talk to their kids about the 'birds and the bees' and without proper advice, there could be long-term effects, such as those related to self-image psychology and confidence. Too often, he added, pornographic material, and the computer or cellular phone are being used as vehicles to learn some of the most critical lessons in life about male sexual performance and health.
Dr Roberts delved into the science of sexual behaviour, as well as its history, which affects different perceptions from decade to decade. It's important, he said, for men to know what is "normal" and "good" sexual relations. He went on to address specific men's sexual health issues, such as premature ejaculation, and erectile dysfunction. He did not let the men leave without explaining to them what is happening with the woman at the same time that they are engaging in relations.
The BPA thanked these doctors for their wisdom and in-depth presentations that enlightened all in attendance. The seminar was a unique opportunity to collaborate and demonstrate to all that "Pharmacy Cares". At this event, One on One Pharmacy, Hilltop Pharmacy and Life Medical Associates presented booths with a variety of medications and supplies that would assist with sexual as well as overall health.
The third event was a 'Sip n' Paint' experience held on Saturday, March 4, under the theme: "The Art of Making Love".
Sensuality Coach NiQuee Love led the conversation and artist Genaye Sherman too part.
• To contact Dr Andrea Griffith-Bowe, registered OBGYN, visit her office at Life Medical Associates, where she practices along with Dr Dorita Francis- Phillips and Dr. Steven Rolle. It is located on Rusty Bethel Drive, opposite the Broadcasting Corporation of yhe Bahamas and the Cancer Society of the Bahamas (telephone 603-1801). Dr Robin Roberts, certified urologist, is located in the same plaza, in the office Urology Associates (telephone 603-1805).