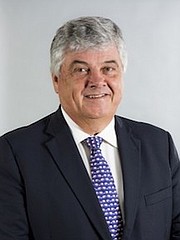 • Property Fund identifies first warehouse project
• 'Bullish' on '23 with new dividend awaited April
• Initiates 'short-term rentals' at Financial Centre
By NEIL HARTNELL
Tribune Business Editor
nhartnell@tribunemedia.net
A BISX-listed fund is entering New Providence's warehouse and storage space market to help drive ambitions of more than doubling in scale to some $100m in assets.
Michael Anderson, RF Bank & Trust's president and the Bahamas Property Fund's administrator, told Tribune Business it was awaiting Board approval on a project that aims to fill the gap created by insufficient storage space and meet "the huge demand" generated by investment and construction projects.
Disclosing that the Fund is "bullish" on its 2023 prospects, and preparing to pay a second dividend in April following the first capital return to shareholders for more than a decade last October, he added that it was seeking to "move more aggressively" beyond office space and into other segments of the commercial real estate market.
"We're in the process of doing some of our own developments and getting into the development of warehouse and storage space," Mr Anderson told this newspaper. "We've been looking to grow the balance sheet of the fund. Part of that growth will take place through the purchase of land and development of warehouse and storage space.
"We're in the process of getting Board approval for one of these projects. Once we have Board approval for that project, we can move forward. The Fund is getting back into this idea of growing. We refinanced last year, and there was getting a dividend out and giving shareholders a return on their money.
"The second part of that is getting ourselves into growing the Fund again. We're starting to progress this year with the first [warehouse and storage] development site, and also looking at other development sites. We're still looking to find other properties we can acquire or develop."
Mr Anderson declined to provide details on the location of the first warehouse/storage site, how much the Fund was likely to invest in land acquisition and construction, and the number of jobs that the latter phase and full-time operations will create given that Board authorisation was still awaited. However, he said a recent management hire by the Fund had experience with these types of properties.
"We've been through some difficult times in this country and with real estate generally. It's good to see things coming back," Mr Anderson told Tribune Business. "It's time to start moving more aggressively in other areas. Not just office space, but we're looking to get into retail and warehouse space.
"There's a huge demand for warehouse space as more development takes place around Nassau. A huge demand. And I don't believe there's much warehouse storage space around. We hired a manager last year for the Property Fund to help us in this space, and she's starting to make some progress. We're fairly happy with the way things have developed so far. At the moment, we still think this is an area for development."
The Bahamas Property Fund closed 2022 with $41.386m in total assets, of which $36.7m represented its three core office holdings of the Bahamas Financial Centre in downtown Nassau; One Marina Drive on Paradise Island; and Providence House on East Hill Street.
Asked if the Fund retains ambitions to expand to $100m in total assets, Mr Anderson replied: "That's still the target to get to as fast as possible, which I think is a reasonable scale for the Fund to generate decent profits for shareholders. We're getting ready to pay our second dividend. We paid the first dividend in October last year, and anticipate paying a second dividend in April.
"We see potential in other islands, but at the moment there's not sufficient momentum for us to get involved. We don't see the Family Islands as an opportunity for the next year or two. We don't have anything we're busy working on at the moment. We're open to looking at those opportunities."
The Bahamas Property Fund's unaudited financials for the 12 months to end-December 2022 show net income down by more than $2.8m year-over-year, standing at $1.469m compared to $4.35m in 2021. However, the latter benefited from a $3.3m revaluation of the Fund's property holdings. Strip that out, and net income was ahead by more than $300,000 or 29.5 percent.
This was driven largely by an increase in rental and parking income, which rose to $3.389m from $3.029m in 2021 due to increased occupancies, especially at the Bahamas Financial Centre. And the increased tenancies also reduced the Fund's share of common area maintenance (CAM) costs as landlord, which fell to $1.276m from $1.317m year-over-year.
"We've been putting together short-term rental space in the Financial Centre, 2,600 square feet or 2.6 percent will be in short-term renal space," Mr Anderson told Tribune Business. "We believe there's a good demand downtown for short-term office space.
"We're bullish on 2023 and have high expectations for getting the Fund moving forward. We've not been able to move forward for various different reasons for a while so we're happy enough to be coming back on stream again. A fair amount of space was rented in the Financial Centre throughout 2022 at various times, so a lot of those rents billed to tenants will not be reflected in the financial statements yet.
"We see 85 percent occupancy levels having a much greater impact on the financial statements next year than they did this year. If we can get the tenancy up, that's 15,000 square feet left to rent, which will make a difference." And CAM costs of $50 per square foot will also reduce as more space is let.
Mr Anderson said the Fund had just rented 2,000 square feet at its One Marina Drive location, which is "the first rental we've had there for some time". He attributed this to tourism's resurgence post-COVID, with operators in the space again needing to rent property on Paradise Island.
Still, One Marina Drive occupancies remain at 35 percent versus 85 percent at the Bahamas Financial Centre. When all three properties are combined, Mr Anderson said the Fund was running an average 80 percent occupancy across its portfolio.