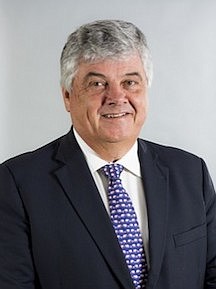 Michael Anderson
Stories this photo appears in:

A Bahamian-headquartered investment bank's top executive yesterday predicted digital assets will eventually become "a dominant part of our business" as it unveiled its tie-up with a technology provider.

A Bahamian investment bank is targeting up to 40 percent growth for its assets under management by the mid-2020s as it eyes expansion into territories such as Jamaica "over the next year".
The Bahamas must be more willing to open up to foreign direct investment (FDI) in non-traditional areas to have any hope of paying-off rising US dollar debt, a top investment banker is arguing.

A Bahamian investment bank yesterday revealed that investors injected "the biggest monthly sum that we've seen for over a year" into its mutual funds immediately upon the easing of COVID-19 restrictions. Michael Anderson, RoyalFidelity Merchant Bank

RoyalFidelity's president yesterday praised the Central Bank for "trying to get ahead" of foreign reserves stress via measures that will curtail $20m in outflows facilitated by the merchant bank last year.Michael Anderson told Tribune Business that t

An investment banker has cautioned Bahamians against using pension monies and retirement savings as emergency funding to ride out the COVID-19 pandemic.

Deals worth a collective $200m are likely to "slide back" into 2021 due to the fall-out from the COVID-19 pandemic, a prominent Bahamas-based investment banker conceded yesterday.