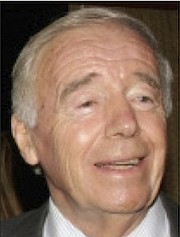 AS THE international news cycle moves on relentlessly, its spotlight is also always changing. In Britain during the last two weeks, the UK government's new proposals agreed with the European Union for settling Northern Ireland's post- Brexit trading arrangements dominated the front pages.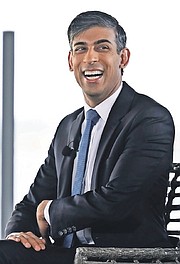 Then, almost overnight, the subject of immigration took over the top spot as Prime Minister Rishi Sunak announced proposals to tackle it as one of his government's priorities. But, before writing today about this endlessly controversial issue, I mention first the wider implications of the proposed new Northern Ireland agreement which I referred to in last week's column. It seems to me that these are twofold: a change in UK/EU relations and the effect on Mr Sunak's premiership.
Sadly but inevitably, since no member state had previously withdrawn voluntarily from the EU, Britain's decision to leave the bloc following its Brexit referendum in 2016 resulted in lengthy wrangling and ill-tempered negotiations with Brussels. It is now widely recognised that the latter displayed a mix of intransigence and non-cooperation in making it as tough as possible on the UK in order to punish it for having the temerity to quit, and to deter others from possible similar action. The merits and demerits of this are not for debate today but more than three years of negotiations left much bitterness behind on both sides.
Now, under a new British Prime Minister - the third one in less than two months when he took office in October - an era of warm feelings and harmony between London and Brussels seems to have miraculously emerged; and the catalyst has been Mr Sunak himself. Most importantly, his success in negotiating the deal last month on the future of Northern Ireland's trade with the EU and the rest of the UK – known as the Windsor Framework - has been hailed as a decisive breakthrough, and it has clearly marked a new chapter in UK/EU relations.
Some say the Ukraine war has also made a significant difference to UK and EU attitudes since the Russian invasion has created a common adversary for them and has provided an incentive to work together on a range of other issues in a more positive atmosphere. It has made both sides realise the importance of resolving their differences over as many major issues as possible, including the existing Northern Ireland Protocol, while also working together to face up to Russia in reaction to its unacceptable aggression in Ukraine.
The body language at meetings between Sunak and the European Commission president, Ursula von der Leyen, about the new arrangements for Northern Ireland speaks for itself. But it was also notable that the latter was on record as saying publicly and positively that, with both the war in Ukraine and the growing international threat of issues like climate change uppermost in people's minds, it was time to restore trust and "stand shoulder to shoulder" as much as possible.
According to the UK press, it appears that most people agree that Sunak's success in pushing through the Windsor Framework agreement with clever diplomacy and single-mindedness was a huge personal triumph for him. It is a step in the right direction in completing the Brexit process and he has managed what his immediate predecessors could not; namely, winning concessions from Brussels while also earning praise from both the European Commission and leading Brexiteers in the UK.
It remains to be seen, of course, whether the agreement will secure the support it requires -- amongst the unionists in Northern Ireland itself and others – so that it will come into effect as proposed. But there seems now to be wide agreement that it is on the right course even if, for example, further negotiations with the Democratic Unionist Party in the province may be needed.
Be all that as it may, people are saying that Rishi Sunak's premiership has been transformed and that he has gained new authority as a problem-solver. Not only has he steadied the ship following last autumn's domestic upheaval but he has also gained political capital since it has become clear that he is much more than his reputation as an economics technocrat when he was Chancellor of the Exchequer under Boris Johnson.
The Prime Minister has shown himself to be a more measured and effective operator than many have given him credit for - a master of his brief and articulate, both as a good communicator at Prime Minister's Questions in the House of Commons - where he is judged regularly to get the better of the Leader of the Opposition - and in handling the press. Overall, he represents the ruling Conservatives' best hope of a revival in time for the next general election that is due in 2024 – and apparently it is now being said openly that, as Sunak progressively prospers in his job of less than six months so far, the chances of Boris Johnson making a political comeback are fast diminishing.
At the beginning of January, the Prime Minister announced five key priorities for his government in 2023. These included a pledge to pass new laws to stop people coming en masse to Britain on small boats across the English Channel with the aim of entering Britain illegally – and, if they did so, they would be detained and swiftly removed. Such tough action would replace the current arrangements which give asylum seekers the right to stay in Britain as they wait for their claims to be heard.
BRITAIN'S NEW TOUGH LINE ON IMMIGRATION
IT SHOULD therefore have come as no surprise that the issue of immigration was much in the news in Britain last week when the PM unveiled a new Illegal Migration Bill providing for anyone who enters the UK illegally to be removed within 28 days and blocked from returning or claiming British citizenship in the future. Speaking about the issue, Sunak has said bluntly "If you come illegally, you will not be allowed to stay". Explaining further, he said that it was important to focus on the seriousness of the issue, with some 45,000 people crossing the English Channel in 2022, mainly from France and aiming to enter the UK illegally, many of whom had been exploited or trafficked by criminal gangs putting their lives in danger. Our policy, he said, is "to break this cycle of misery. It is fair and moral and the right and compassionate thing to do".
In addition, the PM made a one-day trip across the channel on Friday to see French president Emmanuel Macron. This was mainly to discuss co-operation in stopping the illegal crossings in small boats but doubtless covered a range of other topics of mutual interest.
Reportedly, this was a notably warm and productive meeting between the two leaders after Franco-British relations had been at a low ebb for some years because of Brexit. One outcome was British agreement to pay for a new migrants' detention centre on French soil and a French commitment to work more closely with the UK in stopping migrants from leaving France in the first place.
There has already been criticism of the government's new immigration Bill by human rights groups and charities in the UK and by the UN's refugee agency, all of whom habitually oppose restrictions on immigration. It will also be opposed by some in Parliament and face separate legal challenges. But the problem is becoming worse with the numbers already unacceptably high and said to be likely to soar to an estimated 80,000 this year despite a new Franco- British commitment to crack down on this dangerous and illegal traffic, particularly when most of those involved are not desperate refugees fleeing for their lives but economic migrants seeking a better life in the UK.
In Britain, control of the nation's borders has become an issue of prime importance in recent years, not least because the pressure to take responsibility for this was one reason for withdrawing from the EU in 2020. Polls suggest that most rational people do not object to controlled immigration in accordance with established legal procedures. Indeed, one of the strengths of Britain, as a rich and stable democracy committed to the rule of law and respect for human rights worldwide, has been its willingness to provide a safe haven over the years for those genuinely facing persecution in their own countries – from the Huguenots as Protestants fleeing France during the 17th century onwards to Jews in Nazi Germany during the 1930s and beyond. This has included, more recently, refugees from Afghanistan and from Hong Kong after Beijing's security crackdown there, and those displaced by the war in Ukraine. But Britain as a relatively small island is already overcrowded with a population of some 67 million. So, for the nation to survive and maintain its existing standard of living it has to control such immigration.
So public opinion is strongly supportive of offering harbourage to those facing tyranny and persecution in their own countries as long as this is done in an orderly way. But uncontrolled immigration rankles and the public has no truck with those who falsely claim to be in fear of their lives.
There are, of course, people in Western countries who advocate totally open borders in a Utopian world order and regard the very concept of borders with suspicion if not hostility. But there must be limits to how many people Western countries can absorb. Those who advocate an open-door immigration policy like to portray their approach as compassionate and tolerant. But, to my eye, it is far from that. The stark truth is that open borders with no controls at all are a recipe for social breakdown in the receiving country. They take no account of the impact and pressures on local infrastructure like housing, hospitals and other medical facilities, transport, schools and the rest of the institutional public services that a properly functioning nation-state depends on.
The evidence shows that many in Britain support the Sunak government's attempt through new legislation to bring some order to what has become an intolerable situation in which refugees crossing the English Channel are risking -- and too often losing -- their lives while the criminal gangs profiteer from the misery of others. The Prime Minister's plan is bold and will encounter hurdles. But Mr Sunak has said he is up to the task of pushing it through as he repeats his pledge that it is "the right and compassionate thing to do".
THE NATION OF GEORGIA LOOKS TOWARDS THE WEST
WITH so much interest in Ukraine, an important recent development in another country in the region, Georgia, seems largely to have escaped the attention of the international media. But the strategic importance of this small former Soviet republic on the Black Sea, which after the break-up of the Soviet Union in 1991 became an independent democratic republic, is clear because of its geographical position between Turkey and Russia immediately to its north, putting it at the crossroads of Asia and Europe.
Last week, Georgia's ruling party withdrew a controversial "foreign influence" Bill after two days of mass street protests outside parliament in the nation's capital Tbilisi. The crowds were angry at a new Russian-style law which would classify non-governmental media as "foreign agents" – tantamount, it is said, to "spies" in Russia - if they received more than 20 per cent of their funds from abroad. It is contended that a similar law in Russia has been used to limit press freedom and suppress civil society there.
There is no space to examine this in any detail today. But it is interesting that Georgia, which Russia invaded in 2008 and its forces still occupy two breakaway regions amounting to about one fifth of Georgian territory, is pro-Western. Many Russians have fled there to escape mobilisation for the Ukraine war. But, reportedly, Georgia fears its northern neighbour and has maintained its neutrality – perhaps wisely out of self-preservation – and has refused to back Ukraine openly. Being orientated towards the West, Georgia has applied for EU candidate status and some are now concerned that the new draft law in relation to the media could affect this status. Already, the EU has warned that the draft is "incompatible with EU values and standards".
Despite many in Georgia seeing their future in Europe, others apparently want Russian influence over the country to be reestablished. Who knows how all this will work out? But these latest developments produce growing uncertainty in the region. Some commentators are suggesting they are creating new concern in Moscow as Russian forces remain bogged down in their cruel, senseless and disastrous war in Ukraine – with a limited prospect of military success or a negotiated settlement to bring it to an end without further death and destruction.