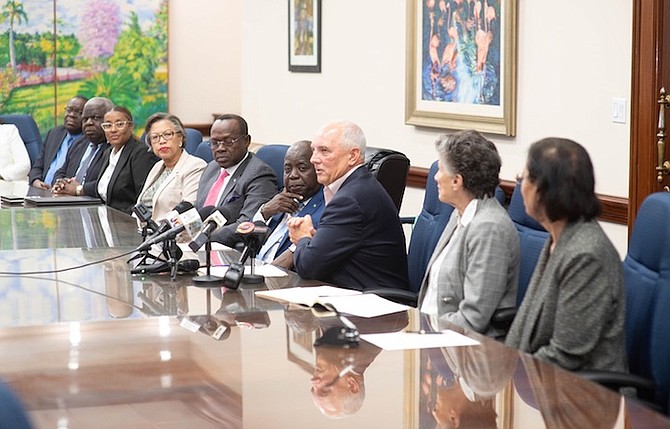 By LEANDRA ROLLE
Tribune Staff Reporter
lrolle@tribunemedia.net
DAYS after signing a heads of agreement for a resort development in the Exuma cays, the Davis administration yesterday sealed another deal for the island that will allow for the construction of a high-end, low-impact resort that is slated to be built on Big Sampson Cay.
Prime Minister Phillip "Brave" Davis, who was present at the project's heads of agreement signing yesterday, hailed it as a "promising development" for Exuma and said it will serve as a major "economic stimulus" for the island. He said it will raise the nation's tourism product to even greater heights.
 "Sampson Cay, located just north of Staniel Cay, will be transformed into a $25m environmentally friendly boutique resort and marina, generating numerous jobs for Bahamians during the construction phase and further employment opportunities once operational," he said at the Office of the Prime Minister yesterday.
 "The project is self-financed by permanent resident and philanthropist, Mr Robert Coughlin. We'll see the revitalisation of existing structures on the island, the upgrade of the airstrip and the creation of a state-of-the-art marina.
 "These enhancements will be executed exclusively by Bahamian contractors, and architects demonstrating Mr Coughlin's commitment to investing in the people of this nation.
 "As a result of this significant new development, local companies will thus be patronised, tax revenue would be generated and increased competition in the luxury market will raise our tourism product to greater heights."
 Sampson Cay Retreat will feature a main house that serves as a central dining and gathering spot and beach cottages with a total of 22 rooms plus staff housing for up to 15 people, utilising less than 10 percent of the 121 acres purchased by the company.
 The remaining acreage will have walking and cycling trails and related fitness and wellness assets, including kayaking, yoga, snorkelling and diving.
 A marina will not be built in the first phase, according to Bob Coughlin, the company's president.
 However, he did note that the resort will host local artists in keeping with their goal to present a true authentic Bahamian experience for their guests.
 He also committed the project to being environmentally sustainable.
 "I think a lot of the sustainable features will be in the power, in the water generation, in how we use the land and in what we grow... I don't think we're going to bring a whole lot of external landscaping to the island," he also said.
 "We'll grow as much as we can (that) we can eat on the island. In terms of the waters out in front of us, there is some sea grass and we'll have rules like what can and can't be done in terms of walking in the sea grass even."
 He also said: "In terms of the materials and how we build, we're not going to come in with big bulldozers. We're going to pinpoint where we have to build things and where we have to build concrete and how we have to do things.
 "We're hand-building paths throughout the island right now."
 For the cottages, he said they will install meters "that show how much water and how much power people are using each day".
 The project will be constructed over an estimated three-year period, he added.
 When asked how many jobs will be available after the development's completion, Mr Coughlin replied: "I think a round number of 15 to 20 jobs is likely. I think actually our agreement is probably a little less than that in terms of permanent jobs, but I also think that things like artists and things like that, we'll pay people to come to the island to be a part of the experience."
 Deputy Prime Minister and Exuma and Ragged Island MP Chester Cooper welcomed the development with open arms, telling reporters he was looking forward to the project's completion.
 "This is going to be a great boost to the Exuma cays," Mr Cooper said. "Sampson Cay is one of the most magnificent marine habitat areas in the Exumas, beautiful sandbanks, eco sensitive marine environment and, therefore, I know that this is going to work harmoniously with what now exists in the cays."
 This latest signing comes less than a week after the government signed a heads of agreement for a $56m resort development in the Exuma cays.
 The 36-acre development on Elizabeth Island will be completely sustainable featuring a two-acre protected marina, six private beaches, 28 solar powered residences, and resort amenities, officials said.