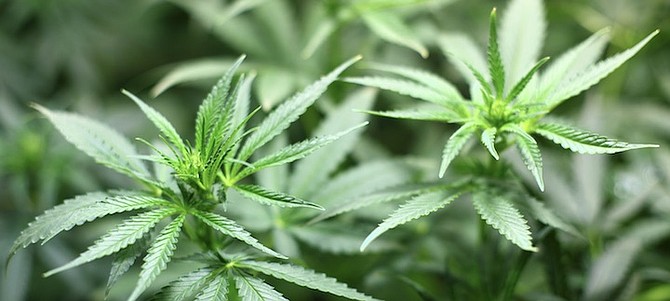 By LETRE SWEETING
Tribune Staff Reporter
lsweeting@tribunemedia.net
WITH officials said to be finalising marijuana legislation, a local psychiatrist has called on the government to prioritise providing sufficient resources for those with mental illnesses, which she found could progress to a chronic psychotic illness with substance abuse.
Dr Tameka Johnson- Dames, who has been working at Sandilands Rehabilitation Centre for seven years, conducted a research report as a part of her medical studies last year to explore a possible association between cannabis use and psychosis in patients admitted to the facility between March 2019 and February 2021.
Through examination of 101 patient medical records, Dr Johnson-Dames found that 24 of the patients who had a diagnosis of schizophrenia had an evolution of this diagnosis, with 17 of them having also used cannabis.
Her report concluded: "Cannabis use was not found to be associated with a complicated hospital course, nor was a family history of psychiatric illness associated with increased admissions for cannabis induced psychosis. This was regardless of admission time period. However, its use was associated with the conversion of psychosis to a chronic psychotic illness."
With these findings in mind, Dr Johnson-Dames told The Tribune this week that the problem of mental health and substance abuse should be addressed "now". She pointed to there being just one public in-patient substance abuse programme in the country.
"Mental health wise, I feel like the resources are limited. My push isn't to influence the government and tell them what they can do. My pitch is to give us more resources so that we can deal with a growing problem that we see," Dr Johnson-Dames said.
"Right now we have one in-patient substance abuse programme in the country. One public programme that has limited spots, that persons are admitted on a voluntary basis. So when we deal with issues related to substance use, we need to be able to properly manage and managing means not waiting until the problem is already here.
"Not waiting until the floodgates are open, until we have an increase in cases. And then all of a sudden, we're like, 'Oh, boy, we need to focus on mental health'. No, let's focus on mental health now," she said.
Dr Johnson-Dames added: "Let's put some resources in place with or without the legalisation, so that in the event, if it happens to our population, that legalising marijuana, or decriminalising it, and there are more cases of these illnesses, at least we can have the resources to deal with it."
She said: "It's all fine and good in the United States and Colorado and other places where it's legal, but they clearly have more resources than we do. So, we can't compare ourselves to them," she said.
Dr Johnson-Dames said that during her time as a psychiatrist in The Bahamas she has realised that cannabis-related disorders are one of the more prominent conditions she sees.
"If we are saying there are times where the institution is full, that we don't have any bed space, that we are losing staff, saying those things is insignificant if no one is pumping money into mental health, because there's only so much we could do," Dr Johnson- Dames said.
"So we truly do care about the patients, but we also realise that sometimes we are limited in resources. Sometimes we go to a clinic and there's only two rooms available for the doctors to see patients and so we're sharing a room to see the patient," she said.
"If we could have a bigger presence in the community, and a bigger presence means more money being pumped into mental health care, and more money being allotted to staffing these additional services, that would be my pitch," Dr Johnson-Dames said.
Last month, Attorney General Ryan Pinder told reporters that draft laws to decriminalise marijuana were just about complete.
He was unable to provide a timeline as to when it would be presented to Parliament.
He said there were several matters with the proposed legislation that the government was addressing based on recommendations it received from health officials and other stakeholders.
"Well, the suite of legislation has been prepared. It's been finalised," Mr Pinder told reporters outside the Office of the Prime Minister at the time.
"It has been handed over to the Ministry of Health as the operative ministry since it is a medical cannabis regime. They have done their review of the legislation (and) come back with some technical questions which we are addressing," he said.
"We have also had our external consultants review the full suite of legislation. They have likewise come back with some input and some questions and some recommendations that we are incorporating in the suite. So, we're near complete."